Displaced by Climate Change: Diaspora Communities Share Wisdom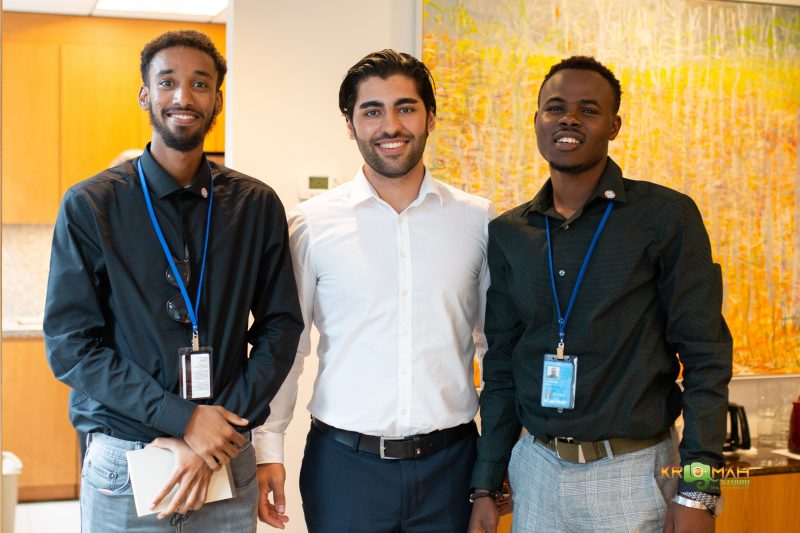 By Pamela Boyce Simms
ON JULY 10, 2019 Lorenz Nehma told the story of the Yazidi people, a religious minority in the Iraqi/Syrian region, during the Quaker Earthcare Witness side event at the United Nations High Level Political Forum (HLPF). He shared their history from early persecution and acts of genocide under the Ottoman empire to the present day. He lamented,
"My people, the Yazidi People, are dying because of ISIS and almost no one knows this. ISIS killed Yazidi men, enslaved the women and children in 2014 and were burning Yazidi crops as of this past June, 2019."
Lorenz is a founding member of the QEW African Diaspora Earthcare Coalition's Diasporas and Displaced Populations Project (DDPP). (He's also an intern at Pendle Hill). The Project  brings together members of ancient and old diasporas to inform groups currently in transition, and prepare to support waves of future populations displaced by climate change.
Members of the QEW African Diaspora Earthcare Coalition organized a roundtable event at the United Nations High Level Political Forum on the Sustainable Development Goals in New York. At the roundtable were voices from these diasporas: African (American, Barbadian, Beninois, Guinean, Liberian, Somalian, Trinidadian) Armenian, Jewish, Palestinian, Yazidi, Quaker allies and friends from Irish, Scandinavian and Lenape diasporas. This work is made possible using sociocracy and dynamic governance tools derived from Quaker process.
Jamal Aden, a Somali refugee who works as the Diaspora  Coalition's Youth Programs Coordinator, recounts his experience of the UN event:
"Somali people, my people, have suffered for close to 28 years. The people who are most affected by drought, civil war, and lack of government are the nomads. Somali nomads depend on their animals and move from place to place to find plants that their animals can eat. Due to lack of rain Somalia has experienced prolonged droughts and the nomads face famine.
Sharing the reality of the Somali nomads at the United Nations side event gave me hope that I could bring awareness to the situation of these people who deserve to be heard, their struggles acknowledged…"
Six million Somalis currently face starvation due to civil war and the impact of climate change on drought patterns. While the basic needs of 70 percent of Somalis depend heavily on a regular climate pattern, climate change-related desertification has overtaken Somalia over the past ten years. Climate change feeds armed conflict in Somalia by exacerbating tensions between clans and increasing migratory flows. 1.5 million Somalis were internally displaced as of 2016 and nearly two thirds of Somalis live outside of the country (UNHCR).
Lorenz describes his experience of the Diasporas and Displaced Populations Project  with  other college students who are refugees and recent immigrants, seasoned environmental activists, and Quaker elders:
"We all share something together. We have similar stories. Our people suffer because of religious persecution, terrorism, colonial exploitation, bad climatic conditions and so on. We all want to give our people suffering in our home countries a voice; an opportunity to share their stories. I hope we will reach more people. We learned that we're not the only ones suffering!
He continues, "What I really like is that we all have different attributes/characteristics/backgrounds but understand each other with respect because we are all together for the same reason."
New York Yearly Meeting and QEW representatives who attended the UN event shared their thoughts:
"I am heartened that these young people have come forward to bring their unique perspectives to learning about climate change and its effect on people now. Their engagement is inspiring."

-Alice McMechen, New York Yearly Meeting (NYYM) Representative to Quaker Earthcare Witness
"The clearest message I got from listening to Sekou [a Liberian DDPP project participant] is that he is convinced, that if people were educated about climate change, this would make the difference. His optimism convinced me. That is a clear call to action that I can understand and follow."

-Ruth Bryan, NYYM
"It was a vivid, firsthand experience. I was able to feel the pain and see the sadness on the faces of these representatives of displaced populations. I was also awed by their resilience and courage amidst overwhelming obstacles and their dedication to helping the people of their diaspora."

-Janet Soderberg, NYYM Earthcare Working Group
Pamela Boyce Simms works with international Quaker, Buddhist, and African Diaspora Earthcare networks. For more information about the work of the Diasporas contact her at pbs9@georgetown.edu.