Earthcare Center @ FGC Gathering
July 2 @ 8:00 am

-

July 8 @ 5:00 pm

EDT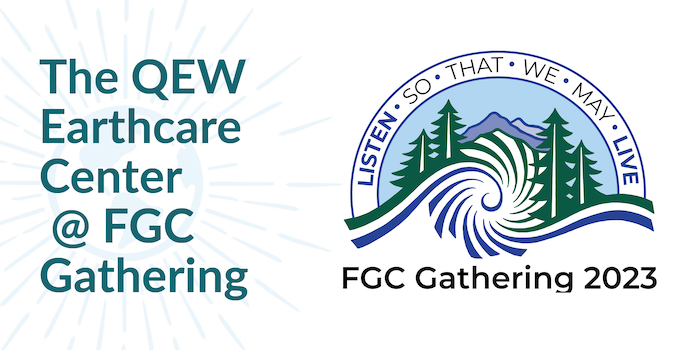 Quaker Earthcare Witness is hosting the Earthcare Center at FGC's Gathering, happening in Monmouth, Oregon on July 2 -8th. Join us for conversations and learn about current environmental concerns.
DAILY 7:00 AM     Early Morning Outdoor Worship (Mon-Fri) convened by QEW supporters. Location TBD.
Monday, July 3
1:30-3.00   Cherice Bock – A Quaker Ecology: Meditations on the Future of Friends. We are invited to participate in an Eco-Reformation, altering the trajectory of our Society through re-membering our history and reimagining our future as participants in the community of all life.
3:15-4:15   Shelley Tanenbaum (QEW)– Environmental Justice in a Rapidly Changing World. Explore the role that environmental justice plays in a time of ecological collapse, and what we can do about it.
4:30-5:30   Eileen Flanagan and Christina Tavernelli (EQAT) – Divesting from Fossil Fuels. How to make divestment as effective as possible, using the Vanguard campaign as one example.
Tuesday, July 4
1:30 -3:00  Jan Bronson and Cathy Walling — AK Friends Conference Seeking Right Relationship with Indigenous People: Apology and Beyond. AK Friends Conference approved an apology for Friends' role in Indigenous boarding schools, and offered the apology to AK Native people shortly thereafter.  This is only one step in our journey with AK Native partners towards truth, healing, and transformation
3:15-4:15  Paul Klinkman – Innovative Technology.  Let's sketch out megadrought R&D, let's plan to best inhibit a permafrost thaw-out and let's envision a more complete fossil fuel shutoff.
4:30-5:30  open discussion
Wednesday, July 5
☼  In keeping with the FGC day of rest, we will offer a relaxing time at the Center. Come read, reflect, relax, and watch some films on what people are doing to restore the ecological integrity of our world.   Films being shown:
1:30 – 3:00 The Movement and the Madman  How anti-war activism changed the course of history and prevented a nuclear war. Very inspiring!
3:15 – 4:15 The Elephant Whisperers  Academy Award winner from 2023 Beautiful!
4:30 – 5:30  open discussion
Thursday, July 6
1:30-3:00   Charley Basham and Margerite Dingman – Reflections on Quaker Relations with Indigenous Peoples Past and Present.  Seeking truth, healing, and transformation on issues from the Doctrine of Discovery to climate change.
3:15-4:15   Brent Bill – Fifty Acres and a Fool: The Ploughshares Farm Story. Why this land was transformed into a wildlife habitat and protected forest and how Brent was transformed along with it.
4:30-5:30  Frank Granshaw – A Virtual Climate Conference. How to bring the annual international climate conference (COP) to your Zoom screen
Friday, July 7
1:30-3:00  Mary Ann Percy – Living in Right Relationship with the Living World: Quaker Testimonies as a Template. Looking to our Testimonies and the Living World for Guidance.
3:15-4:15  Sister Confianza del Senor — Creation Vigil: A time of semi-programmed worship including scripture, song, silence, and sharing. Sister Confianza del Senor will give a message about her Earthcare experience/work in Honduras, followed by worship