Ecological Grief: A 10-Step Course
October 6, 2022 @ 7:00 pm

-

8:30 pm

EDT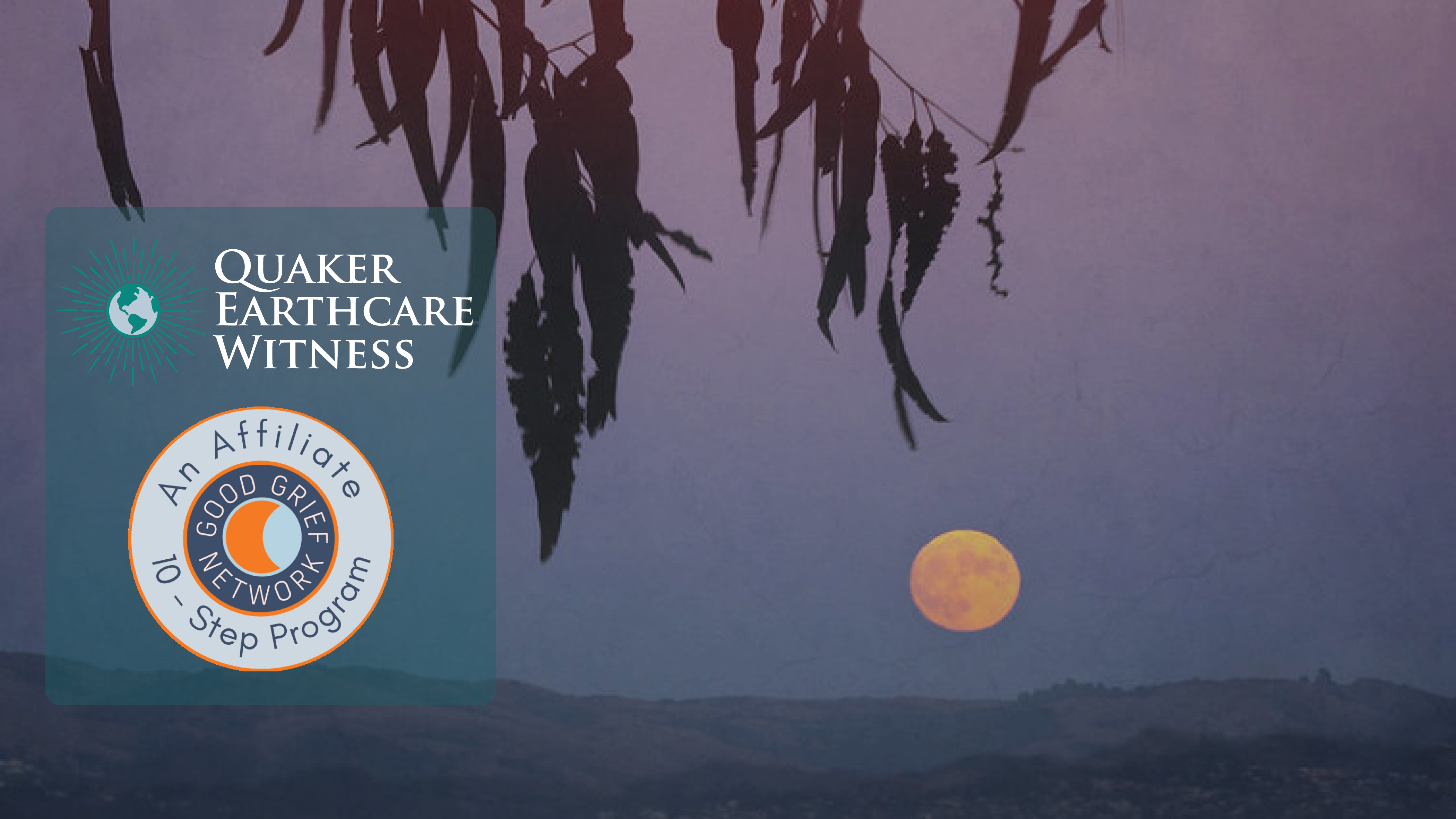 Thursdays, October 6 – December 15th (Skipping November 24). 7 – 8:30 PM Eastern.
"Should you fear that with this pain your heart might break, remember that the heart that breaks open can hold the whole universe. Your heart is that large. Trust it. Keep breathing." ― Joanna Macy & Chris Johnstone
Quaker Earthcare Witness is hosting a 10-week peer-to-peer ecological grief support group as an affiliate of the Good Grief Network, using their model "10-Steps to Personal Resilience & Empowerment in a Chaotic Climate." Our intention is to help people recognize, experience, and process their feelings about the state of the world. As we collectively lean into difficult feelings and build resilience, we strengthen our community bonds and open to new ideas that help us transform heavy emotions into meaningful actions. In these sessions, we will share techniques that help "metabolize" heavy and painful feelings. We'll explore those tender places in our own hearts where ecological grief dwells and offer them sacred attention.
Our ten weeks will be guided by the following themes:
Step 1: Accept the Severity of the Predicament
Step 2: Acknowledge I Am Part Of The Problem & Solutions
Step 3: Practice Being With Uncertainty
Step 4: Honor My Mortality And The Mortality Of All
Step 5: Do Inner Work
Step 6: Develop Awareness of Brain Patterns & Perception
Step 7: Practice Gratitude, Witness Beauty & Create Connections
Step 8: Take Breaks & Rest
Step 9: Show up
Step 10: Reinvest Into Meaningful Efforts
As Friends, we know that engaging in the grief process in a spiritual community supports resiliency and helps us be more deeply attuned to the actions we are called to take.
The group will be facilitated by Gayle Matson and Hayley Hathaway.
Bios: Gayle Matson is a member of Chico (CA) Friends Meeting and co-clerk of the Pacific Yearly Meeting Unity with Nature Committee. A former clinical social worker and psychotherapist, she became interested in the phenomenon of ecological grief after moving to Chico in 2018—two months before the Camp Fire, the deadliest and most destructive wildfire in California's history.  Since then, she has focused on the emotional impacts of climate change and has co-facilitated eco-grief groups for a faith-based climate action organization.
Hayley Hathaway is the co-director of Quaker Earthcare Witness. She is passionate about the relationships between ecology and faith. She worships with Friends in Santa Fe, New Mexico, supports local climate campaigns, and is a Master of Social Work candidate. Hayley also volunteers as a facilitator with grief support groups for children, teens, and their families.
The Good Grief Network is a nonprofit organization that brings people together to metabolize collective grief, eco-distress, and other heavy emotions that arise in response to daunting planetary crises. Using a 10-Step approach inspired by the Adult Children of Alcoholics model, we run peer-to-peer support groups that help folks recognize, feel, and process their heavy emotions, so that these feelings may be transformed into meaningful action.
APPLICATIONS ARE CLOSED FOR THIS EVENT. If you would like to be considered for the next cohort, please contact Hayley Hathaway at Hayley@quakerearthcare.org, and she we will add you to our waiting list for the next group. We expect a lot of interest and are committed to creating a geographically diverse and intergenerational cohort—thank you for understanding and for your willingness to be part of this experience.
And if you have any questions, please let Hayley know at hayley@quakerearthcare.org.