QEW Presentations at Friends General Conference Gathering
July 7, 2022 @ 5:00 pm

-

July 8, 2022 @ 6:30 pm

EDT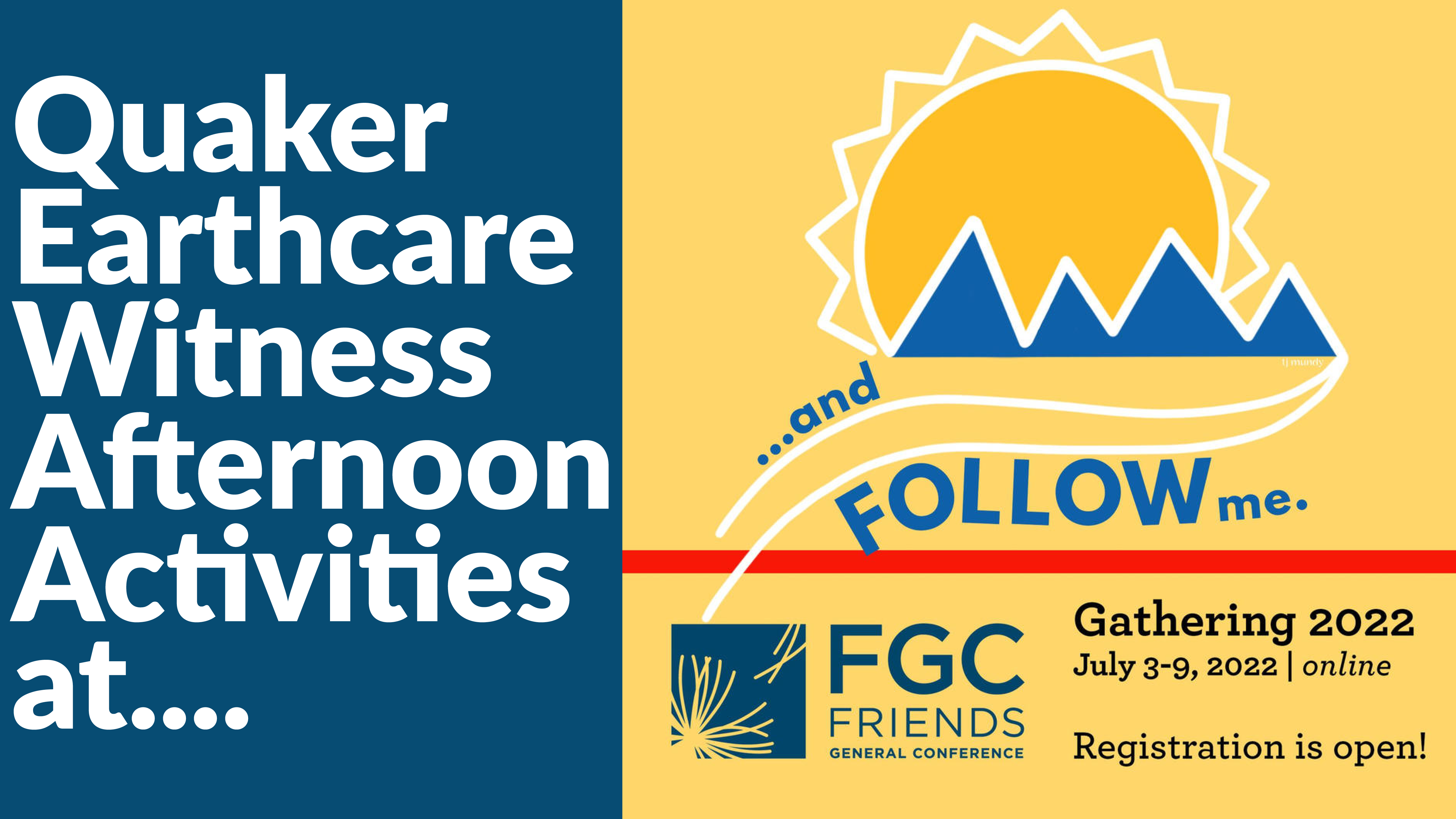 Join Quaker Earthcare Witness at the virtual Friends General Conference (FGC) Gathering for a week of afternoon presentations. To register, please visit FGC's website.
All presentations via Zoom, 5-6:30 pm Eastern
QEW Staff will be present at each event to help with technical issues and to do a brief introduction about QEW.
Monday, July 4 – Where Eco-Spirituality Meets Eco-Justice: Hayley Hathaway. 
Let's talk about ecospirituality and what it means in these pandemic times of climate crisis, economic inequality, threatened democracy, and structural racism. How do we live in right relationship with each other and the Living world? How could our work for justice be impacted by an increasing sense of our own sacred nature? We will explore spiritual guidance from nature and how this leads to environmental justice.
Tuesday, July 5 – Building the Heart Muscle to Take on Threats to Earth: Pamela Haines. To build our muscles as climate justice activists, we will identify stretches involving listening and connecting, engaging in conflict and repair, listening for and speaking truth, facing grief, and cultivating hope and courage.
Wednesday, July 6 – Living in Right Relationship with the Living World: Mary Ann Percy. Using Quaker contemplative practices and exercises from The Work That Reconnects (Joanna Macy, root teacher), we will begin to deepen intimacy with all beings, and to understand how our Testimonies of Unity, Equality, Integrity, Community, Simplicity, and Peace direct us toward harmonious and reciprocal relationships which respect the inherent integrity of the Earth community.  How might our lives change if we were to apply our Quaker Testimonies to the entire Living World rather than only to our relations with human beings?!
Thursday, July 7 – A Climate Action Plan for Philadelphia Yearly Meeting: Ruth Darlington and Patricia Finley. How are Philadelphia Friends taking action on climate change, how can a yearly meeting and monthly meeting mutually support climate actions, and what can you take back to your yearly/monthly meeting? (5-6pm Eastern)
Friday, July 8 – Climate Change, What Does Human Population Growth Have to Do with It?: Stan Becker and Richard Grossman. The world population grew from 2.5 billion in 1950 to 8 billion in 2022 and we're adding about 200,000 persons per day. To be sustainable on this planet we must reduce both our individual impact and our numbers. With presentation, queries and worship-sharing we will probe these concerns.