Job Opening: General Secretary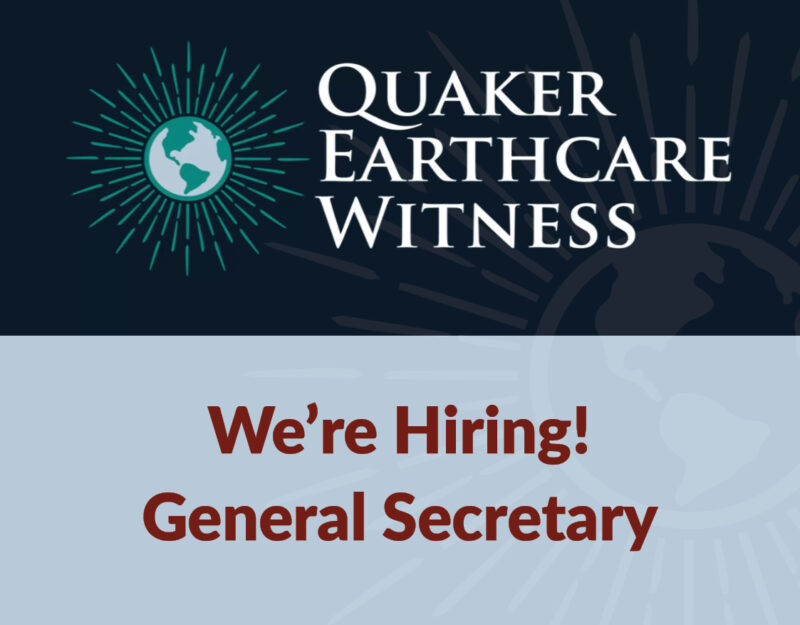 Job Opening: General Secretary

Passionate about environmental justice and faith-based social change? Are you a networker committed to inspiring action in your community? Quaker Earthcare Witness is hiring!

We are looking for a new General Secretary (our General Secretary of ten years, Shelley Tanenbaum, is retiring at the end of 2023)
Download Job Announcement & Description
Position Summary
Quaker Earthcare Witness is a 501(c)(3) nonprofit, lifting up ecological integrity and environmental justice within the Society of Friends, and collaborating with like-minded groups as a Quaker public voice for Earthcare. Our network of North American Friends has a 2-person staff.
The General Secretary will work 30 hours per week, ideally during traditional working hours and with some flexibility for evenings (depending on time zone) and occasional weekends. Some travel is required.
This is a remote position. Applicants may work from anywhere in the United States.
This job will have a three-month review period.
The annual salary for this position is $55,000 with a $300 monthly stipend for health insurance, 20 days paid vacation, 15 paid personal days, and 12 paid holidays. The QEW office is also closed the last week in December (Christmas Eve to New Years Day)
Please apply as soon as possible. Final deadline of July 26th. Position to begin in November.
Key Responsibilities
Promote the leadings of Friends regarding Earthcare and raise awareness of the work
of QEW among all groups of Friends
 Represent QEW with advocacy and activist partners nationally and internationally
Oversee financial planning and implementation
Serve as primary staff liaison with the Steering Committee
Supervise our Communications and Outreach Coordinator
Qualities:
Demonstrated effectiveness in public speaking and written communication
Interest in working with a wide range of partners and volunteers
Attention to detail and ability to maintain accurate records and files
Self-motivation and ability to work independently and collaboratively
Creative and spirit-led
Ability to manage multiple projects simultaneously
Commitment to anti-racism, social justice, and Earthcare
 Preferred Experience
Familiarity with and commitment to Quaker Earthcare Witness's work and/or similar
ecological or faith-based organizations
Experience with Quaker process and practice
Background in public witness and non-profit management
Technical proficiency with Zoom, Google Suites and constituent record management
databases (CiviCRM or similar)
Joyful fundraising
Experience and ability in remote office settings, including video conferencing
To Apply:
Click here to send your resume, cover letter indicating your interest in the job, a writing
sample, and three references as one single PDF
And please include your pronouns in your cover letter or resume.
Quaker Earthcare Witness is an equal opportunity employer and welcomes staff and volunteers from diverse backgrounds. All qualified applicants will be considered without regard to race, color, religion, gender, gender identity or expression, sexual orientation, national origin, genetics, disability, or age.
The General Secretary will take responsibility for these areas:
Networking
Promote the leadings of Friends regarding Earthcare and raise awareness of the work of QEW among all groups of Friends
Initiate and respond to invitations to visit Yearly Meetings and other gatherings of Friends, either personally or by facilitating the attendance of another QEW Steering Committee Member
Arrange for participation and/or QEW exhibits at gatherings of Friends, such as Yearly Meetings, Friends Committee on National Legislation, Triennials, and World Gatherings
Oversee or arrange for oversight of the QEW center at the Friends General Conference Gathering
Represent QEW with other Quaker organizations
Represent QEW or facilitate representation by a member of the QEW Steering Committee at other
environmental and inter-faith groups
Plan and facilitate online events in collaboration with the Communications and Outreach Coordinator (includes monthly presentations and monthly worship-sharing)
Financial
Prepare the annual budget and facilitate reaching our budgeting goals in collaboration with the Finance and Development Committee
Maintain regular communication with the bookkeeper and treasurer regarding all aspects of theQEW finances
Manage check deposits from the general mail, including recording donations and sending thank you
letters
Maintain QEW in good standing with its fiscal responsibilities
Represent the organization in the necessary legal capacity and sign checks (the Treasurer also can
sign checks)
Development/Fundraising
Develop the annual appeal and other fund-raising activities with assistance from the Communications and Outreach Coordinator.
Cultivate donors
 Seek new funding sources and pursue outside grant fundraising opportunities
Prepare an Annual Report with assistance from the Communications and Outreach Coordinator
Board Relations and Communications
Make arrangements for the Spring and Fall Steering Committee Meetings
 Set deadlines and distribute advance information and reports from QEW committees and working
groups prior to general meetings
Organize interim conference call meetings of the Continuing Council Committee (CCC) and the
Steering Committee. To maintain a close relationship and communication with the CCC and the
Steering Committee, serve as an ex-officio member
Present a report at each CCC and Steering Committee meeting and prepare an annual report on
QEW activities
Distribute minutes of meetings and other materials electronically to members of the Steering
Committee
Archive the Steering Committee minutes with Swarthmore College Library after approval.
Manage electronic sign-ons for public statements and policy
Volunteer Support and Collaboration
Communicate with the clerks of appropriate QEW committees, working groups, and projects to
facilitate their work
Be the primary support for Committees and Working Groups as needed (excluding the Publications
Committee)
Facilitate networking between committees/working groups and with other organizations
Staff
The General Secretary will be responsible for the overall supervision of the Communications and
Outreach Coordinator. Both will often work independently, though there are crucial areas where
collaboration and close connection is required.