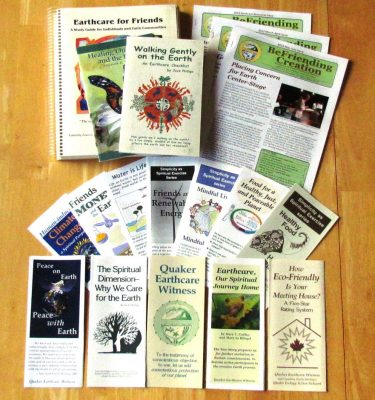 Earthcare Witness Toolkit for Meetings
The Earthcare Witness Toolkit is a collection of resources designed to help you learn about Earthcare concerns, discern your own leadings in specific Earthcare areas, reduce consumption, save energy, and grow in awareness about the interrelatedness of our choices and their impact on the planet.
What Does the Toolkit Contain?
Each Earthcare Witness Toolkit includes the following resources:
Earthcare for Friends, a 250-page spiral bound study guide for individuals and faith communities
Three recently published issues of BeFriending Creation, the bi-monthly journal of Quaker Earthcare Witness
Walking Gently on the Earth: An Earthcare Checklist, by Jack Phillips
Healing Ourselves and the Earth, by Elizabeth G. Watson
Additionally, each toolkit contains the following Quaker Earthcare Witness pamphlets:
Contemplative Action in the Time of Climate Change
How Eco-Friendly Is Your Meeting House? A Five-Star Rating System
Earthcare, Our Spiritual Journey Home
The Spiritual Dimension—Why We Care for the Earth
Peace on Earth, Peace with Earth
Healthy Food, Healthy Planet
Food for a Healthy, Just, and Peaceable Planet
Mindful Living, Mindful Giving
Friends and Renewable Energy
Water Is Life
Friends, Money, and the Earth
Human-Induced Climate Change: A Spiritual Perspective
How Do We Get the Toolkit?
Request a copy of our Earthcare Witness Toolkit for Meetings by emailing hayley@quakerearthcare.org.
What Does the Toolkit Cost?
We request a contribution of $35 (or any amount as you feel so led) to cover the costs of printing and shipping the toolkit. We don't want cost to be a prohibiting factor, however, so please request the kit even if you can't make a donation at this time.
Share Your Stories and Stay in Touch!
We'd also love to hear what your meeting does with the resources! We have an area on our website devoted to "What Meetings Are Doing," designed to inspire other meetings across North America who are seeking to grow and share their Earthcare efforts. Please send your meeting's Earthcare stories to hayley@quakerearthcare.org