Casa Pueblo: Truly the People's House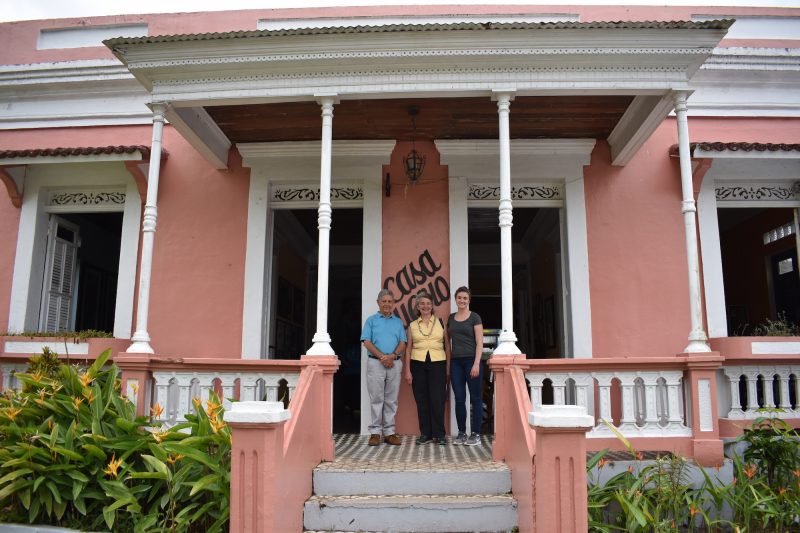 By Liz Robinson.
THIS STORY STARTS with Hurricane Maria and our Central Philadelphia Monthly Meeting's decision to select Casa Pueblo as the beneficiary for our 12th month charitable giving. Because of its outstanding reputation, and its amazing hurricane-disaster recovery work providing solar energy to restore power to vital community services and needy residents on life support, we provided a small contribution of less than $1,000.  Then in 2018, we gave again because of their progress and leadership in Puerto Rico's effort to replace its failing electrical grid with solar energy, setting a goal of 50 percent by 2030.  Puerto Rico has since set an even higher goal of 100 percent renewable energy by 2050, thus joining five US states in this ambitious transition to a clean energy future.
On a recent family trip to Puerto Rico, we got to visit Casa Pueblo and meet its founder, Alexis Massol Gonzalez.
Casa Pueblo's story started more than 40 years ago when open-pit copper mining in the mountains of Adjuntas was poisoning the water supply and therefore the food chain in one of Puerto Rico's most fertile farming areas. Alexis, a local engineer, stood up to the mining company, and with the help of family, friends, neighbors, and hundreds of high school students, conducted civil disobedience day after day, week after week, and finally shut down the mine.
After 15 years of dogged determination the Puerto Rican government finally passed a law forbidding open-pit mining on the island. Sr. Gonzalez founded Casa Pueblo, now Puerto Rico's preeminent environmental organization, as an educational and environmental self-help organization. An early project was to convert the open-pit mine to a thriving, healthy forest.  Sustainable forestry, sustainable agriculture and solar energy combine together to unlock and preserve the amazing fertility and abundance of the Adjuntas region.
Casa Pueblo is like a beating heart in the center of Puerto Rico.  Its volunteer staff are beloved by the community. It is truly inspiring to see the enthusiasm of young people, who not only come to learn, but also give tours of their living laboratory and workshops on a wide range of subjects: sustainable forestry, agriculture, water purification, solar water heating, and photovoltaics.
With the help of private foundations, Casa Pueblo is now ready for a larger, more visible project: a microgrid to supply solar power to vital local businesses on the main town plaza. In this way, Adjuntas will not shut down after the next hurricane. Microgrids that can disconnect from the grid are key to Puerto Rico's resilience and to its renewable energy future.  The utility's current plan calls for the old, failing grid to be replaced by eight microgrids, each of which could function independently in the event of an emergency.  Casa Pueblo is once again leading the way to a sustainable, secure future, one which nourishes the community.  As Alexis Gonzalez says, "It is not a matter of technology, it is a matter of the heart."
Liz Robinson, a member of Central Philadelphia Monthly Meeting currently directs the Philadelphia Solar Energy Association. Visit casapueblo.org.