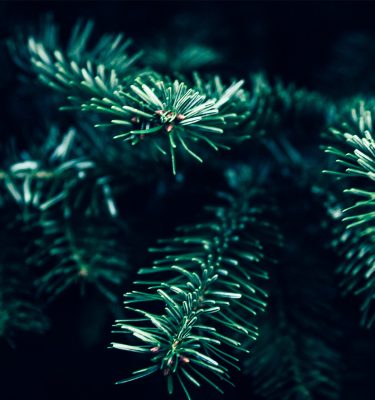 "Only when we see that we are part of the totality of the planet, not a superior part with special privileges, can we work effectively to bring about an earth restored to wholeness."
– Elizabeth Watson
Who We Are
Quaker Earthcare Witness (QEW) is the largest network of Friends (Quakers) working on Earthcare today. We work to inspire Spirit-led action toward ecological sustainability and environmental justice.
QEW has grown out of a strong leading among Friends that our future depends on a spiritual transformation in our relationships with each other and the natural world. For over 30 years, we have helped Friends in North America integrate Earthcare into their daily lives.
As our communities are being impacted more and more by the climate crisis, we feel an urgent leading to share our witness.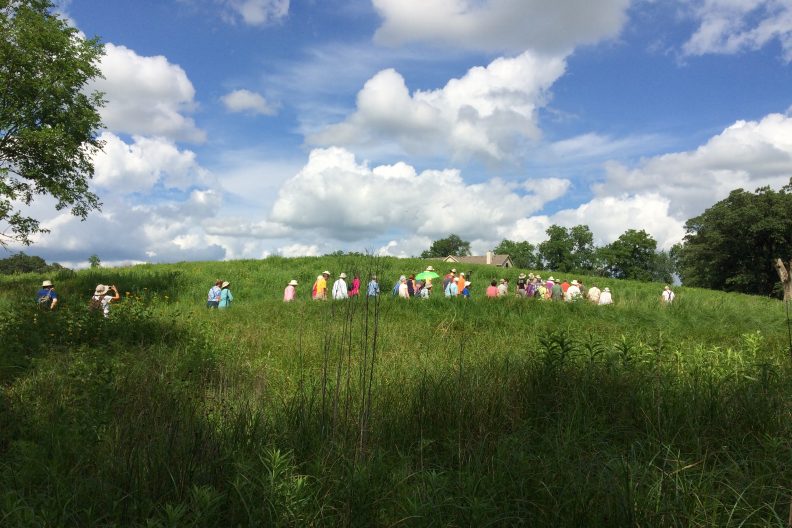 What We Do
Empower individuals to take Spirit-led action on ecological concerns and build a community of Quaker committed to Earthcare
Share spiritual and educational resources with faith communities
Connect Friends caring for the Earth
Speak out as a public Quaker voice about critical ecological concerns and environmental justice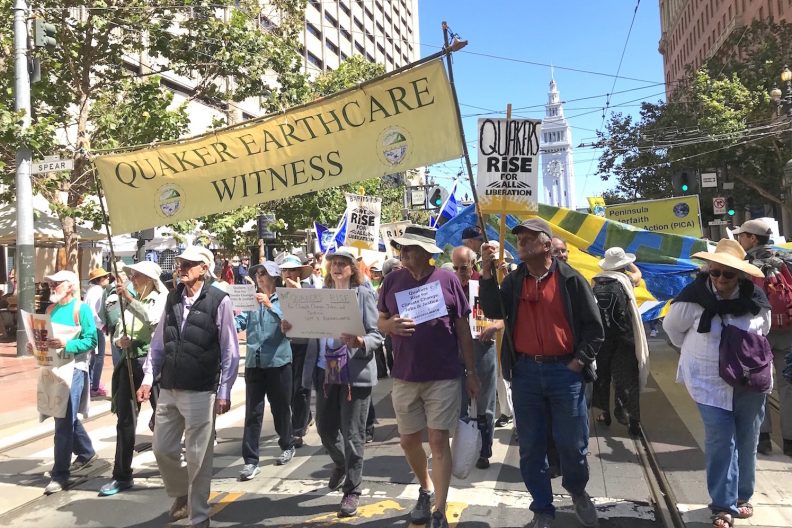 Our Vision & Witness
WE ARE CALLED to live in right relationship with all Creation, recognizing that the entire world is interconnected and is a manifestation of God.
WE WORK to integrate into the beliefs and practices of the Religious Society of Friends the Truth that God's Creation is to be respected, protected, and held in reverence in its own right, and the Truth that human aspirations for peace and justice depend upon restoring the earth's ecological integrity.
WE PROMOTE these Truths by being patterns and examples, by communicating our message, and by providing spiritual and material support to those engaged in the compelling task of transforming our relationship to the earth.
Some Friends may choose different language to describe their personal reasons for supporting or sharing in the work of Quaker Earthcare Witness. All are welcome who seek to further QEW's programs and activities.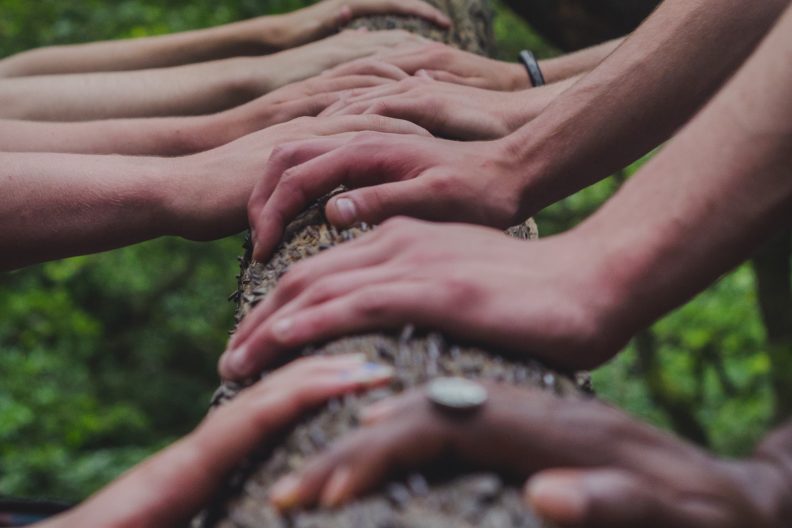 How We Work
We are a volunteer-led organization guided by a 50-person Steering Committee that uses Quaker process and decision-making to guide our work. Our Steering Committee is comprised of at-large members and nominated representatives from Quaker Yearly Meetings (regional groups) in North America. The day-to-day work is done by staff.
Our broader network includes thousands of Friends and hundreds of Quaker meetings and churches who read our newsletter, attend our events, share our educational resources with their communities, and connect together on social media. We also collaborate with Quaker partner organizations, the broader environmental justice movement, and faith-based networks.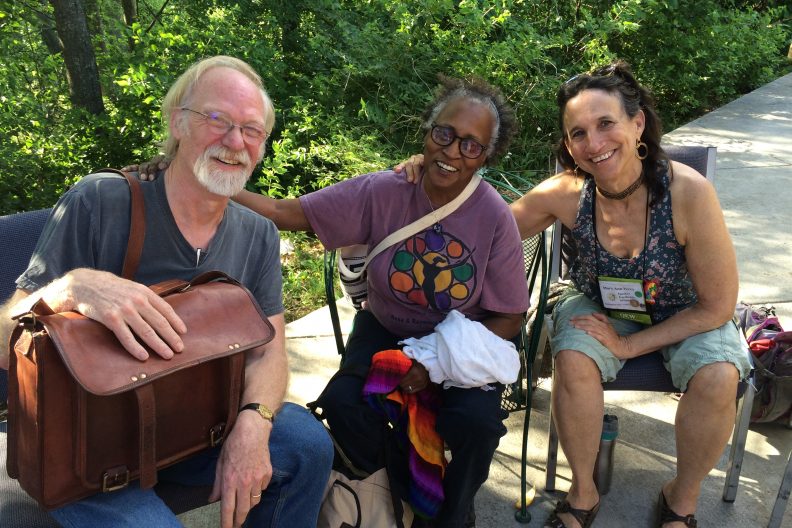 Our Staff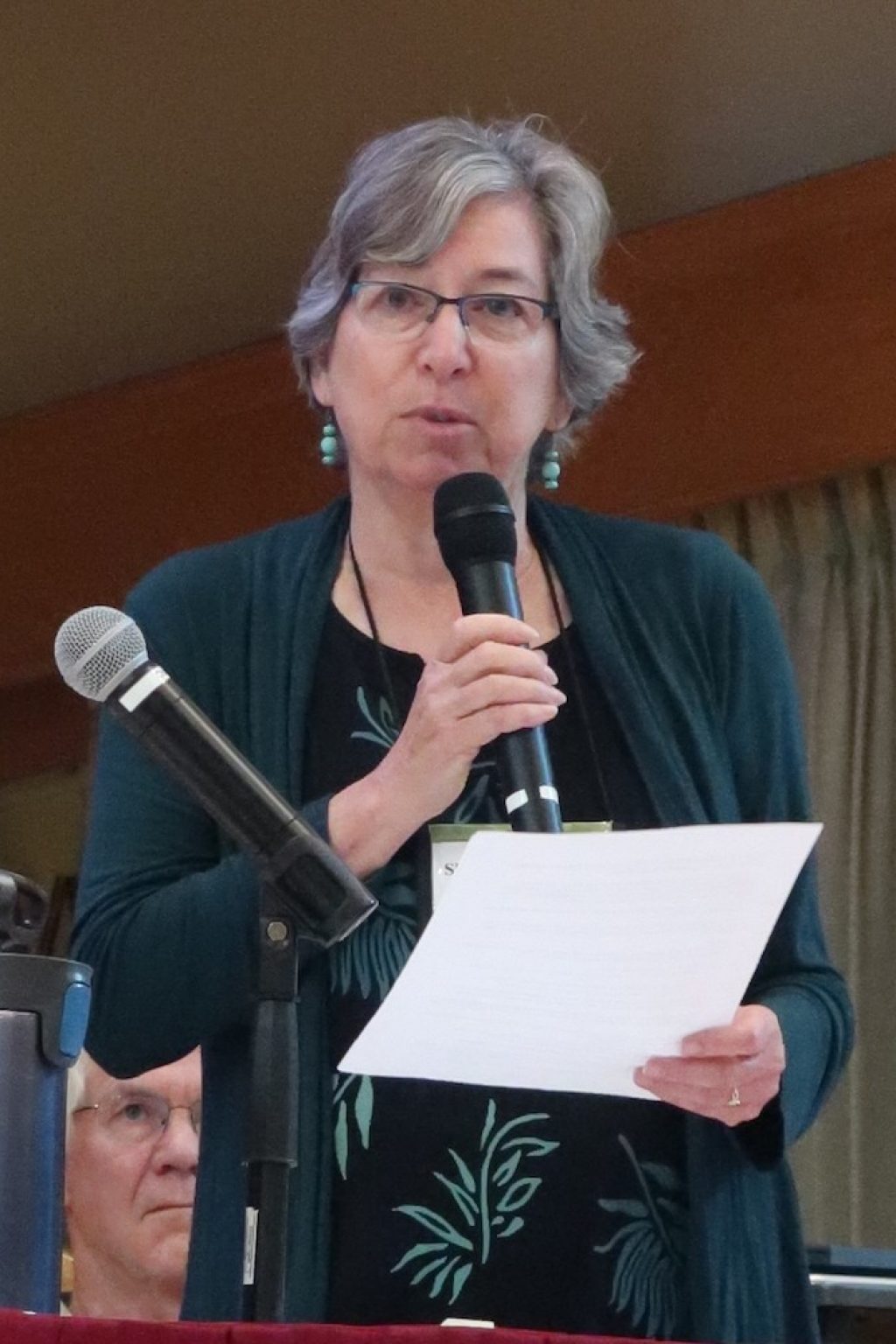 Shelley Tanenbaum
Shelley combines her lifelong love of nature with many years of environmental advocacy and research. She has served as staff and a board member of QEW, Quaker Institute for the Future, Earthlight Magazine and many other non-profit organizations. She is an environmental scientist with a focus on air quality. Shelley lives in the San Francisco area and is a member of Strawberry Creek Monthly Meeting.
Contact by email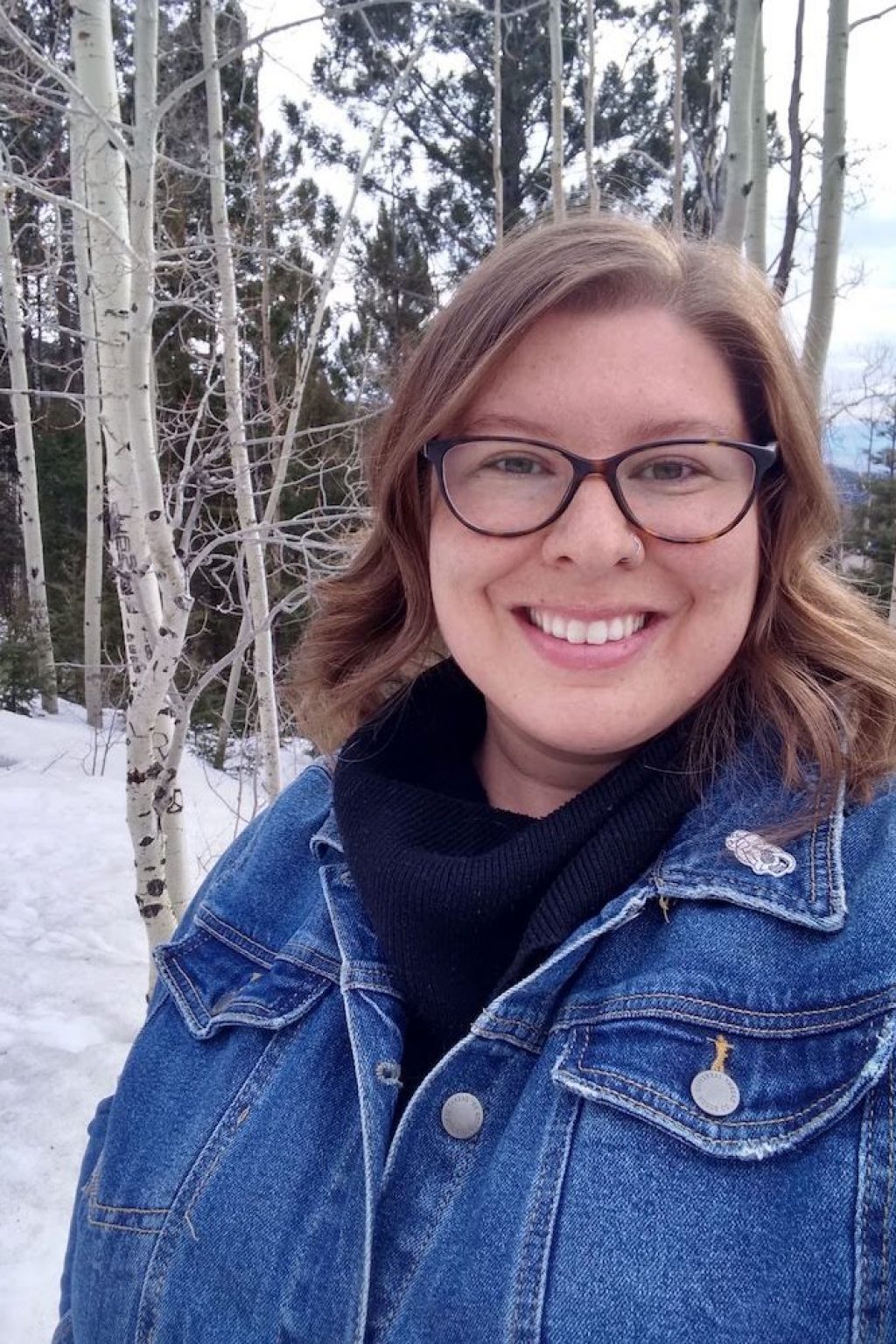 Hayley Hathaway
Hayley is passionate about the relationships between ecology, economy, and faith. Her professional and personal endeavors reflect this, as well as her interests in grassroots activism, solidarity economics, radical hospitality, and popular education. Originally from Connecticut, Hayley spent almost six years working in Mexico City at the historic Quaker center for peace and international understanding, Casa de los Amigos, and now worships with Friends in Santa Fe, NM.
Contact by email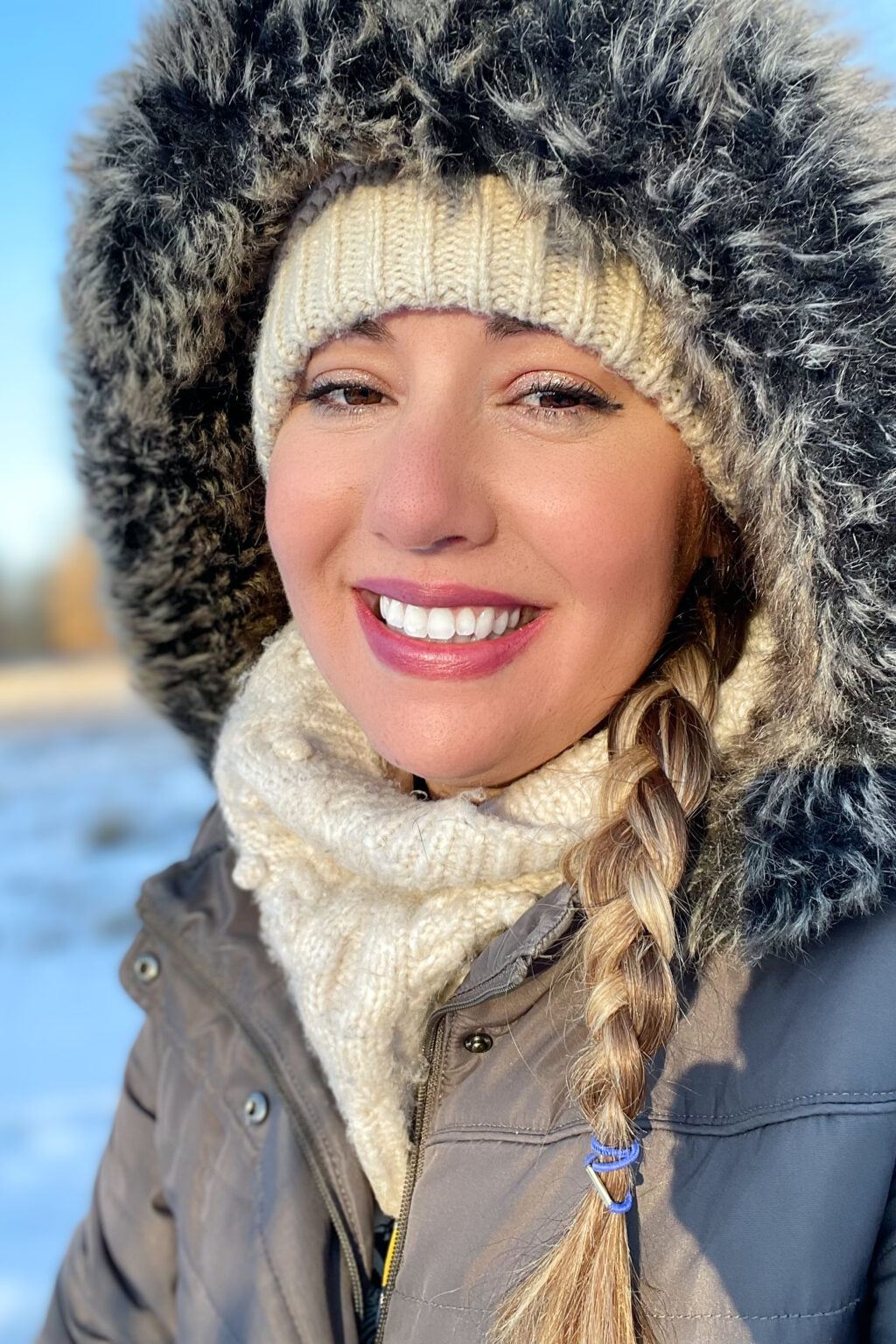 Emily Carroll
Emily is deeply rooted in Christian mysticism and is nearing completion of a Master's in Divinity from Earlham School of Religion. She believes in listening to the still, small voice and committing to hopeful action. She lives with her dog in Columbus, Ohio and is a member of North Columbus Friends Meeting.
Contact by email
Upcoming Events
Banking on our Future with Third Act

February 22 @ 2:00 pm ET

Join QEW Friends online to learn more about Third Act and the March 21 Day of Action. Third Act is building a community of experienced Americans over the age of sixty determined to change the world for the better. Together, they use life experience, skills and resources to build better tomorrow.

We will be talking about Banking on our Future Day of Action, planned for March 21. Groups are organizing to cut-up credit cards (symbolically or actually) in as many iconic places as we can imagine. (Maybe underwater on a dying coral reef, if you have diving skills, or against the backdrop of a fire-scarred forest, or alongside the remaining damage from Hurricane Ian). We also need lots of people outside and inside bank branches, especially out in suburbs across the country. Chase, Citi, Wells Fargo and Bank of America have picked 30,000 of the highest-traffic locations in the country for their offices and we want to make sure a wide sampling of them are visited that day.

Kathy Barnhart from Strawberry Creek Monthly Meeting is a volunteer with Third Act - she will be sharing with us the connection between finance and climate activism and how to get involved in your community.

Worship Sharing with Quaker Earthcare Witness

February 28 @ 7:00 pm ET

Quaker Earthcare Witness is hosting monthly online worship sharing groups.

In worship sharing, we gather in small groups to focus on a particular question (or questions) to explore our own experience and share with each other more deeply than we would in normal conversation. It seeks to draw us into sacred space, where we can take down our usual defenses, and encounter each other in "that which is eternal." We welcome all to join us!

Together we are creating more opportunities for Friends to be in spiritual community with one another.

A Quaker Ecology with Cherice Bock

March 14 @ 7:00 pm ET

Photo from Barclay Press

Join Quaker ecotheologian Cherice Bock in sharing about her newest book, A Quaker Ecology: Meditations on the Future of Friends on Tuesday, March 14 at 7pm - 8pm Eastern/4 pm Pacific

In our best moments, Friends have been in the middle of the action around the social justice issues of each time period, discerning to the best of their abilities the direction the Inward Light leads and speaking truth to power. In our own time, climate justice can no longer be ignored if we want to have a healthy planet to live on and if we want to participate in the heart of the justice movements of the twenty-first century.

To work on climate justice requires Quakers in the United States to revisit the practices and history of the Religious Society of Friends, recognizing the ways we have been complicit in unjust land acquisition, natural resource depletion, the intersecting injustices surrounding environmental racism, classism, and gender disparities, and the impacts of globalization. This book offers a series of meditations on the Quaker ecology, both internally in our denomination as well as in our connections to the world around us. It forms an invitation to participate in an Eco-Reformation, altering the trajectory of our Society through re-membering our history and reimagining our future as participants in the community of all life.

Cherice is a recorded Quaker minister and a member of North Valley Friends in Oregon. She served as one of the founding co-clerks of Sierra-Cascades Yearly Meeting of Friends from 2017 to 2020. Bock holds a master of divinity degree from Princeton Theological Seminary and a master of science in environmental studies from Antioch University New England, and she is a Ph.D. candidate in the same field. She teaches at the college and seminary level in the areas of Bible, theology, and environmental justice, and she works as the creation justice advocate at Ecumenical Ministries of Oregon. She edits Barclay Press's Friends Bible study curriculum, Illuminate.

We encourage Friends to read the book (you can find it at Barclay Press in print or digital formats) and/or to listen to Cherice at the 2020 New England Yearly Meeting's annual sessions, where she presented the original content as part of their Bible Half-Hours

If there's enough interest, we're hoping to organize a book group to go deeper into Cherice's work. If you're interested, please make a note of that on the registration form and we will share more information as it becomes available.
Support Our Work
We're the primary Quaker voice addressing the issues of climate change and the environment. Please consider helping to build a robust, creative, impactful network of Friends taking action to care for each other and the planet—and make a donation today.