Fairbanks Climate Action Coalition's Next Step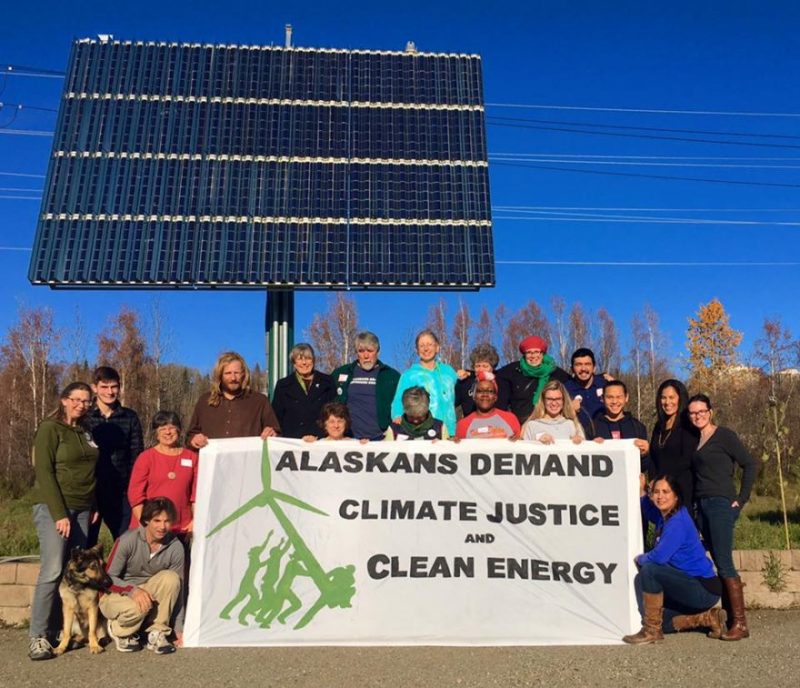 By Cathy Walling, Chena Ridge Friends Meeting, Fairbanks, AK.
"I love to feel where words come from."  I have long loved that quote from our Quaker heritage story of the indigenous man Papunehang hearing John Woolman preaching. He didn't know what Woolman was saying, but he knew it was coming from the right heart and Spirit.
I had a similar experience in September 2014 when attending a rally in Fairbanks, Alaska in solidarity with the New York City Climate march. Two Native women spoke out at different times during the rally, and when I heard them, I immediately heard that Woolman quote ringing in my ears. That's it! That's the right heart and Spirit from which our Climate Action efforts need to emanate!
Two years later, there is now a Fairbanks Climate Action Coalition (FCAC) with members from diverse sectors of our community.  Not even a year old, our group has been enriched by Alaska Native wisdom, perspectives, and Spirit as we continue to take our next steps forward.
What began as a yearning to respond to, "What can we do locally to address climate change?" became the mission of FCAC: "Through education and advocacy Fairbanks Climate Action Coalition will mobilize Fairbanks and Interior Alaska communities toward action to mitigate and adapt to climate change. We seek to elevate climate solutions and foster a fair, equitable, and just transition to sustainable communities—locally, regionally and globally. We seek to build a renewed and respectful relationship between all beings and the earth."
As we continue to take our next steps forward, we continue to seek partnering with diverse sectors of our community.
Recently, in conjunction with the 50th Alaska Federation of Natives conference held in Fairbanks, Alaska, a small working group of the FCAC led by Native Alaska members of our coalition coordinated a lunchtime panel held at the IBEW building in town.  The gathering was entitled, "Climate Change and the Need for a New Economy in Alaska".
Five panelists, mostly from the Native community, spoke of their connection to a way of life deeply connected to place.
Sam Alexander, University of Alaska Fairbanks (UAF) Economics Faculty and a Native business leader, recounted his father's words to him when he was eight years old, sitting on the banks of the Porcupine River in Northern Alaska during a moose hunt.  "We are the richest people in the world." At the time he wondered about this. Several years later—which included three years serving in Iraq—he could affirm, " I come from very wealthy people. All I see other people in other countries and other cultures do is work toward living a life that we as Native people already live. We are extremely wealthy. I think about the amount of time you have to spend with your family members, being in the woods, and the healthy activities you do when you're out there, and the healthy food you eat.  I recognized we are absolutely the richest people in the world, and that really is the starting point for economic development. "
Jack Hebert from the Cold Climate Housing Research Center affirmed that the sharing of cultures could bring out the combination of Indigenous wisdom and 21st Century technologies as we live further into this time of changing climate. "What can we do together?" He continued with, "What do we really need versus want at the expense of others? We need each other.  We need to work together, we need to love each other and we need to love this land."
Jacqualine Qataliňa Schaeffer, Senior Project Manager at ANTHC Division of Environmental Health and Engineering, shared that "we have the ability with creative minds and open arms to embrace each other in this challenge and see it as an opportunity to create and share and become better human beings.  We have the ability to change our economy by changing the way we think."
Esau Sinnok, Shishmaref Youth leader and UAF student implored the group, " We have to take action now!" He had just notified the group that his island village, Shishmaref on the northwest coast of Alaska, voted in August to move their village to escape ocean erosion due to climate change.
Brian Cladoosby, president of the National Congress of American Indians and the president of the Association of Washington Tribes, began the panel stating, "When we look to our partnerships, we need to not only look to our friends but to our perceived enemies, so we can make 'frenemies'."
Each of these panelists spoke to the WE of creating a sustainable economy for Alaska's economic future; we must work together. Many political representatives were present as were VIP listeners from three or four different political parties.  The sense in the room was of the need to continue to expand upon the conversation held that day.
We need each other, Native and non-Native, as we strive to take our collective steps forward in addressing global climate change in Alaska and in our world.