Friends Travel in Faith to #StopLine3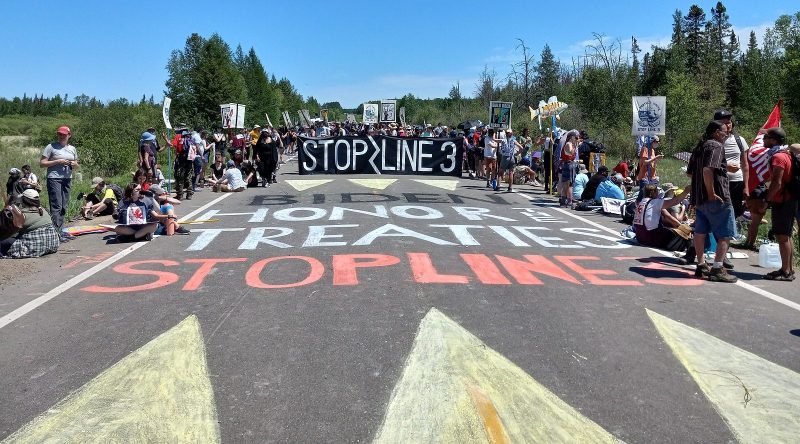 Quakers are coming together to support the growing Indigenous-led movement in northern Minnesota to resist the construction of the Line 3 pipeline. Several Friends participated in non-violent civil disobedience over this past Minnesota winter, several more took part in the June 7 Treaty People Gathering, and others have visited the Indigenous-led water protector camps, some risking arrest or being arrested. Others are at the camps as of this writing.
We invite Friends to join frontline actions as part of the resistance camps, and if you can't travel, to take action from home.
Four Friends share their reflections below on their personal experience being part of the water protector camps, offering steadfast and inspiring examples of faith in action.
A Spiritual Calling to Join the Struggle

By Eileen Flanagan, Chestnut Hill Meeting, PhYM.
The Enbridge drill arrived as I was hugging people goodbye at the Red Lake Treaty Camp in northwestern Minnesota. As a Quaker, I had felt what we call a "leading" (or sense of spiritual calling) to join the frontline struggle against the Line 3 Pipeline. That meant traveling from my home in Philadelphia and camping for ten days at one of several camps along the pipeline route. During that time, I'd chopped carrots, done chores, and learned from the camp's Indigenous leaders about how the pipeline violated the treaty of 1863 between the Red Lake Band of Chippewa and the US government. I'd also participated in a few low-risk actions and helped to organize another. I'd been willing to risk arrest, but the situation never presented itself at my camp, though I knew things would escalate once the drill arrived, and Enbridge prepared to blast through the Earth to install the pipeline under the beautiful Red Lake River, where we'd swum several times. I went down to say goodbye to the river, making a small offering of tobacco, as I'd been taught. Tears came to my eyes. I did not yet feel released from the leading that had brought me here.
As an experienced nonviolent direct action trainer, I realized I could offer a training at camp and still make it to Minneapolis in time to do a necessary errand before my flight home. I checked with Sasha, the camp leader, and she announced to the group that we'd be doing a training in a few minutes. Using skills I learned in Earth Quaker Action Team (EQAT), I helped the group ground themselves and role play different potential action scenarios. After the three-hour training, I felt free to leave, but not to disconnect or forget.
From the airport, I started fundraising for jail support (knowing that Minnesota counties have been setting outrageous bail amounts), and organizing a solidarity action in Philly for two days later. The idea was to try to raise awareness of what was happening at Red Lake Treaty Camp and Line 3 more broadly by risking arrest myself. Twenty-eight people showed up on short notice, seven willing to risk arrest (a majority of both groups were Quaker). Although we were not arrested in Philadelphia, as it happened, 22 people were arrested that same morning at Red Lake Treaty Camp while engaging in a spiritual ceremony. I cried watching video of the violent arrests, confirmed in my commitment to keep speaking out about the Line 3 Pipeline, which is catastrophic for the climate, for the rivers of northern Minnesota, and for the Indigenous peoples of this land.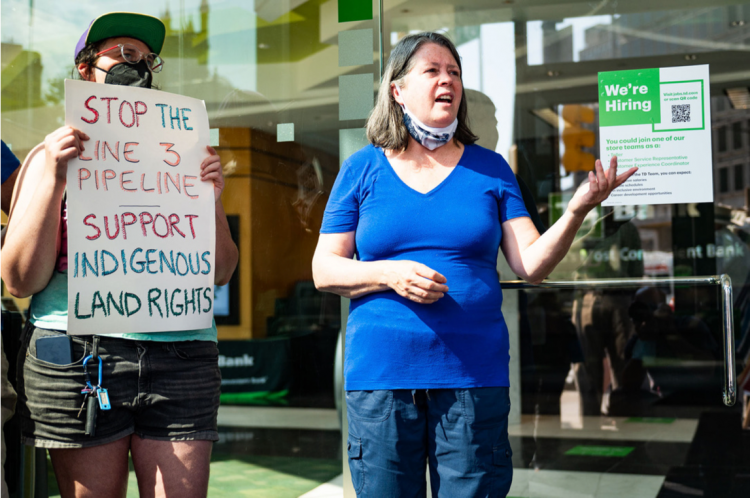 Quaker, Pilgrim, Repairer, Settler, Protector

By Minga Claggett-Borne, New England Yearly Meeting.

On June 7, 2021 hundreds of water protectors from the four directions emerged onto Annishinaabe land. I saw myself wearing different hats or personas: a Quaker addressing the littlest one and the wisened ones; a Pilgrim (not a protester); a Repairer (not just a Protector) and a settler come to honor Native treaties.  I came to witness love made public from 1700 miles away, the traditional land of Massachusetts.  My heart did flip-flops. I was both calm and afraid. I was not afraid of the police arresting me, I was afraid that I'd not be faithful.  I was calm because I was prepared, we had identified the evil, and the lakes and waters spoke that the pollution was withering the flora/fauna.
Our van pulled into the Manewog Camp at midnight. I slept under a canopy of trees with winged tents everywhere. The camp had a healing sanctuary, a sacred fire circle, an army tent for a dining room equipped with a water fountain and facemasks. As a reformed settler, I came with humility expecting to scrub dishes. But my head spun 180 degrees. Three things made me reorient as I was arrested at 10:30 pm on June 7th.
First I heard more stories of egregious behavior never mentioned in the media. Water Protectors are reclaiming the land from Enbridge which is hell-bent on building thousands of miles of dirty Tar Sands oil. I heard from Ojibwe organizers how the Mississippi and other lakes are being drained. The drought affects the fishing and wild rice fields which are integral to the indigenous life. The rapacious need for profit from oil is starving the Ojibwe. The crimes are stark today, and the US crimes of breaking 375 treaties with tribes since 1787 make for slaughter and genocide.
"The ancestors have spoken / Now is the time / Protect the sacred / Stop the pipeline"

By Cherice Bock, North Valley Friends, Sierra-Cascades Yearly Meeting of Friends; creation justice advocate at Ecumenical Ministries of Oregon / Oregon Interfaith Power & Light.
The first time I sang with others since the pandemic, I was sitting in the grass in a big group in Minnesota, practicing together with hundreds of other activists new movement music brought by the Peace Poets. With tears in my eyes at the beauty of singing together our solidarity, I sang things like, "The ancestors have spoken / Now is the time / Protect the sacred / Stop the pipeline," and, "We've seen the future / We've seen the other side / There will be no prisons / There will be no pipelines."
This was in the midst of a day of training in nonviolent direct action at the Treaty People Gathering in northern Minnesota to stop the Line 3 pipeline. Over 2,000 people gathered at the White Earth Reservation with the goal of encouraging President Biden to do the right thing and cancel the Line 3 pipeline permits. The event was called the Treaty People Gathering in order to emphasize that if we live in what is now the United States, we are all treaty people: we are all party to the treaties made between the US government and the Indigenous people. Treaty rights aren't just an issue for Indigenous people, but for those of us with European ancestry in particular, it is our work to live up to those treaty agreements with integrity.
As part of the larger group, an interfaith delegation attended the Treaty People Gathering, and I got to be part of organizing the interfaith delegation in partnership with GreenFaith and Minnesota Interfaith Power & Light. There were about 400 people there as part of this interfaith group. It was exciting and inspiring to see so many people of faith participating, and to get to meet in person many people I have been organizing with in virtual spaces.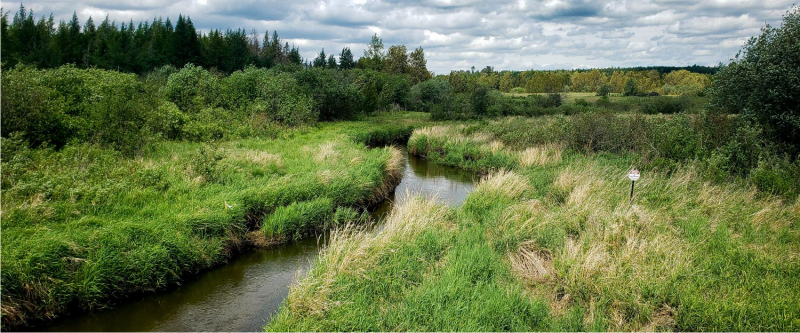 We are All Treaty People

By Andrea Beane, Austin Monthly Meeting, South Central Yearly Meeting, Quaker Earthcare Witness Direct Action Working Group.

I identify as a white woman of European descent and I am a Treaty People. I traveled to Northern Minnesota to participate at the Treaty People Gathering on June 5-8. The leading was strong and without much notice. I secured travel from Texas to Minnesota where I would meet up with another Quaker.
When we reached the camp on the White Earth Reservation, we were greeted and given information about where to set up our tent and when to meet for the opening prayer. No other information was given about the details of the action on Monday. Yet in the air, was an unspoken essence of the intention of why we were there.
Besides our gathered intentions, another aspect that could not go unnoticed was the flight of the dragonflies. They were with us as we entered camp and throughout our time there. They flew above us all day at the action on Monday. They were mesmerizing and magical and at times absolutely intoxicating. Their presences reminded us that change is transformational and to love, rejoice, and have faith in life even when difficulties lie ahead.
Sunday was direct action training day. Groups divided into levels of arrest risk with "Red" being those who were ready to be arrested, "Yellow" being those who would take more risk and might be arrested and "Green" for those who did not want the risk of being arrested. Since I was 1500 miles away from my home, I chose to participate in the "Green" group.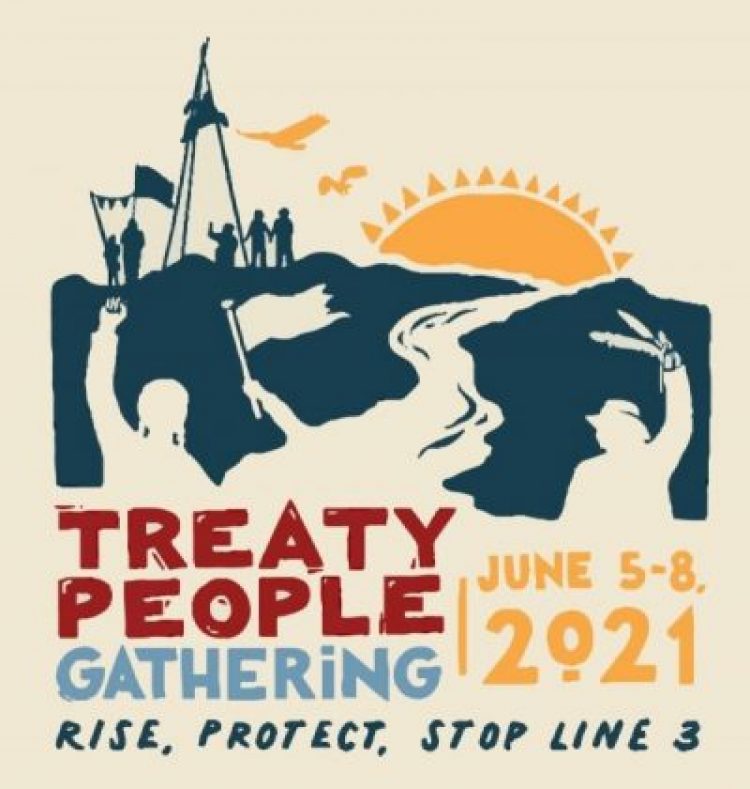 Quakers in Solidarity

By Buffy Curtis, Mohawk Valley Friends Meeting on the Lands of the Oneida Peoples, New York Yearly Meeting.
The call for a "Treaty Peoples Gathering" was clear and different from previous calls of support for Climate Action or Indigenous action support calls. I was being called into the work as a co-creator/conspirator. I had a place in the cause and opportunity to heal/help. Almost as clearly as my call to Standing Rock, my response to this was clear; I needed to go. Usually Liseli and I are in these things together, she as the planner and me as the "get us there" person. However, that wasn't going to happen this time due to the imminent arrival of a new grandchild . Plan B, answer an email from another NYYM Friend wondering if we were going. Spirit moves in delightfully wondrous ways and within two weeks , we were Minnesota bound with stops with Friends for hospitality along the way. Upon arrival at the main camp, we were aided and encamped with little difficulty and the beginning of the weekend of community building and fellowship began with the blessings of thousands of dragonflies surrounding us all. We nicknamed the camp Firefly. We never did connect with the multi faith gathering where other Quakers had joined about an hour away, but did meet several Friends and supporters of Friends as a result of wearing on my back a note that said "Quakers in Solidarity," both around our base camp and at the day of action.
There was clear direction, training, and Indigenous leadership that held all of us together throughout our four days. We were free to choose what level of action we were able to commit to. Red was direct action/sure arrest. Yellow was an action which might lead to arrest. Green was an action with no real probability of arrest. Our carload chose green, though two members were co-creators of the chalk action done on the bridge the main action day. Over 2,000 people assembled to demonstrate the need for awareness, action and response by the Administration and to help stop the digging of the Pipeline.
Joining a Community of Water Protectors

By Julia B. Isaacs, Madison Monthly Meeting, Northern Yearly Meeting.

Within 24 hours of reading the invitation to the Treaty People Gathering, I felt clear I wanted to attend. The invitation said:
We rise together for treaties. We rise together for climate. We rise together for our water. We rise together for one another. As Enbridge builds Line 3 through Anishinaabe treaty land and the Mississippi Headwaters, we continue to stand strong in our resistance.

We will not stand by and watch a fossil fuel corporation line its pockets as so much is destroyed, producing oil we don't need. On June 5–8, we will gather in Northern Minnesota to put our bodies on the line, to stop construction and tell the world that the days of tar sands pipelines are over. Only a major, nonviolent uprising — including direct action — will propel this issue to the top of the nation's consciousness and force Biden to act. We are rising. Join us.
Attending the Treaty People Gathering was a powerful experience, even though I could only stay through the weekend, and so missed the big action on Monday. I share a few highlights, building on the theme "we rise together for one another."