In Solidarity with Those at COP21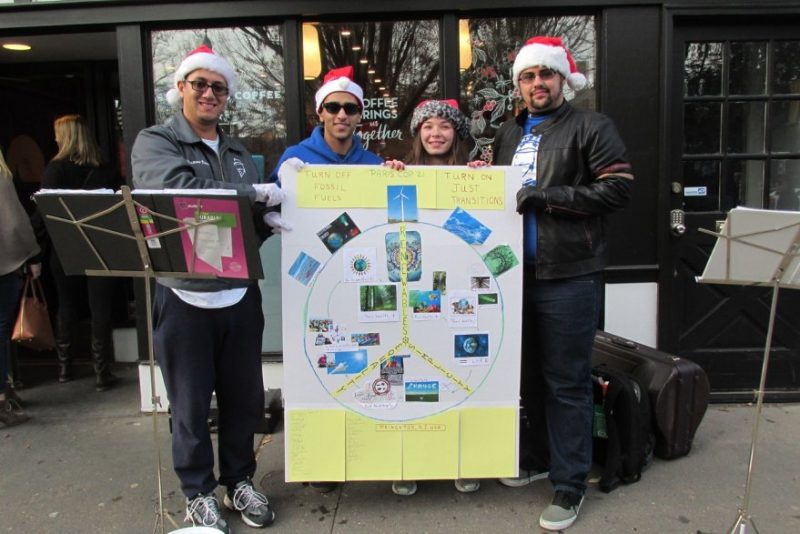 By QEW Friends
Some QEW Friends weren't in Paris but were participating in events in their local areas in support of change for the planet. In this section several Friends share their COP21
experiences with you.
= = = = = = = = = = 
"I went on one of the local walks on Sunday, December 30, in support of the climate negotiations in Paris. Nine people from my Meeting joined a small crowd of about 375 to walk from Harvard Square in Cambridge, MA to the statehouse in Boston, something like 3.7 miles. Many students, who would otherwise have swelled our ranks, were still out of town for Thanksgiving break, but it was a goodly and dedicated bunch of folks.
"Hey, hey, ho, ho, those fossil fuels have got to go." "Come and go with me to that land…"
Patti Muldoon and I carried the small banner we had made for the big march in September of last year and joked that the hundreds walking behind us were all Quakers because they were following our banner. It felt good to know that there were thousands of other walks and rallies going on around the world that day." —Mary Gilbert
= = = = = = = = = = 
"On December 3rd, three Friends from Quaker City Unity Friends Meeting distributed flyers in front of the Claremont, NH post office to draw attention to the UN Climate Summit in Paris and encourage personal and group actions that mitigate climate change, based on the Climate Minute from Connecticut Valley Quarter that Quaker City Unity Friends endorsed:
'We want to share this statement with the community. As concerned citizens, we need to better understand the impacts of climate change on our local communities and develop reasonable responses personally and as informed community members. Our hope is to continue to raise awareness and encourage an open dialogue between local community leaders, legislators, and concerned citizens about the need to address climate change locally.'" — Reb Mackenzie
= = = = = = = = = = 
"The only marches near me in Princeton were in Philly or NYC, so I decided to create a large poster with the title, "Turn Off Fossil Fuels, Turn On a Just Transition." Below that I added a large peace sign with the words "renewables", "equality", and "simplicity" making the three lines inside the circle, and then an inner loop of important themes represented by pictures: Our Cooperation For – Their health (forests), plus Their health (oceans, rivers) plus Their health (species), equals LIFE (earth and atmosphere). Pictures also moved through a just and sustainable economy, food sovereignty, indigenous rights, lifestyle change, and x's crossing out farm factories and monocultures, etc.).
I walked the poster around town for signatures and photos. It created the opportunity for some very good conversations, including wonderful ones with children who not only signed but were very interested in the pictures on the poster. They understand the concept "clean" via showers and baths. From there they understand keeping water clean and that air also needs to stay clean. The most surprising was a group of student skateboarders outside Princeton's Woodrow Wilson School for International and Public Affairs. All signed and took photos to post on their Facebook pages. The enthusiasm among young people was 100 percent and about 85 percent for older folks. I also encountered one angry climate denier.
It hasn't stopped with that single day. The poster is now being loaned out day by day to various businesses and groups for more signatures and conversation. The benefits are going both ways." —Laura Hawkins