Adding Leaves to the Grove of Life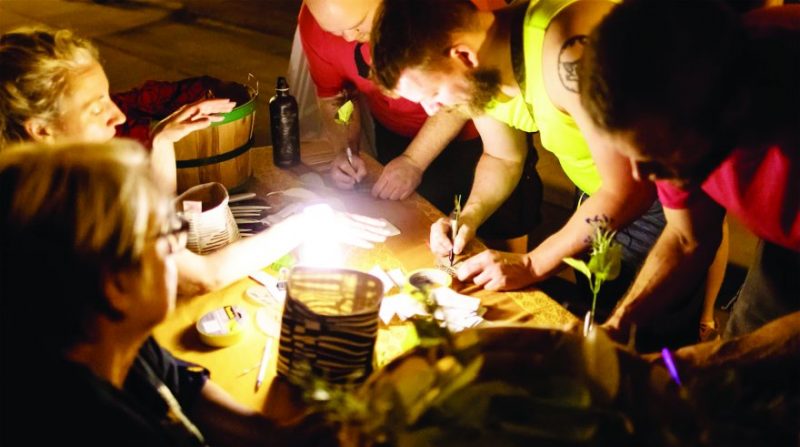 By Regula and Michael Russelle.
AN ALL-NIGHT, OUTDOOR EVENT. One thousand passersby publicly claim their practices and promises to reduce climate change. Each attaches a paper leaf with a personal, hand-written testimony like "bicycle everywhere," "no food waste," "share housing," "travel by train" to a branch on a small grove of trees, the Grove of Life.
As Friends know experientially, testimonies speak through our words and our actions. This public art project was organized by artists involved in Twin Cities (Minnesota) Transition Groups, neighbors "coming together to create more resilient communities and a more sustainable future." As part of this group, we invited others to step forward and testify. The response was deeply moving.
"It was a magical night."
"Thank you so much for inspiring my generation to think about the future."
"I'm intrigued about this as a tool for congregational organizing."
The two of us have been involved in the Transition Town movement for a decade, after learning that our lifestyle decisions directly affect as much as two-thirds of our carbon footprint.
When we begin to bike more and fly less, plant gardens and eat less meat, bundle up in winter and turn down the thermostat, live with what we have and minimize waste, we take steps to embrace less energy-hungry lives.
Some actions are easy to talk about, but how can we talk tactfully about our individual and corporate need to buy less, waste less, travel less, use less, and burn less? How can we celebrate the steps others are taking, and begin to consider taking a step we ourselves have avoided?
We found that the Grove of Life invited this kind of conversation. We encourage you to replicate the idea. A friend made a beautiful five-minute video about the event, which you can find here www.bit.ly/GroveofLife 
"It is a long journey from the head to the heart, and an even longer journey from the heart to the hands."

– Patriarch Bartholomew
Public art is one way to help people move from head, to heart, to hand.
Regula and Michael Russelle are members of Prospect Hill Friends Meeting in Saint Paul and Minneapolis. They are active in their neighborhood Transition Town All St. Anthony Park. Contact Regula for more info:regula@cedarfencepress.com.