Awaking Across the Branches of Friends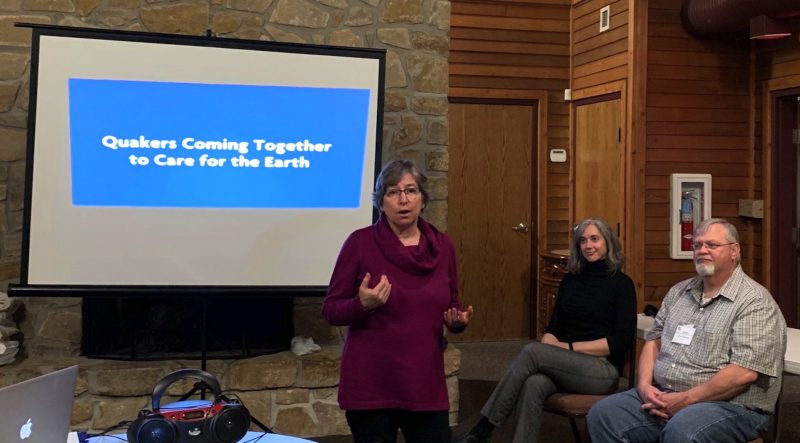 By Shelley Tanenbaum.
SOMETHING SPECIAL happened at the March 2019 Friends World Committee on Consultation Section of the Americas meeting. Friends from across the branches of the Religious Society of Friends came together to express our love for the land and our dedication to environmental justice, with each of us grounded in spirit along our own path.
Three of us were invited to be part of a panel on Earthcare that explored our individual spiritual paths and where we are led: Adrian Halverstadt is an Evangelical Friend who is Chancellor of Barclay College in Kansas and the Director of Evangelical Friends Church of North America, Cherice Bock is a Professor of Environmental Studies and Co-clerk of Sierra Cascades Yearly Meeting (Evangelical), and me, Shelley Tanenbaum, General Secretary of Quaker Earthcare Witness and a member of Strawberry Creek Monthly Meeting (unprogrammed, liberal/universalist).
Participants first shared why they chose to attend our workshop since there were several options. One participant who knew both Adrian and me said that he came to hear what Adrian and I could possibly say together. This participant might have been initially skeptical because of our different religious contexts and beliefs, but Adrian, Cherice and I were more in sync with each other than not.
We each described our spiritual paths, and how these had led us to embrace ecological integrity and environmental justice. Adrian quoted scripture to show how we are meant to be good stewards to our land. He explained that the original words of Genesis do not require us to have "dominion" over the earth, a common misinterpretation. Instead, the earliest versions of the Bible ask us to take care of the earth and all of God's creations. He also quoted scripture to show that we are required to share resources fairly in our generation and to protect our environment for future generations.
Cherice echoed Adrian's use of scripture and added that she seeks out and has experienced God's presence in the natural world. I described how I have come to my own sense of eco-spirituality experientially, by being present in nature. This experience has given me a sense of awe and joy in the natural world, and has allowed me to feel related to people across the globe, and to all people living before us and (hopefully) long after our times.
Each of us has been led to the same place—a place of care and concern for a healthy planet and working toward a world where everyone can live sustainably and thrive. Environmental justice emerged as a goal that could unite Friends worldwide. Cherice and I also emphasized the urgency of the multiple environmental crises we are facing, including climate change, crashing species diversity, ailing oceans, and depleted soils.
We followed our workshop with an interest group the next evening, showcasing a film produced by the FWCC-World Office, featuring several public Friends describing their spiritual connection to earthcare, the environmental changes that they are seeing in their home communities, and the directions that they are led to witness in the world. The film features the three of us (Adrian, Cherice and me) plus Kelly Kellum (Executive Secretary of Friends United Meeting), Lindsey Cook (Representative for Climate Change for Quaker United Nations Office – Geneva), Christopher Sammond (former General Secretary, New York Yearly Meeting), and Beverly Ward (Field Secretary for Earthcare for Southeastern Yearly Meeting). We each come from a different spiritual path, all are experiencing significant changes in our home communities, and we are all compelled to act out of a sense of urgency in our times. You can watch the film here: https://vimeo.com/336821797.
Our time together at FWCC Section of the Americas was exhilarating­—finding common ground and mutual support across the branches for what can often be a lonely path in Quaker circles. We will continue the dialogue, with gratitude to FWCC for bringing us together.
[Note that Cherice Bock edited a volume entitled Quakers, Creation Care, and Sustainability for the Friends Association for Higher Education's series on Quakers and the Disciplines. This book includes a chapter on QEW, available here.]
—
The Minute approved at the FWCC – Section of the America's gathering in English and Spanish:
We celebrate that Friends from across the Quaker traditions came together with joy, energy, concern, and prophetic witness regarding environmental justice and earthcare. We recognize the urgent need for further action on these matters, and are seeking ways to work corporately—both within and across our branches—on our shared testimony of stewardship. Local meetings and churches are invited to use the new FWCC videos of personal earthcare testimonies called "Quakers Coming Together to Care for the Earth" to support continued momentum at the local level. The testimonies of these Friends provide a catalyst for other Friends to discern how the Spirit is inviting them to act in response to the multiple interlocking ecological issues that are affecting creation.
Tomamos como motivo de celebración el hecho de que los Amigos a través de la variedad de tradiciones cuáqueras se han unido con gozo, energía y testimonio profético acerca de la justicia medioambiental y el cuidado de la Tierra. Reconocemos la necesidad urgente de más acción en cuanto a estos asuntos y estamos buscando formas de trabajar de forma colectiva—tanto dentro como más allá de nuestras ramas religiosas—sobre nuestro testimonio compartido de la mayordomía. Se les invita a las juntas e iglesias locales a utilizar los nuevos videos del CMCA incluyendo testimonios personales del cuidado de la Tierra; la serie se llama "Los cuáqueros juntándose para cuidar a la Tierra." De esta manera podrán apoyar el ímpetu al nivel local. Los testimonios de estos Amigos sirven de catalizador para que los demás Amigos disciernan los modos en que el Espíritu les está invitando a actuar en respuesta a las múltiples inquietudes ecológicas entrelazadas que están afectando la Creación.