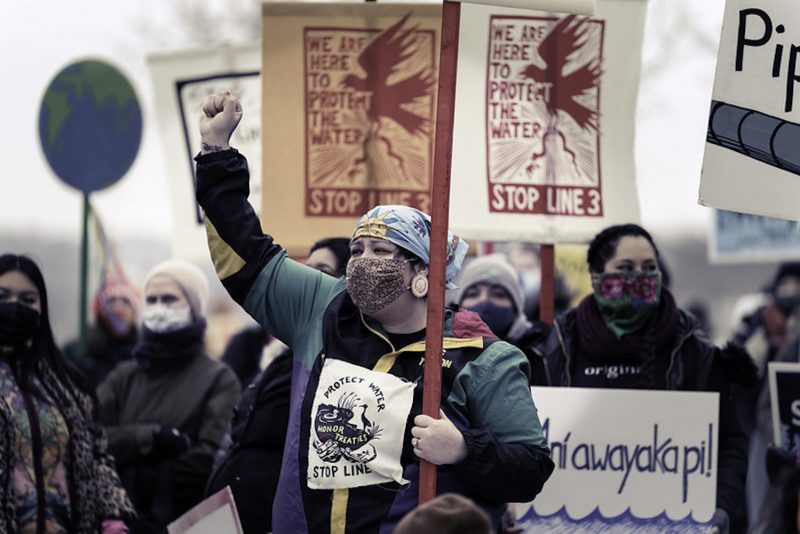 By Hayley Hathaway and Ruth Darlington.
"If we're going to Build Back Better, we need to do better. And that starts by putting Indigenous people and their voices first, before any [fossil fuels] project is put in place…It is our Indigenous right to protect what little we have left," shared Ta'sina Sapa Win Smith, of the Cheyenne River Lakota Nation and co-founder of the Cheyenne River Grassroots Collective. She spoke during the Build Back Fossil Free digital rally on January 26 where Indigenous frontline leaders gathered to share stories of the devastating impacts of fossil fuel extraction and infrastructure on their communities, how they have organized to resist, and what we all need to do to protect the sacred now.
Quaker Earthcare Witness recently joined the Build Back Fossil Free network alongside hundreds of organizations. The network unites around three demands:
Protect and invest in the Black, Indigenous, Brown, and working-class communities that have borne the brunt of fossil fuel pollution and climate disasters.
 Reject new fossil fuel projects, including the Line 3 pipeline; eliminate giveaways to oil, gas, and coal corporations, and end the era of fossil fuel production.
Launch a national climate mobilization to Build Back Fossil Free, deliver jobs, justice, and opportunity for all.
Network members argue that the White House's recent executive orders get us closer to their demands , but don't go far enough. Indigenous Environmental Network's Dallas Goldtooth said, "Together we beat and defeated the Keystone XL pipeline." But the proposed Line 3 and Dakota Access pipeline expansions threaten more destruction and require collective action.
Tara Houska, founder of the Giniw Collective, shared about the Line 3 pipeline. Enbridge's proposed pipeline replacement project would bring nearly a million barrels of tar sands per day from Alberta to Wisconsin. So far, one hundred people have been arrested defending the land, called to "protect the sacred with our bodies and our freedom" and almost 70,000 comments were submitted against the proposed pipeline, but still, the project was unanimously approved. Meanwhile, the 1,172 mile-long Dakota Access pipeline continues to pump crude oil from North Dakota to Illinois, with plans to increase output, even as the US Court of Appeals ruled in early February that the pipeline is operating illegally.
The US must also end leasing and permitting for oil and gas on public lands. President Biden's temporary moratorium on all federal activity regarding the oil and gas leases and protections along the shores of the Arctic National Wildlife Refuge need to be made permanent. Bernatee Demientieff of the Gwich'in Steering Committee in Fort Yukon, Alaska emphasized: "We need to bring human rights and Indigenous-led perspectives to the forefront because white supremacy is why we are in the mess that we are in…so we are asking President Biden to take action, continue to take action, protect an untouched ecosystem that births 40,000 caribou each year in the Arctic Refuge and also stop the leasing that is destroying the habitat and the ability to breathe where my family comes from."
Oil and gas interests are also devastating communities in the southwest. Pueblo Action Alliance's Julia Fay Bernal (Sandia Pueblo and Yuchi-Creek Nation) shared that New Mexico alone has 60,000 oil and gas wells. Ninety-one percent of public lands in northwest New Mexico's Greater Chaco region are already leased out to oil and gas. Bernal declared, "We say Build Back Fossil Free, which means building back from generations of colonial harm in the forms of federal fossil fuel leasing and the utmost disregard and disrespect of Indigenous sovereignty and self-determination…It's time to give our waters and our lands a chance at remediation and regeneration."
Sharon Lavigne of Rise St. James said that the US must also say "no" to fossil fuel exports and petrochemical expansion. In Lavigne's Louisiana community, more than 2,000 people, over 70% African American, live within three miles of a proposed plant which would turn excess natural gas into throwaway plastic. They are organizing to prevent the Formosa Plastic plant from being built, working to prevent further harm to people already suffering from high levels of air and water pollution.
At the rally, Indigenous, Black, and Brown organizers from across the country called on us to "Find our bravery!" and do what we can.
Tara Houska reminds us that this struggle is about more than pipelines: "True healing comes from recognition of the harm one has caused and repairing that damage. Only then can you 'Build Back Better.' We want Biden to build back Fossil Free. But equally important we want to build what many in our communities have never had to begin with: equality, justice, and a fighting chance at living to our fullest potential."
Visit BuildBackFossilfree.org.
Hayley Hathaway is QEW's Communications Coordinator, and Ruth Darlington is a member of Medford (NJ) Friends Meeting and clerk for Philadelphia Yearly Meeting's Eco-Justice Collaborative.