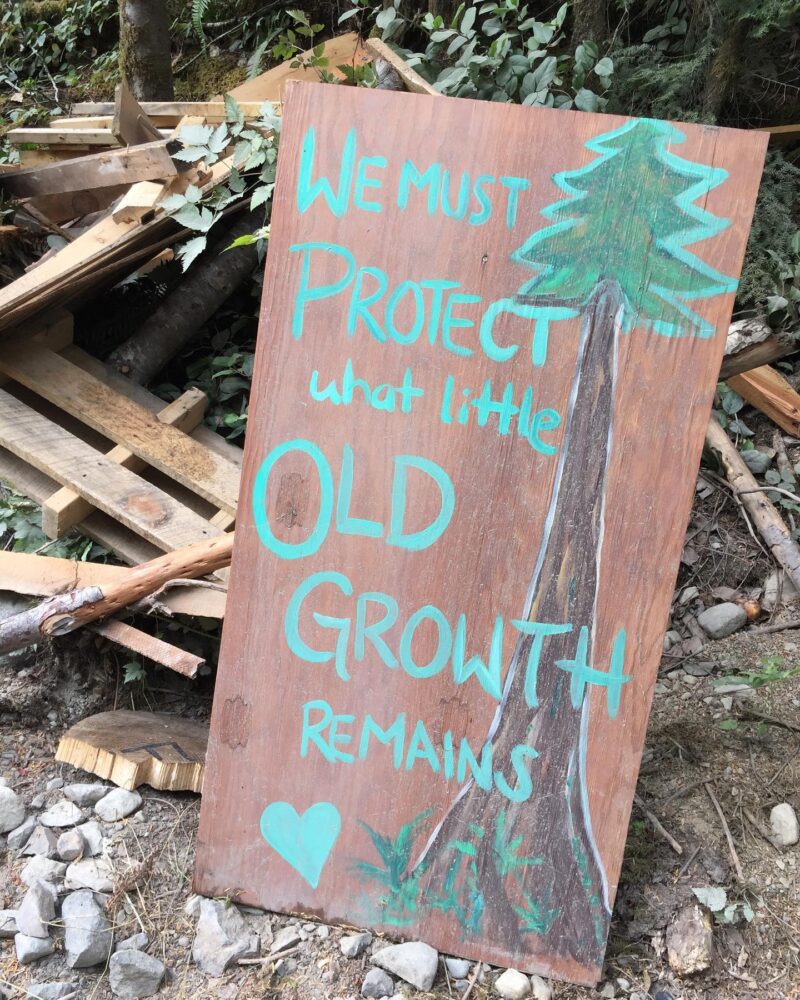 by Hayley Connors-Keith.
Content warning: police violence and sexual abuse
On August 21, my partner and I went to the Fairy Creek Watershed on Vancouver Island in British Columbia to support the land defenders on the frontlines and protect the last 2% of old-growth forests.
We came with food supplies, joined a 24-hour ceremony on "Return to Eldership" with Pacheedaht elder Bill Jones, and supported land defenders while we were there. We arrived an hour after a group of peaceful blockaders were pepper-sprayed in the eyes, mouth, as well as someone's genitals by the Royal Canadian Mounted Police (RCMP). I could feel the intense energy as I walked up upon those that were still suffering from the lingering pepper-spray that circulated in the air. An ambulance came to help those that needed medical care—this was one of many ambulances that I saw during my short time at Fairy Creek.
To date there have been over 1,000 arrests, and the Fairy Creek blockade is now the largest act of civil disobedience in Canadian history. The Fairy Creek watershed is on the traditional territory of the Pacheedaht First Nations. For over a year now, protesters have been setting up blockades to save the island's last remaining old-growth temperate rainforests from logging operations. The RCMP continue to violently abuse and harass protesters, bulldoze their camps, destroy cars and personal belongings, as well as block media coverage. Below is a reflection I wrote just after leaving Fairy Creek.
Resistance in Love
Here I stand in support
of what little remains.
To the beat of the drum
one heart, one mind,
we are all one.
We walk among our ancestral giants whose lives are threatened,
Following the elders of the First Nations People
chanting words that have been passed down from generations,
Learning the wisdom of love
remembering the vital importance of our interconnection with every living thing from those who have persisted,
blessing those that have caused harm,
and what it means to reIndigenize.
My heart races as I hear the sounds of sirens, helicopters dropping down, and the cries of those on the frontlines
Echoing
In rage they continue on
For our ancestral giant elders whose branches are arms,
Giving courage and breath to those who continue to stand up on this battlefield
And the strength to endure the violence perpetrated by corporate greed and
the blue and green men whose hearts are hardened with the authority of our deeply rooted systems of oppression.
Daily, our brothers and sisters are building new structures and reconnecting roads on lands that all citizens have the right to walk on
Only to be terrorized and broken down at any moment, night or day.
Their bodies are harassed and violently attacked,
their belongings are taken and crushed to prevent them from surviving.
This violence targeted against indigenous and people of color only sheds light that the warming climate on which we live isn't just about saving the old-growth forests or an environmental issue but that it is a human issue.
A colonial mindset which continues to be enforced with dehumanization and capitalism that has consumed our lives with exploitation and extractivism.
All the crises we face- social justice, racial justice, and environmental justice are linked as clear blue water is.
This all happened before
And is happening around the world at this very moment.
Masking up to silence is deadly
Listen to the cries of Mother Earth
And let your devastation turn to action.
Hayley Connors-Keith is an environmental educator and activist from California currently traveling in her van around the U.S. See more on social media @fairycreekblockade @rainforestflyingsquad @CampLandBack.
The Sacred Red Dress installation at the Fairy Creek Watershed represents all the missing and murdered Indigenous women in Canada and globally.