Farming for Social Change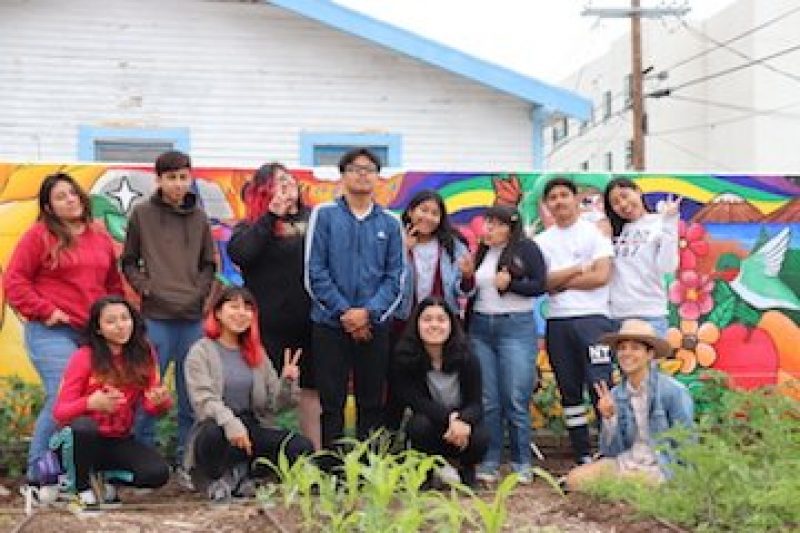 By Sayrah Namaste
"To forget how to dig the earth and to tend the soil is to forget ourselves," Gandhi said.
The American Friends Service Committee (AFSC) has been addressing the impacts of climate change through programs in New Mexico, Los Angeles, New Orleans, and Baltimore, to name a few. These four U.S. programs are part of AFSC's "Farming for Social Change" Network which believes in the power of farming and land-based work with and for communities most impacted by historical oppression in order to increase self-determination, environmental justice, economic justice, and long-term wellbeing of our communities. This network envisions a world that values and centers the leadership of those most impacted by historical and state violence to create real systemic change.
For over 40 years, AFSC has had international and U.S. based programs that support farming to bring peace and economic, social, and environmental justice. Growing food is a practice that land-based people knew how to do before and after white supremacy and imperialism created forced migration, displacement, and environmental destruction across the globe. Today, AFSC is accompanying community members to (re)learn and practice traditional and sustainable farming ways, building economic and environmental justice while increasing the wellbeing of neighborhoods they live in.
"The Nahuatl 'ome teo' is what we say during ceremony and it refers to the divine balance," says New Mexico farmer and Aztec dancer Fidel Gonzalez. Fidel learned to farm sustainably through a year-long AFSC program in Albuquerque. "This is what I am doing on my farm. I align myself with nature. Right now, nature is moving. Many refer to it as climate change."
Fidel grows organic vegetables and fruits for the local community on land surrounding the AFSC New Mexico office. He uses low-till methods to reduce the amount of carbon released into the atmosphere. Recently AFSC worked with him to get solar panels so he could use fewer fossil fuels. With the panels, Fidel created a mobile solar unit to take to farmer's markets so he could make healthy smoothies in a blender from his fruits and vegetables.
"I have to care for the Earth that I am on," Fidel explains. After graduating from the AFSC farmer training program in 2010, he has worked with AFSC to train more farmers in sustainable agriculture. He is now the president of the farmer cooperative incubated by AFSC. All of the food the farmers grow in the cooperative stays in the local community and they model an alternative to exploitative agribusiness practices, one of the largest drivers of climate change.
In Los Angeles, a new urban farm was created this year by AFSC's Roots for Peace program with All People's Community Center and Meta Housing. Through this urban farm, AFSC is supporting community leadership and climate resiliency efforts in South Central through youth organizing trainings, urban agriculture workshops centering peoples' wisdom, and producing hundreds of pounds of food with fourteen families in 2019. "This farm is an important neighborhood asset, a green sanctuary for residents, and part of larger efforts led to address climate change and food apartheid in LA," said Eli Tizcareño, program coordinator for AFSC Los Angeles.
AFSC New Orleans Peace by Piece program supports and mobilizes Black youth and young adults through political education and community organizing to address disparities by building sustainable green spaces. These spaces are intended to feed, as well as to promote, healthy and whole communities through gardening and political education.
"Our curriculum teaches the art of gardening and urban farming," explains DeeDee Green, AFSC New Orleans Program director. "It teaches methods of sustainability—planting, harvesting, composting— while raising awareness of food insecurity in areas of the city that strategically deny access to residents."
At AFSC, our programs support the leadership of communities impacted by historical and systemic violence to create spaces that support livelihood, self-determination and just transformations in our society. Our work toward justice is shaped by the places and people with whom we work, and our programs are diverse for that reason. Through this work, communities are building neighborhood resiliency and collective power in the presence of increasing climate change.
As Fidel shares: "Don't do things out of guilt but out of love. In order for me to be sustainable, I have to create my own ecosystem of balance inside myself. My own climate control—balance my own inner heat and my own inner cold. If you have this balance, you can help others."
Sayrah is the Program Director for American Friends Service Committee New Mexico.