Friends Help Ban Fracking in Maryland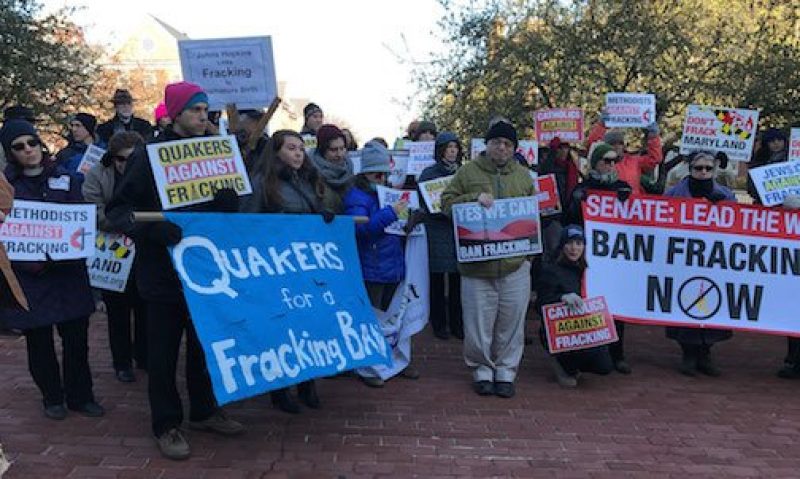 By Karie Firoozmand.
ON APRIL 4, Maryland's Governor Larry Hogan signed legislation prohibiting fracking in the state. This is a huge success for the individuals and organizations that have been working together for this goal for several years, as well as a precedent for other states. I have been working on the fracking issue in my home state since the beginning and helped organize my fellow Friends to take a stand. Here's what happened.
About 10 years ago, at the same time Pennsylvania's shocking list of woes from fracking became national news, fracking in Maryland also became an issue. Drilling companies had previously signed leases with landowners in our state, and figured they would just wait until it was legal to frack.
Multiple attempts were made to postpone or ban fracking, with mixed results. In 2011, then-Governor Martin O'Malley signed an executive order delaying fracking while its public health and environmental impact were studied. Even before the executive order expired, the first ban bill was introduced. However, it got just two supporting votes and died in committee. In 2014, another ban bill faced the same fate. Then in 2015, the Senate passed a fracking moratorium that also called for updated regulations. It passively became law when Gov. Hogan avoided signing it.
During this time, environmental and health organizations and concerned citizens had come together to form the Don't Frack MD coalition of over 100 member groups. The needle of public opinion moved considerably. Fracking had become a household word, and the movement had matured.
With a governor who had, during his campaign, referred to Western Maryland as a "gold mine," and the moratorium expiration of October 2017 looming, it was obvious that the time to do something had arrived. It was time to try again and propose a bill that would prohibit fracking once and for all.
Senator Joan Carter Conway chaired the relevant committee. She started the 2017 legislative session by saying of the forthcoming ban bill, "It'll never pass." As the session progressed and the pressure on her only grew, Sen. Conway introduced a competing bill that would create another moratorium. Her proposal would have allowed a county-by-county statewide vote on fracking. This would have been a non-issue for counties where no gas underlies the ground and an easy win in places where voters were against fracking in massive numbers, but it would have left Western Maryland hanging out to dry. The gas industry trade group easily could have blanketed Western Maryland counties with a public-information campaign that would present the facts to their own benefit.
However, Sen. Conway was wrong, and the whole thing went in an unexpected way.
The Maryland House of Delegates passed the ban bill on March 10. It crossed over to the Senate, where no fracking bill had yet come out of committee.
Then, in a truly stunning move, Gov. Hogan held a press conference on March 17 to announce that he supported the ban and would not veto it.  Jaws fell open, including mine. This was a reversal of his "gold mine" view of Western Maryland, and I'm still not sure exactly why he did it.
I suspect it had to do with the perfect storm of low gas prices, the small amount of gas in Maryland to begin with, and the roar of public opinion and massive grassroots lobbying and activism. He probably saw that he would make himself unpopular if he vetoed a ban bill.
The ban bill got out of committee with a vote of eight to three. It passed the Senate with a vote of 35 to 10. Gov. Hogan signed it into law on April 4.
Where were Quakers in all of this?
In 2014, the Chesapeake Quarter created a Fracking Working Group. Its members had come together at the March quarterly meeting and worked for over a year; we were part of the effort that resulted in the moratorium.
In the fall of 2016, a group formed again, including members of the first group. That group started its work before the 2017 legislative session and succeeded in getting an in-person meeting with Sen. Conway. On February 2, six Friends from Stony Run and Homewood Meetings met with Sen. Conway to express our concern and hear her position.
We needed to keep our concern in front of her, so we organized phone calls to her office; we knocked on doors in her district to get more support; we sent 60-some valentines to her, describing how fracking would break our hearts. We sent St. Patrick's Day shamrock cards reminding her that our future isn't a matter of luck.
On March 2, about 20 Friends and friends joined a 1,000-person rally in Annapolis to demand the ban. We marched behind a bright blue banner with the message, "Quakers for a Fracking Ban." We knew that we could not speak for all Quakers, but the spirit moved us to speak for ourselves. We were indeed Quakers for a fracking ban. A week later, during a faith-themed sit-in, Quakers with our banner were present again. Several were arrested that day, as planned. Our demand came from a settled intention to voice a deep desire to protect the water, land, air, people, and animals of Maryland.
We kept Friends and friends updated on the situation—sometimes it moved very fast—and urged phone calls to various lawmakers. It took a lot of tenacity to keep making phone calls, but we felt the support from our meetings.
Sharing the news at various stages of success was a thrill. Sharing this story is a thrill too, especially because it ends with the questions: What might we do next? How might our Quaker experience open us to the work of protection?
Karie Firoozmand is a member of Stony Run Meeting in Baltimore. She has a particular leading to work for clean, renewable energy through nonviolent direct action campaigns.