Incentives for Green Energy:  Practical Impacts of the Inflation Reduction Act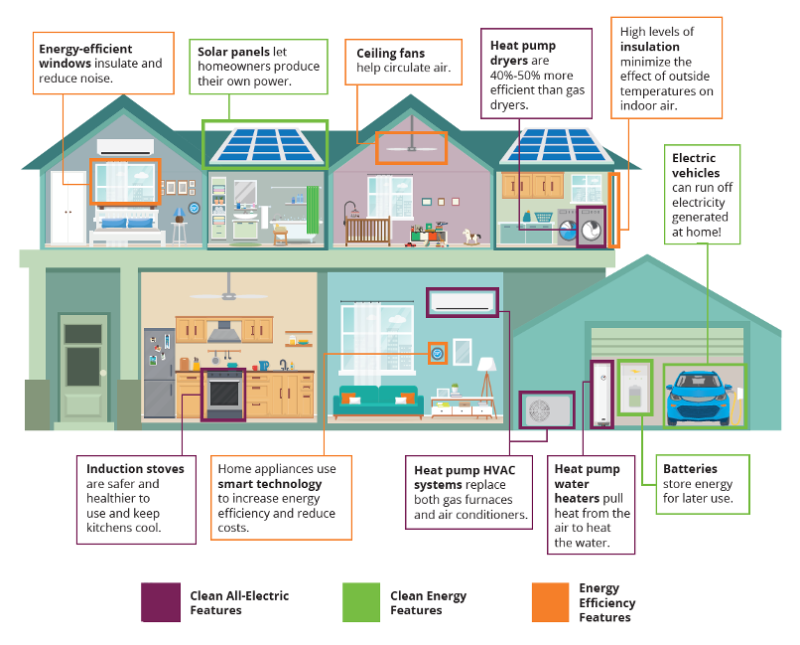 by Liz Robinson.
With the passage of the Inflation Reduction Act (IRA), people in the US finally have the tools necessary to rapidly decarbonize our lives and help accelerate the transition to a clean energy economy. The law provides $369 billion dollars for climate action and clean energy, and is governed by Justice 40, the policy requiring at least 40% of the funding to flow to environmental justice communities nationwide. The IRA is projected to reduce greenhouse gas emissions (GHGs) between 32% and 45% over the next seven years. The law incentivizes both the supply and demand for clean energy, creating a powerful push/pull to get this transition moving faster. Its incentives for manufacturing clean energy technologies in the US, as well as for research and development, are already improving the availability of cutting edge technologies and a broader range of solutions.
The success of the IRA depends on all of us becoming part of the solution and taking concrete steps to electrify our homes, schools, businesses, and government buildings with clean energy and to do so ASAP.
The IRA provides tax credits, rebates, and other incentives for all these clean energy technologies. A wonderful tool from "Rewiring America" will help you determine quickly what you may be eligible for. Visit RewiringAmerica.org.
The Energy Efficient Home Improvement Credit provides a 30% tax credit for a wide range of energy efficiency upgrades. The High Efficiency Electric Home Rebate Program provides rebates for households for heat pumps, water heaters, stoves, insulation and more.
The bill also offers Electric Vehicle (EV) Electrification Tax Credits: $7,500 for a new EV or $4,000 for a used EV.
The Solar Tax Credits are equally generous. The minimum tax credit is 30%, but many projects will qualify for 40%, 50% or possibly even 60%! Solar energy is clearly the cheapest clean energy money can buy. Another amazing change is that the solar tax credits are now available to nonprofit entities, i.e. schools, churches, government buildings, nonprofits in the form of a direct payment from the IRS. Yes, I know, it seems too good to be true.
The Inflation Reduction Act Guidebook provides a summary of the clean energy, resilience, and conservation-related tax incentives and incentives in the IRA. It is continually updated.
So make a plan and start saving money, carbon and the planet today. Your children and grandchildren will thank you.
Liz Robinson is a member of the Central Philadelphia Monthly Meeting and the Environmental Justice Collaborative.
One Family Electrifies!
By Nicholas Hein.
We live in Madison, WI in a 1000-square-foot, 2-story, 3-bedroom home built in 1918. Most of our energy goes to heating and transportation so in 2017 we began the process of upgrading and electrifying—primarily to eliminate fossil fuels and increase efficiency.
An energy audit identified where to start, what to include and estimated costs and benefits.  Insulation and sealing were obvious first steps, because they would reduce the heating and cooling load.  The furnace and water heater needed immediate replacement, so we bought efficient gas versions even though we knew we'd be replacing them when heat pump versions were available.  The next step was solar photovoltaic (PV).  We installed 4 kilowatts – as much as we could fit – to support eventual full electrification.
Our next big changes would be HVAC, water heating and an electric car, but technology and availability were still evolving.  Most significantly, we didn't know whether we should use air source heating or hold out for geothermal.  We couldn't determine whether we'd save energy (early answers weren't promising) and options were changing rapidly while outdated advice lingered unhelpfully.  While we waited for answers (and an EV that fit our needs and small driveway) we replaced our minor appliances (stove, washer, dryer) with efficient electric models.  We made other minor upgrades like windows and window coverings.  In 2022 we found a used EV for the same price as an average gas car, and installed a home charger.  That spring purchased a heat pump water heater so our son (whose gas water heater had just failed) could take our newer, more efficient one.
Finally at the end of 2022, with the announcement of the Inflation Reduction Act we ordered an air-source HVAC heat pump (rated to -13F) and Energy Recovery Ventilator (ERV)  – even though we weren't sure the rebates would be in place for us.  (Our still-good gas furnace also went to our son.)  As of January 10 we are fully electrified.  We're using much less energy – a third of what it was even with efficient gas heat. The air and sound quality inside and outside the house are noticeably better, and the heat is more even across rooms – even in the coldest temps (-3F so far). The heat pump produces air at a lower temperature so more of it must be circulated to reach the target temperature, but it can be done at a lower and quieter fan setting so it doesn't feel drafty.  We have supplemental electric heat if it gets colder than the heat pump can handle.
The project aligned with our Quaker ethics and personal goals:
» Don't make messes for others to clean up. (Electricity is less polluting)
» Don't use more than you need. (Electricity makes heat and power efficiently)
» If you have extra, share it with others who need it. (Mostly information in this case)
» We used local contractors exclusively.
» Solar PV makes our energy cost nearly fixed to align with our fixed retirement income.
» Solar PV supplies our heating and household electricity needs for free. We consider the car to be the only energy use that we pay for, encouraging us to limit its use.
Because we were early adopters we did much research – educating and coordinating contractors who were new to the technology – and waiting for technology to mature.  We were fortunate to be able to do all the improvements without borrowing.  Thankfully the process is much easier for anyone starting today. Contractors are more familiar with the technology.  Rebates, deductions and loans are available to ease the cost burden because of the IRA. We hope that electrification will be even more attainable in the future.
Nick Hein is a former aerospace engineer, avid bicyclist and now does occasional environmental consulting and analysis. He is a member of Madison (WI) Monthly Meeting.