Is (the) Paris (Agreement) Burning?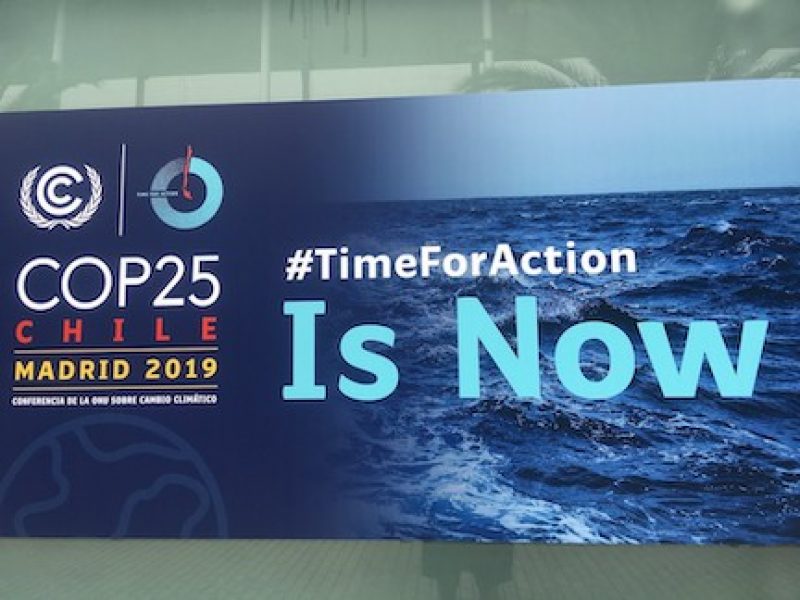 By Shelley Tanenbaum.
THE MOST RECENT Conference of the Parties (COP), held in Madrid, Spain in December, appeared to balance the Paris Climate Agreement of 2015 on a knife's edge, a sharpened knife's edge. Lindsey Cook of Quaker United Nations Office (QUNO) referred to this conference as "the COP25 of sharpened knives." If we were relying on these annual climate conferences to lead the way on the issue, this conference's outcome, with a few promising exceptions, would plunge any sane person into absolute despair.
The Conferences of the Parties, under the auspices of the United Nations Framework Convention on Climate Change (UNFCCC), are held each year in November or December. The 2019 conference, COP25, was the 25th conference of its kind. Perhaps as a harbinger of the 2019 outcome, the conference nearly didn't happen: it was supposed to be held in Brazil, but national politics changed that plan and the new Brazilian government dropped out as host; next it was supposed to be held in Santiago, Chile, but on-the-ground political protests over equity and human rights concerns forced Chile to drop out as host. Spain, with its relatively new ecologically-minded government, stepped in at nearly the last moment (November) to serve as location host, with Chile still serving as diplomatic host. Climate-denier politicians (Brazil) and protests over economic and human rights abuses (Chile) nearly put a stop to the conference.
These location challenges are indicative of the global political, economic and ecological crises we are facing, all challenges that could either doom the climate agreement, or strengthen resolve and serve to produce the next installment of the agreement on sounder footing. Specifically, the Paris Agreement was deliberately designed to be fuzzy on the details (no specific goals for country-by-country commitments, though each country is required to set their own goals), strong on aspirations (to keep global warming to well under 2 degrees C and to pursue efforts to limit global temperature rise to 1.5 degrees C), and a ratcheting mechanism so that every five years country commitments will be increased. Commitments that were made just following the Paris Agreement would result in an improvement in limiting global warming compared to what would have happened without the agreement, but would still result in 3-5 degrees of global warming, and everyone involved in 2015 knew that. It wasn't politically feasible to get stronger commitments at the time. However, the plan all along was that COP25 in 2019 would create a diplomatic environment that would ensure much more ambitious country commitments at COP26, the fifth year after Paris.
Is the Paris Agreement burning? Just as the roof of Notre Dame burned in 2019, COP25 of 2019 burned a hole in the Paris Agreement where higher ambitions should have been, although the shell of the framework is still intact. The high-emitter, low ambition countries (primarily Brazil, Saudi Arabia, India, Australia and the United States) led the way in blocking concerns for indigenous rights and financial support for developing countries.
Some of the events of 2019's COP, however, show a way forward for a more promising denouement to COP26. Towards the last days, high-ambition, high-emitter countries led by the European Union called for transparency and a human-rights approach to carbon pricing, and prevented a retro-version of carbon marketing from being established. A people's plenary rose up within the halls of the COP, with badge-holding civil society calling for radical shifts in policies, behavior and equity. Massive marches occurred in the streets, with 500,000 people demanding action. The global rising youth movement joined with the long-active indigenous community to confront stodgy diplomats and pugnacious government officials.
If anything good is to come out of COP26 in 2020, it will take all of us participating in an unprecedented level of public activism and advocacy, to force governments to replace their sharpened knives with a spirit of cooperation and creativity and commitments to rapid carbon reductions.
Shelley is the General Secretary of Quaker Earthcare Witness.