Keep 1.5° Alive The U.N. Climate Change Conference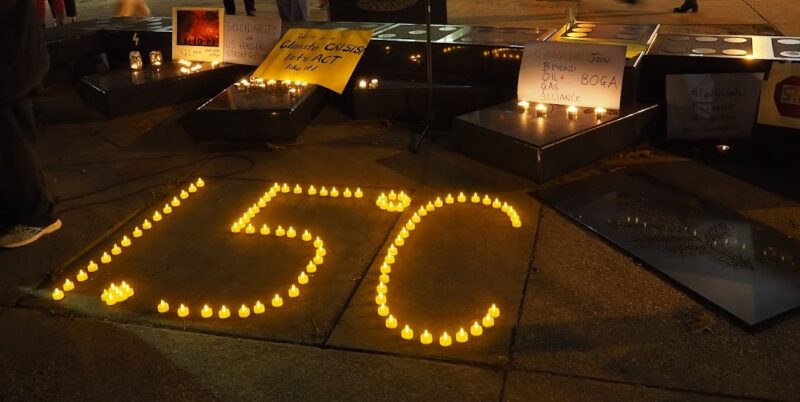 by Hayley Hathaway.
"For those that have eyes to see. For those that have ears to listen. For those that have a heart to feel. 1.5 is what we need to survive. 2 degrees is a death sentence for the people of Antigua & Barbuda, for the people of the Maldives, for the people of Dominica & Fiji, for the people of Kenya & Mozambique, and yes, for the people of Samoa & Barbados. We do not want that dreaded death sentence and we have come here today to say try harder."
– Mia Mottley, Prime Minister of Barbados, at COP26 Opening Ceremony
November 13 marked the end of the two-week U.N. Climate Change Conference of the Parties (COP26) in Glasgow, Scotland where 197 countries agreed to the Glasgow Climate Pact to limit global emissions and finalize details of the 2015 Paris Agreement.
COP26 was planned to be as important, if not more, than COP21 in Paris. The Paris Agreement included a goal of containing global temperature rise to no more than 1.5°Celcius over pre-Industrial levels. Any higher and "many climate impacts – on balance – go from destructive to catastrophic," according to the Climate Reality Project. However, country-by-country commitments made then have fallen far short of that goal, threatening a likely (and terrifying) 3-3.4°C rise. This year at COP26, many countries revised and improved their commitments. If these nations follow through on their 2021 pledges, an optimistic estimate by Climate Action Tracker puts global temperature rise at 1.8°C. And that's a big "if." Still insufficient, but every degree counts. 
News analysis of COP26 ranges from cautious optimism to despairing rage. The reality is somewhere in between. Alok Sharma, COP26 President, remarked after the negotiations that "We can now say with credibility that we have kept 1.5°C alive. But, its pulse is weak and it will only survive if we keep our promises and translate commitments into rapid action." COP countries have agreed to revisit their emissions targets and will start to meet yearly to negotiate. 
The Glasgow Climate Pact wasn't going to satisfy the need for rapid change, like an end to fossil fuel production, yet each nation's voluntary commitment to reducing emissions can be a helpful and motivating barometer that shows the world what kind of scaled-up climate action is needed and what the barriers are to change. This is the first time that this group even mentioned the words "fossil fuels" in their agreements. In a last-minute change from India and China, the language on coal production was watered down from "phasing out" to "phasing down." Over 100 countries, including the United States and Canada, signed a Global Methane Pledge to reduce methane emissions by 30% by 2030. Another group promised an end to deforestation by 2030 (though a similar agreement was made in 2014 with no success). Polluter countries also agreed to increase funds for climate adaptation. However, these countries already had committed to providing $100 billion in climate aid by 2020—and they got nowhere near to meeting that goal.  
This pledged climate aid is different than what low-emissions nations want: a "loss and damage" mechanism, a way for polluting countries to pay climate reparations. The United States blocked these efforts at COP26, unwilling to take responsibility for its role in the crisis. Olivia Hanks, Economics & Sustainability Programme Manager for Quakers in Britain, writes, "The moral case is clear: fossil fuel companies and others who profit from destruction owe a vast debt to the communities whose farmland is turning to desert or whose homes are disappearing under the waves. Paying for loss and damage is not charity or aid—it is partial compensation for a monumental wrong that cannot be undone. There can be no climate justice until this wrong is addressed."  
The calls for climate justice were strong at COP26. Hundreds of thousands of people marched in the streets. Prime Minister Mia Mottley of Barbados raised her voice to demand action that wouldn't leave her country and others under water in a few decades. Many country delegates and about two-thirds of the usual civil society representatives from the Global South were left out of the conference because of restrictive travel and immigration policies, and vaccine access. This brought into question the legitimacy of the negotiations and left out the crucial perspective of those most impacted and least at fault. Both Hanks and QUNO's Representative for Climate Change at the Quaker UN Office in Geneva (QUNO), Lindsay Fielder Cook, were at the conference and noted the growing sense of urgency and increased mobilization in Glasgow as compared to COP21. The critical question is: what will we do as citizens to make sure that our governments are held accountable to their promises?

The tipping point of 1.5°C reminds us that the Earth's systems are interconnected, and small shifts can create big changes because of feedback loops. Author and environmental activist George Monbiot reminds us that humans' small shifts can create big change too: "For just as the complex natural systems on which our lives depend can flip suddenly from one state to another, so can the systems that humans have created." This "social tipping point" motivates us to respond to the insufficient and unreliable commitments from COP26 nations, and, in Monbiot's words— is "our last, best hope."  
Quaker Earthcare Witness sent three observers to Glasgow as an accredited U.N. NGO: Frank Granshaw and Annette Carter, Friends from Portland, OR, and Kallan Benson, director of Fridays for Future USA and a Friend from Annapolis, Maryland. QEW also co-sponsored a side event along with Act Alliance and the Quaker United Nations Office (QUNO) called "A Moral Call to Conscience" about fair share in finance for people affected by loss and damage.
Hayley Hathaway is the Communications Coordinator for QEW.