Mutual Aid & Local Food Sufficiency in the Era of COVID-19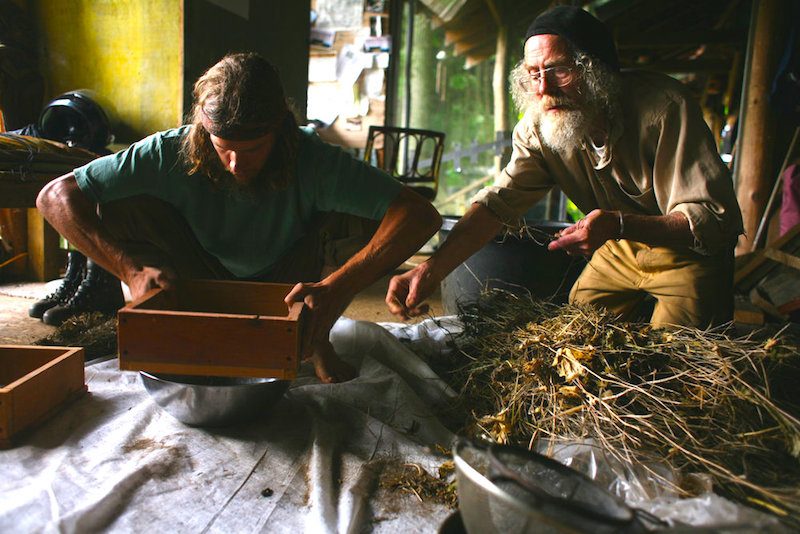 By Bob McGahey.
South Toe Mutual Aid is an organization of people in the South Toe/Celo, North Carolina area who are collaborating in a variety of activities with intent to strengthen our community's capacity to meet our resource needs for overall well-being. As a hub of Co-operate WNC, a regional mutual aid effort, South Toe Mutual Aid (STMA) is focused on creating the organizational structures and skill/resource-sharing strategies necessary for our community to support each other going into an uncertain future.
STMA brings together members of Celo Community, Celo Friends Meeting, and "Greater Celo," a group of like-minded folks. Prior to the current crisis, our main activity has been work parties, which have been extensive and mostly successful. STMA has three sub-groups, the largest of which is a food sovereignty group.Inspired by the self-sufficiency of hardscrabble mountain families, Celo Community leaders experimented with cooperative farming. The first Community-Supported Agriculture (CSA), where consumers buy a season-long subscription for a farm's produce, in our county began in Celo Community in the early Nineties. I now garden with five families on that land, certified organic before we inherited it. Three CSAs now serve the Valley, and market in Asheville.
Two years ago, a group of us petitioned Celo Community for permission to plant a permaculture orchard and berry patch in an underused field.
Our idea was to provide more food security for a future made uncertain by the climate crisis. The one- and a half-acre plot (with room to expand as needed) is designed as a demonstration site, augmented by a nursery area across the river on another area of cultivation in Celo Community. Four members of Celo Meeting are part of both the mutual aid effort and the Miles Food Forest, supplemented by three other members of CCI and a cast of young volunteers from Greater Celo.
With the advent of Covid-19, we are quickly repurposing the greenhouse nursery area to growing medicinal plants with anti-viral capabilities. This resource combines with our incredibly mushroom-rich forests and Mountain Gardens, the principal source on the East Coast for Chinese medicinals, to provide materials for local master natural pharmacists to create antiviral tinctures. These folks work with a gifted acupuncturist, trained in Chinese medicine. Every one of these groups has been engaged in preparing for a future that we knew was coming. With the novel coronavirus, that future has arrived, and these groups have quickly joined in a more active network for which the ground was being laid for decades.
This spring, during the week right after the coronavirus began to take hold, I participated in two workdays which were outgrowths of this collaborative network. The first was a compost-building demonstration, attended by the usual partnership of septuagenarians and thirty-somethings  whose product was destined for the Miles Food Forest nursery.
The second work party was at the orchard site, where we have already planted pecans, walnuts, mulberries, blueberries, and raspberries. We planted 18 young paw-paw trees (native to this area, cultivated by the Cherokee) donated by a master gardener in Celo Community. These were supplemented with mulberries provided by the youngest member of Celo Community, the Miles Food Forest, and Celo Friends Meeting. It is noteworthy that this young man, Matt Riley, was the key voice at the conclusion of the 2016 FWCC World Plenary Meeting, passionately redirecting the body to try one more time to achieve unity on the Pisac (Peru) Call to Sustainability.  The clerk had just tried to close the conference, apologizing that there was insufficient time for this document, which many of us present felt was the most important item of the week-long agenda.
We are gifted here in Celo not only with a rich diversity of forest resources, but with a strong tradition of human expertise, consensus-based community, and leadership qualities that Celo Community founder and Friend Arthur Morgan, Matt Riley, and many others have demonstrated. I am humbly grateful to live here.
Bob is a charter member of STMA and the Miles Food Forest, and a member of Celo Community and Celo Meeting. He is the outgoing Southern Appalachian Yearly Meeting (SAYMA) Representative to QEW and the rising clerk of SAYMA.