New Jersey Meetings Organize To Stop Export of LNG From Gibbstown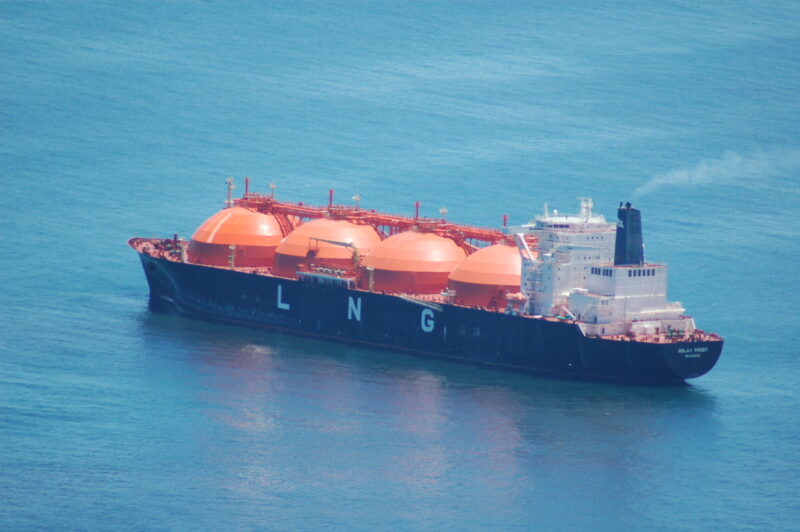 by Ruth Darlington.
When Priscilla Adams and Maria Esche learned about the plans of New Fortress Energy to export Pennsylvania fracked gas from a terminal in Gibbstown, NJ, they took notice, and then they took action.
It all started when organizers at Food & Water Watch (FWW) asked Medford Friends Meeting member Ruth Darlington if she knew anyone at Haddonfield and Moorestown Friends Meetings who might take a resolution to their meetings for approval. (Medford Meeting had already worked with Food & Water Watch the previous year to pass a faith group resolution opposing the terminal.) Ruth contacted Priscilla and Maria, Haddonfield Quarterly Meeting's climate liaisons for Haddonfield Monthly Meeting and Moorestown Monthly Meeting. A meeting was arranged between the two liaisons and South Jersey organizers from FWW, where the liaisons learned why many communities in New Jersey and Pennsylvania are so concerned about the proposed liquid natural gas (LNG) terminal.
First, it prolongs fracking in Pennsylvania, with all its associated risks to local communities and water sources. Second, it continues the extraction of fossil fuels when the climate crisis calls for keeping fossil fuels in the ground. And finally, and of immediate concern to many communities along the route, it requires the dangerous transport of liquid natural gas (essentially methane) by truck and train routes near many PA and NJ communities.
After meeting with the FWW organizers, Priscilla and Maria went back to their meetings asking for approval to host a gathering to alert other local meetings to the LNG project and discuss how to oppose it. With that approval in hand, they worked with FWW to plan the informational session. Thanks to their hard work, a request to two meetings grew into an invitation to every Quaker meeting in southern New Jersey to a virtual session on November 15th, 2022. At this event, speakers from FWW and Delaware Riverkeeper Network presented the history of the LNG terminal project, the science and social justice issues behind opposition to the project, and the strategy for grassroots action.
The meeting was well attended, with representatives from several Quaker meetings, as well as members of other faith communities. Many participants were inspired to take resolutions back to their congregations. Some also considered taking municipal resolutions to their local officials. Since the November 15th information meeting, Moorestown Friends Meeting has approved a resolution opposing the Gibbstown project. Maria said, "the Meeting members were deeply concerned about the project and enthusiastically supportive of the resolution.
"We have sent copies of our resolution to President Biden, New Jersey Governor Phil Murphy, and the Army Corps of Engineers, all of whom are in a position to withdraw or block permits needed for the project to go forward, and to the Secretary of Transportation, Pete Buttigieg. At members' request, copies of the resolution were also sent to our two U.S. Senators and our Representative, a New Jersey senator, the NJ Department of Transportation, the Environmental Protection Agency, and the NJ Department of Environmental Protection to inform them of our concern."
Haddonfield Meeting's Peace and Social Concerns Committee chose to use a minute in opposition to the project instead of using the resolution provided by FWW. Priscilla said, "the minute was approved with enthusiasm by Business Meeting." Now they are working on sending it out to government and environmental groups, all the Quaker meetings who were invited to the original informational session plus the Quarterly Meeting and Philadelphia Yearly Meeting environmental committees.
When asked why this issue resonated with their meetings, Priscilla said "Haddonfield Meeting Peace and Social Concerns Committee has wanted to do environmental projects. However, we struggled to find projects that would have an impact and seemed possible for a small committee of busy people…this was a way to work together with other meetings as well." And talking about the significance of taking action on the issue, Maria said, "…members of the meeting thanked me for bringing this to their attention. Our members were eager to take action once the issue had been presented together with a way to take action."
Early efforts to get township resolutions passed have not met with the same success. A year ago Ruth got on the agenda of Medford Township's town council meeting to ask them to pass the resolution. Despite the supportive presence of other Medford residents and a member of the Delaware Riverkeeper Network, council members asked no questions and took no action then or later. More recently Maria approached Moorestown's Environmental Advisory Committee (EAC) to present a resolution. It had been suggested to both Ruth and Maria that the resolution might be better received if it came from the town's own environmental advisory committee. In the case of Moorestown, the town mayor was also in attendance as the council's liaison to the EAC, and she made it clear that she would not support passing a resolution, since resolutions were simply symbolic and ineffective. This, by the way, goes against Food and Water Watch's experience that such resolutions have been effective in New Jersey, which is why using them has been a preferred FWW strategy for stopping the Gibbstown terminal. Knowing that change does not always come easily, Maria said, "I will continue to talk this up with my Moorestown friends and connections in the hope that one or more of them might be better connected than I and can break through. I have always believed that all change comes through relationships, and I will keep trying to build them."
Other plans include following up with all the participants in the Nov. 15th informational session to learn what they may have accomplished and brainstorm next steps. It has also been suggested that Quaker meetings that have passed a resolution or minute opposing the LNG transport might contact other congregations in their communities to see if they would do the same. Asked if she was discouraged by the lack of success getting municipal resolutions passed, Ruth said, "Much of the work we do to fight climate change and environmental injustice doesn't bear fruit right away. While being strategic about where we put our time and energy, we can always lay the groundwork and watch for a path to open."
Ruth Darlington is a member of Medford Monthly Meeting in New Jersey. Since retiring in 2017, she has made addressing climate change her work.  Ruth has worked with Medford Meeting's climate change group, Phila. Yearly Meeting's Eco Justice Collaborative, Earth Quaker Action Team (EQAT), Quaker Earthcare Witness, Medford's Green Team, the GreenFaith chapter of southern New Jersey, and several local non-profits. She is currently serving on the steering committee of Haddonfield Quarterly Meeting as its climate action coordinator.  
And thank you to Priscilla and Maria for their input on this article.