Organizing for Community and Climate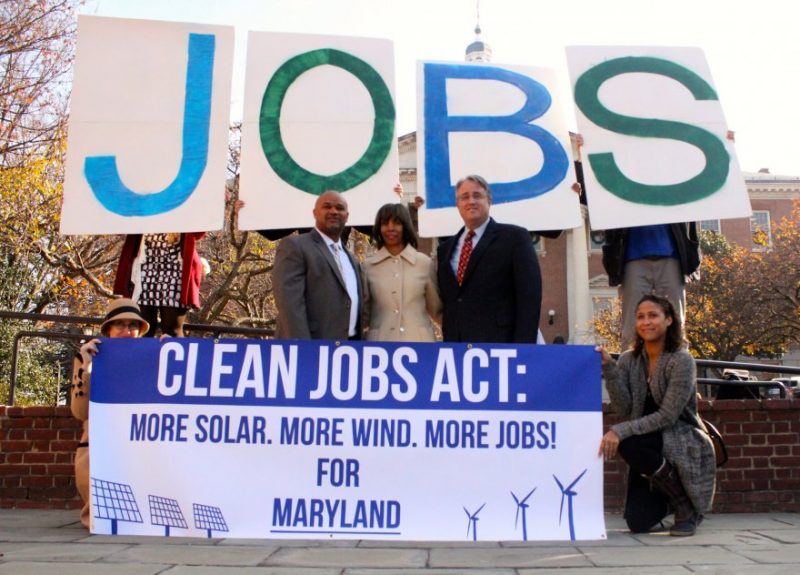 By Jaime DeMarco.
I RECENTLY HELPED CO-FOUND the Maryland Clean Energy Jobs Initiative, a new non-profit working to pass legislation in Maryland that will do three things. It will expand renewable electricity in Maryland to 50% by 2030, invest in renewable energy companies owned by women and people of color, and fund clean energy job training programs.
As important as having a clear goal, we have a clear plan. We will follow a step-by-step campaign model that has proven itself in previous campaigns by going head to head and winning against the National Rifle Association, Walmart, big tobacco, big alcohol, and most recently big pharma. The model involves first spending a year building grassroots support throughout the state, and then leveraging that political will during an election cycle to force candidates to take a stand.
We have a clear vision of what we are doing and how we will do it, but my journey to this point has been long, circuitous, and above all guided by the Quaker values I was raised with.
I grew up surrounded by the unconditional love and support of Baltimore Yearly Meeting's Quaker youth programs. There I learned not to act in ways that hurt my community, but then one day it hit me like a punch in the gut that my daily actions were hurting my global community and climate. In the wake of this realization and inspired by the integrity testimony, I made a bold decision. I stopped riding in cars.
For more than two full years I did not ride in cars, and nothing anyone said or did could convince me to break my commitment. Then I began volunteering for the Beyond Coal Campaign. That campaign has secured the retirement of over 200 coal plants in just 5 years, nearly one coal plant a week! I asked myself, "If everyone who has worked on that campaign had just ridden their bikes instead of organizing, how many more coal plants would be operational today?" In that moment, the community testimony spoke to me. I had to wonder whether abstaining from cars was a real attempt to be part of the solution our global community needs to reach, or just an attempt to absolve myself from being part of the problem.
I ended up getting back in the car and working on policy solutions to the climate crisis. I am still following that path today, but I remain open to continuing revelation as I live out my worship in action. Really, that is the only advice that I have, to take action while retaining a worshipful openness to the voice of God. We need not wait until we have it all figured out or until we have the perfect solution. We would end up waiting our whole lives! Do whatever it is you can in this moment. It may not be the right path, but so long as you keep walking forward, your way will open to the right path for you.
Jamie is a climate activist in Maryland who has worked on a variety of campaigns to expand renewable energy.