Pacific Yearly Meeting's Mutual Aid Experiment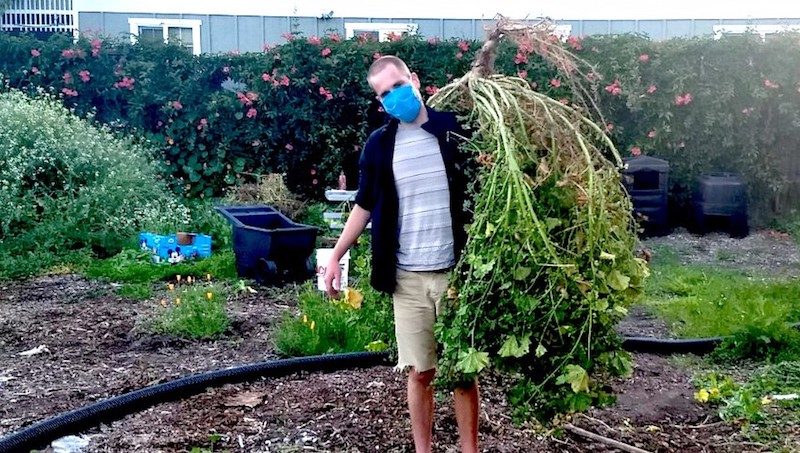 By Keith Runyan and Rebekah Percy.
WHEN the shelter-in-place order took effect throughout California earlier this year, a small group of Young Adult Friends from Pacific Yearly Meeting organized a mutual aid project with the goals of sharing resources and creating greater equity and self-sustainability within our communities during the global pandemic. Through this project, we wanted to create long-lasting infrastructure that bridges our youth with elders and fosters genuine connections in the community through various service work projects. We have been especially interested in this becoming as intergenerational a project as possible, and truly serving the most vulnerable among us. Our project also currently operates a small grant that gifts emergency funds, in preparation for the inevitable struggles ahead.
At Santa Cruz Friends Meeting, numerous young Friends and fellows affiliated with the mutual aid project have worked with the Building and Grounds Committee to begin revitalizing the community garden. After a year of solarization, the entire property is now weed free. We've built a new set of terraced beds, and are eagerly awaiting fresh heirloom tomatoes, kale, and peppers. Our focus and intentions involve permaculture design and the creation of a peaceful space for children, that lends opportunity for spiritual re-centering.
In the Los Angeles region, we have started working on a communal garden on part of a Friend's property in Arcadia that was graciously offered up to the Quaker community. We are also working to establish a community garden at Pacific Ackworth Friends School, a Quaker preschool in Temple City. Though this second garden is mostly being set up by Quakers, it will additionally involve and eventually be gifted to our other community members of that region, including families of the children who attend the school.
We intend to use these spaces for community gatherings and to offer community-based education in growing one's own food, preserving, and cooking up healthy meals. We continue to harvest a substantial amount of citrus in Los Angeles for donation to our neighborhood homeless services organizations.
When the project organizers stepped back to evaluate our work so far, we realized we had tried to take on too much, and that perhaps the most important work is focusing on creating more sustainable systems that connect people and their varying needs. Moving forward, we intend to act more as a resource for Friends, helping navigate unemployment and crisis management, and develop further ideas for housing our unhoused Friends.
We are happy to report that the mutual aid network has really taken root in strengthening more localized support systems. Many of our group's members are  involved in arranging systems for individuals to connect on a one-on-one basis in expressing and getting their needs met. A pilot project of this nature is in the works at Orange Grove Meeting.
We hope that such community-based sharing and collaborative systems will continue long after COVID-19 has passed. Many of us feel strongly that our global economic system is fragile, and see this virus as a reminder and a wake up call for us to build and strengthen alternative systems, be they gardens or alternative networks of care, to create some stability in our rapidly changing world.
Our Steering Committee includes: Keith Runyan, Kiernan Colby, Marc Lichterman, Bertha Peña, Laura Adair, Nate Secrest, Keenan Lorenzato, Kylin Navarro, Camila Gomez, Evan Nelson, Jim Summers and Rebekah Percy.
Rebekah is PacYM's Interim Youth Programs Coordinator and Keith is a naturalist and Quaker activist.