Quaker Earthcare Witness News & Updates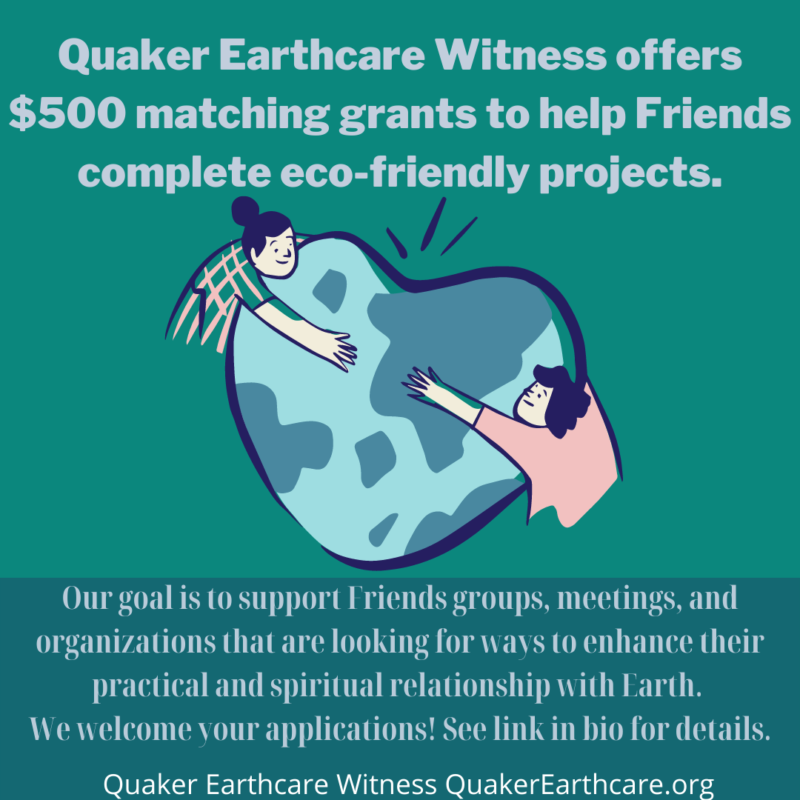 by Shelley Tanenbaum.
Quaker Earthcare Witness' primary goal is to nurture a spiritual transformation in our relationship with the living world. Our efforts include projects, events, and other resources, all aimed at reaching a wider circle of Friends and like-minded individuals and organizations.
Over the past two pandemic years, we have grown in numbers via our online events. This January/February we launched a three-part book discussion with Mary Conrow Coelho on her book, The Depths of Our Belonging: Mysticism, Physics and Healing. It was well-attended, including longtime QEW supporters and new Friends. We expect to continue hosting monthly online events. In March, Lindsey Cook from the Quaker United Nations Office (see page 5) and Kallan Benson from Annapolis Meeting and Fridays for Future will meet with us to share their impressions of COP26 in Glasgow and their plans for climate activism this year. Lindsey will speak from the perspective of international climate diplomacy and Kallan will speak as a youth activist.
We are also collaborating with Philadelphia-based Earth Quaker Action Team (EQAT) on their campaign to confront the investment firm Vanguard about their support for fossil fuel companies (see Eileen Flanagan's and Jonathan Ogle's articles on page 8 & 9). This spring, Eileen will join us for our monthly webinar to explain the campaign, and we will continue to encourage our network to participate throughout this year.
We are continuing to sponsor monthly worship sharing. Friends greatly appreciate this opportunity to reflect on our relationship with the living world. You can sign up and encourage others to sign up to attend these sessions at QuakerEarthcare.org.
QEW Presents! had several opportunities to meet with monthly meetings recently. QEW Presents! is a group of 14 speakers who are available to visit your meeting and give presentations and workshops on a variety of topics. In February, Jim Kessler joined Portland, OR Friends at Bridge City Meeting to talk about native landscaping. Mary Ann Percy met with Hawaii Friends to practice spiritual discernment in nature. Take a look at our list of speakers at QuakerEarthcare.org/workshops and ask your Meeting to invite one of our presenters to share.
Through these efforts, we have plans to reach beyond our existing circle while also sustaining this beloved community.
Shelley Tanenbaum is QEW's General Secretary and a member of Strawberry Creek Monthly Meeting in Berkeley, CA.