Quaker Teachers Take on Climate Change and Restore Mexican Cloud Forest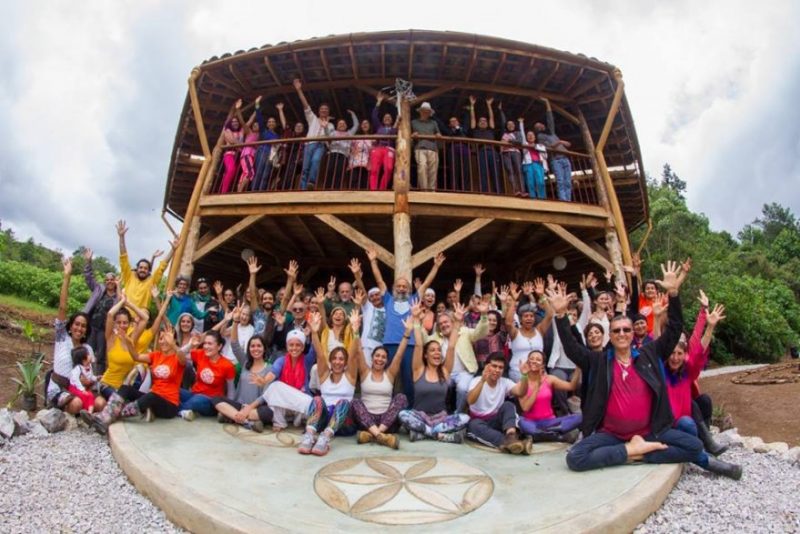 By Paula Kline.
Alan Wright and Paula Kline first took students to the Mexican Cloud Forest in 2003. Teachers at Westtown School in southeastern Pennsylvania, the couple had initiated the Quaker school's agriculture program for its bi-centennial in 1999. Inspired by the ground breaking work of John Jeavons' approach to sustainable agriculture, the educators developed school based gardens to introduce both agro-ecology and eco-literacy at the Pre-K to 12 school. Westtown was a natural candidate with 600 acres and a rich history of on-site orchards and farming albeit conventional and intensively chemical based.
Seeking models for teaching sustainable agriculture led to a visit to an agro-ecology farming cooperative in the cloud forest in Veracruz, Mexico. This, in turn, led to a summer environmental leadership program for Quaker high school students to demonstrate the global interconnection of agriculture and sustainability. For more than 15 years, Wright and Kline introduced students to the opportunities climate change offers us to reinvent ourselves. Through visits to innovative sustainable building projects, permaculture and food forest gardens, small scale solar and hydro power, participants discovered that sustainability did not require sacrifice. Students planted hundreds of trees, learned how to build soil, and protect habitats. Most importantly, the immersive experience helped students see the spiritual dimension of choosing to respect the natural world in general, and our bio-regions in particular.
Alan, after a cancer diagnosis and (gratefully) successful treatment, recognized more acutely the need to understand that personal healing and planetary healing cannot be separated. Starting in November 2018, with Alan's recovery, the pair began hosting healing and spiritual ecology programs for adults.
The next Sustainability Sojourn is offered in August of 2019. The week focuses on simplicity, living on a solar budget, ecological restoration, feeding our souls, and seeing the divine in the natural world. Participants experience local projects in reforestation, sustainable agriculture, and alternative technologies. Each day includes meditation, yoga and personal reflection. Workshop sessions will tap into the Eight Pillars of Joy (the Dalai Lama and Desmond Tutu) and the Work that Reconnects (Joanna Macy). Outdoor time includes hikes in the cloud forest, planting trees, bonfires, worship by the river, and a closing sweat lodge. Participants will explore how environmental stewardship and social and economic justice work hand in hand.
The Center they have created, known as Ashram del Bosque, offers a unique space for learning, growth and healing. With the cloud forest as the teacher, we seek to restore a harmonious relationship with the natural world,while taking concrete actions to reverse climate change.