Rising Together: Community Health Mapping in South Florida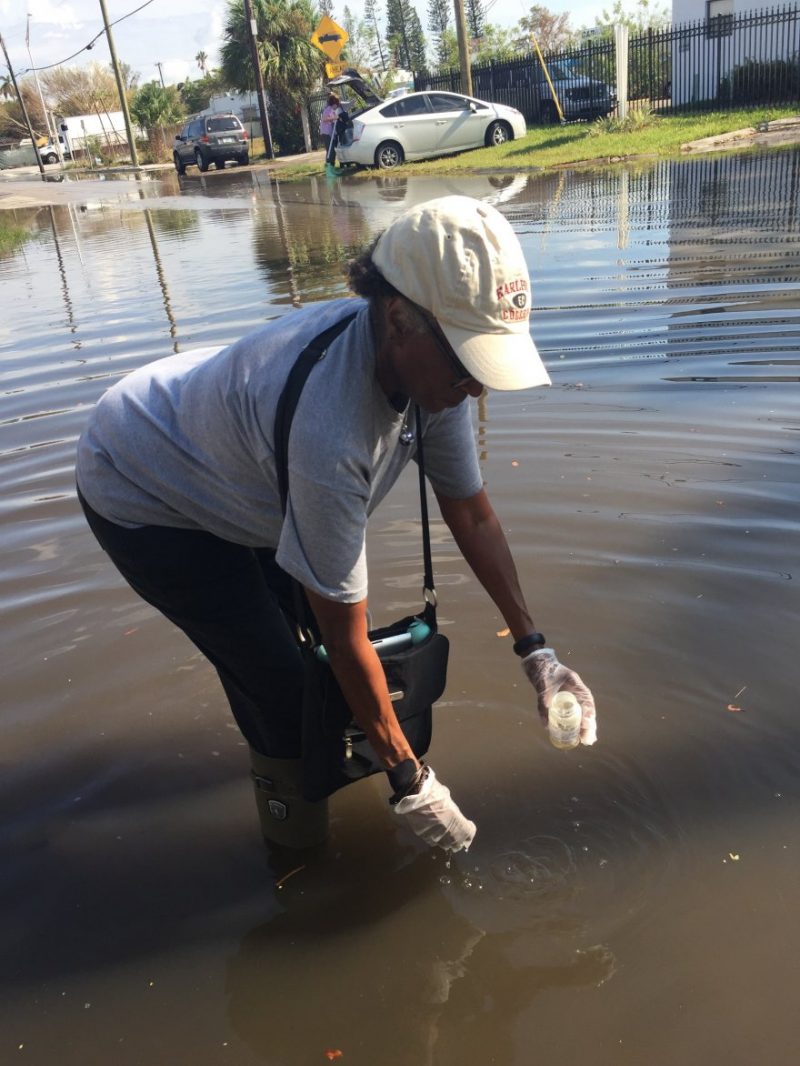 By Beverly G. Ward
MANY COMMUNITIES in South Florida experience "sunny day" flooding during periods of very high or "king" tides. During a new or full moon, when the sun and the moon are aligned with Earth in their orbits, the gravitational pull on the oceans is at its strongest, producing the king tides. Three or four times a year, when the moon is at its perigee, these tides may cause coastal flooding. This is becoming a common occurrence.
In September last year, I joined a team of local representatives from non-profits, church groups, and city agencies to collect king-tide data and work with residents of Shorecrest, a diverse neighborhood in northeast Miami, Florida. In the area we worked, 19 to 32 percent of residents live below the federal poverty level. Fifty-four percent are White, 39 percent are Black or African-American, and 30 percent are Hispanic or Latino. While roughly one-half of housing units in the area are owner-occupied, many of the rental apartments and condominiums are concentrated in Shorecrest's southeastern corner where flooding occurs predictably with the king tides, creating parking and health and safety challenges.
Our work was based on the Rising Together model to increase climate resilience in low-income communities of color in coastal Florida and beyond to respond to the impacts of climate change. Rising Together is founded on the principles of organizational capacity building within an existing partnering organization led by low-income residents in the community.
The original project design included training residents to collect flooding data. However, due to Hurricane Irma and in consideration of the needs of Shorecrest residents, representatives from partnering organizations and local university students were trained to collect flood data including salinity and water depth. Our group also conducted a neighborhood survey to understand and communicate the public health risks associated with floodwaters and king tides. The survey was available in English, Creole, and Spanish, as were the Shorecrest Climate and Health Fact Sheets.
This model is important because it provides the affected communities with tools, techniques, and other resources to collect data, tell their stories about the impacts of climate change, and develop effective transition solutions for the people involved. It was developed under an Environmental Protection Agency Environmental Justice Small Project Grant awarded to the Green Sanctuary Committee of the Unitarian Universalist Fellowship of Boca Raton. Thanks to joint efforts in the Florida Interfaith Climate Action Network and the Florida Council of Churches, our Southeastern Yearly Meeting partnered with the Unitarian Universalists to do this work.  We continue to explore other partnerships to "rise together" in other communities such as the Tampa-St. Petersburg and Broward County areas.
Beverly G. Ward is Southeastern Yearly Meeting's Field Secretary for Earthcare.