Rooted in Reverence: Reflections on the Climate Pilgrimage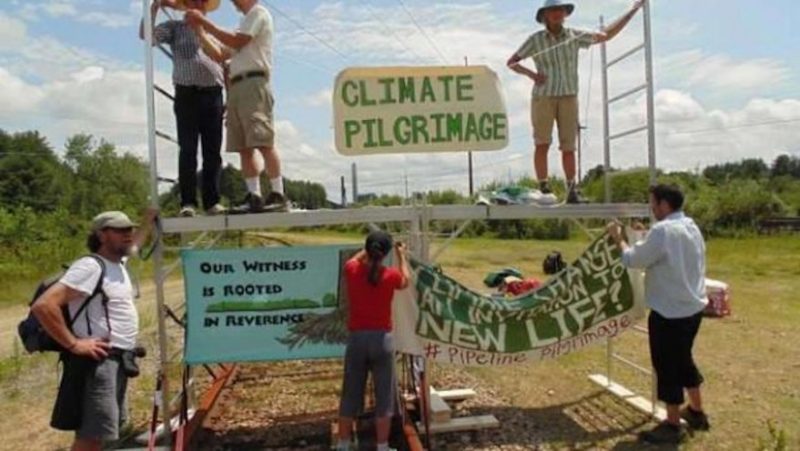 By Honor Woodrow.
I AM WRITING TO SHARE a reflection on my experience of the recent Climate Pilgrimage, where Friends from New England and fellow travelers spent six days walking the 60 miles from the Schiller Station (which burns both coal and wood) in Portsmouth, New Hampshire, to the Merrimack Station (known to locals as the "Bow Plant") in Bow, New Hampshire. The Bow Plant is the last operational coal plant in New England without a shutdown date, and was the site chosen by a group of New England Friends (called the Prophetic Climate Action Working Group) for a worship service and a civil disobedience action later in the day.
I chose to join the pilgrimage because it was clear to me that it was not a "protest" but rather an opportunity to gather in the manner of Friends with a common concern and listen for how the Spirit might be leading us into transformation both as individuals and as a group. There is so much I can say about this journey, but what is sticking with me the most is my experience in worship on the final morning of our time together, and the implications that that experience has for how I might orient my life.
On Saturday evening, there were several Friends who heard a clear calling to sleep on the tracks in the encampment that they had built earlier in the day. Several others (myself included) who had not found their way clear to risk arrest at that time (for a variety of reasons) went to the service and shared meal at the nearby Episcopal Church. After the worship service at St. Paul's concluded, I felt like what I needed was to sleep in my own bed, and I was eager to take a shower (after accumulating six days worth of sweat, bug spray, sunscreen and pond water, I felt long overdue). So I made my way home where I showered and slept (which was glorious).
When I woke up the next morning having heard that the police were not planning to show up I decided to return to the tracks for a final time of worship before helping to dismantle the encampment.
There were about ten of us there that morning (the others had gone to worship at Concord meeting for their regularly scheduled worship service). It was sunny and hot and we were sitting on wooden boards covered by sleeping pads crowded into a small space under the scaffolding. We read the parable of the sower, prayed for our own willingness to do what is needed to become the most fertile soil we can be, and reflected on how easy it can be to cast ourselves as the sower in the story, spreading the seeds of truth and judging the "fertileness" of others. It was a sweet, tender and intimate worship, and I felt a sense of belonging, love, and for a few moments like all was as it should be—even as so much in our society and our world seems to be falling apart.
During this worship, it came to me that while it is nice to sleep in a comfortable bed, to have a clean body, and to be in my own space, the rest and comfort I am yearning for is actually found in worship with those who share a common expectation that the Holy Spirit might just show up among us at any moment, with all that we need.
I am bringing this awareness with me out of that time, and thinking about what it means for how I choose to orient my life and the decisions that I make about how to spend my time. Should I prioritize what feels most within my comfort zone, or risk being uncomfortable knowing that there is a possibility that I might find greater peace, connection, and rightness there? I feel the resonance of the words George Fox wrote to his parents in 1652: "To that of God in you… I speak, to beseech you… to return within, and wait to hear the voice of the Lord there; and waiting there, and keeping close to the Lord, a discerning will grow… Oh! be faithful! Look not back, nor be too forward, further than ye have attained; for ye have no time, but this present time: therefore prize your time for your souls' sake."
Honor Woodrow is a member of Framingham Friends Meeting. This letter was originally shared with New England Yearly Meeting Friends and was reprinted with permission.