Seeking Grace: Reflections from the Rise Up for Climate, Jobs & Justice Mobilization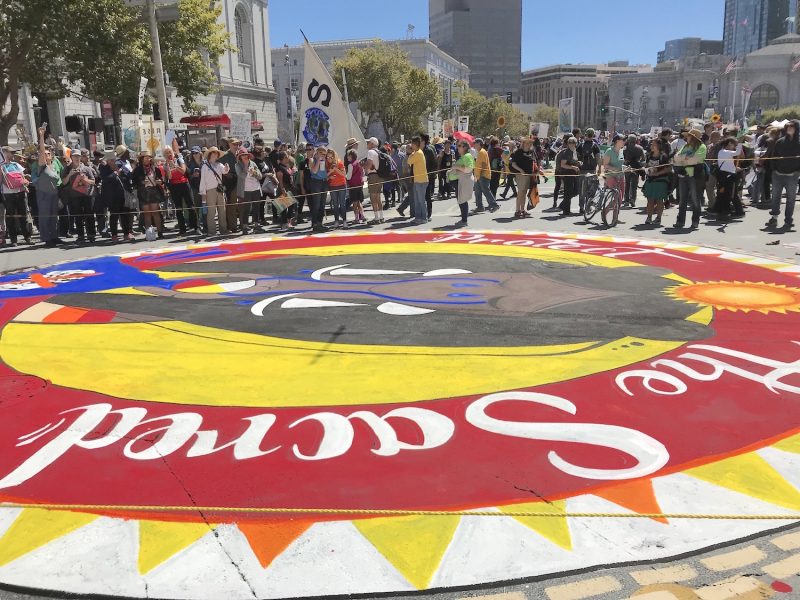 By Shelley Tanenbaum.
WE CAN'T FULLY ADDRESS A TRANSITION from fossil fuels to renewables without limiting fossil fuel extraction. That is the message delivered in countless street actions (including 30,000 people during an art-inspired march on a perfect California day) and unofficial workshops held throughout the Bay Area, first as part of the worldwide Rise Up for Climate, Jobs & Justice mobilization on September 8th, and then as a response to the Global Climate Action Summit in San Francisco a few days later.
Limiting fossil fuel extraction is a dilemma faced by activists, technical wizards, and politicians, whether they were meeting in the restricted zone of the official Global Climate Action Summit (GCAS) at the Moscone Center, in the numerous affiliated and unaffiliated workshops, or on the streets in protest. When it comes to supporting renewable energy (wind, solar, geothermal and small-scale hydro), California is a world leader, with ambitious goals for increasing our renewable electrical energy portfolio, and electrifying as much as possible. However, the state government has not done much to limit fracking or deny oil and gas permits. Of course, this is a state that threw out a former governor when he tried to increase gas taxes. Politically, the path to promoting renewables is still a struggle, but is still much more doable than directly confronting the monumental oil and gas industry or the gas-driving public. It was a struggle to get the CA legislature to approve a bill calling for 100% renewables by 2045, but it passed after a two-year challenge, and Governor Brown signed it into law just prior to opening the Global Climate Action Summit.
As part of my work with Quaker Earthcare Witness, I helped promote interfaith events alongside the GCAS. I co-led a workshop at Grace Cathedral on bringing about a spiritual transformation on our relationship with the Earth community. Instead of choosing between raising up progress on renewables or protesting lack of progress on keeping it in the ground, I dug deeper.
Do we embrace the wisdom of indigenous communities (and many of the early teachings of other religious traditions) that say "we are all related" or do we continue to see the natural world as a "resource" that is available for extraction?
I co-led this workshop with Sara Jolena Wolcott, a Friend and an ecotheologian, starting with a physical reminder of where we live. We displayed and passed around water from the mountains and pine cones from California native trees. We talked about the ongoing fires (still burning at the time that we met) throughout the west, and how a reductionist, controlling mindset formerly practiced fire suppression rather than allowing some fires to burn, as western forests are adapted to regularly occurring natural fires.
We led this interfaith group in Quaker worship-sharing with the queries: What spiritual gift or gifts does your faith bring to the challenges of the Anthropocene? What spiritual practice or belief does your faith currently retain that is a barrier to facing the challenges of the Anthropocene?
Faith communities are hungry for this kind of dialogue and are on the verge of making this kind of spiritual transformation. Over 85 people attended our workshop; the high number of participants and their enthusiasm pointed to the clear need for more space where people can dig into their own faith traditions, engage with the challenges therein, and find solutions together in both cross-denominational and multifaith spaces.
An interfaith service was held in European-like Grace Cathedral (Episcopal) on the eve of the GCAS. Green Men* on stilts led each faith tradition as they processed down the long aisles. Faith leaders described their love for the Earth community and made commitments for ongoing actions. Our workshop, on spiritual transformation, attracted a committed group of engaged and committed leaders. Will this change come soon enough?
*The Green Man is a mythological figure in European paganism, who embodies the spirit of the forest. At the interfaith service, the Green stilt walkers were of indeterminant gender.
Shelley Tanenbaum is Quaker Earthcare Witness' General Secretary. Sara Jolena Wolcott creates spiritual development courses that actively remember the history of climate change into the history of colonization.
Spirit Moving by the Bay
By Shelley Tanenbaum.
WHAT BETTER WAY to start off the Global Climate Action week in San Francisco than to participate in an indigenous-led water ceremony at the time of the new moon. We met at the water's edge, at Cupid's Span—a large, bright red sculpture of cupid's bow and arrow firmly rooted in San Francisco soil. The sculpture may be a contemporary way to show love for this space where the City meets the Bay. The water ceremony is meant to deepen our connection to the natural world and empower participants to live fully into that spiritual connection.
Love for each other and for our land and water was abundant for all of us participating in the ceremony. We were led by Penny Opal Plant, of Yaqui, Mexican, Choctaw, Cherokee and European ancestry, and Casey Camp-Horinek, from the Ponca Nation in Oklahoma; both women are known internationally for their spirit-led activism.
We were gathered at first in a large circle, that through the steps of the ceremony, grew closer and closer together. The center-most circle of women reached out to a basin of water—this water had been gathered from many of our home lands. The rest of us connected to the inner circle with our hands on the shoulders of the women in front of us. The men stood in the outer-most circle, facing outward.
At this point in the ceremony, my physical body responded in a way that was new to me. The power of our group (possibly several hundred) became physically present. I felt actual warmth in my heart that soon spread to the rest of my body. It wasn't scary and it wasn't dramatic; it just was what it was. I was calm and amazed at the same time.
I have felt a mystical connection to nature from time to time, and I have felt a mystical connection with Friends in gathered meetings, but I have never felt the phenomena of warmth spreading throughout my body as a result of a group experience like this. The experience left me feeling an outpouring of love for all of us committed to creating a new relationship with our natural world. I also gained a new understanding that our Earth will be helping us as we forge that new relationship. The week started off for me with the glow of love.