The UN's COP27
: Where Are We Now?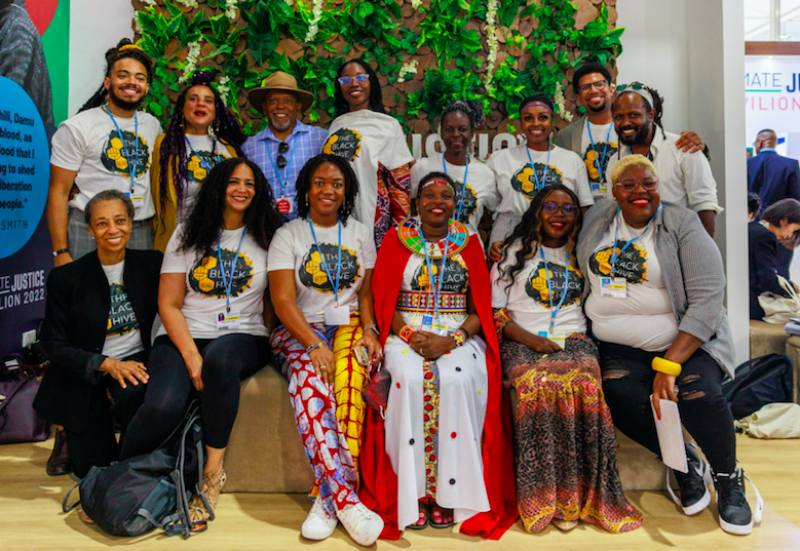 by Shelley Tanenbaum.
After 27 United Nations Climate Conferences, and even earlier conferences and agreements such as the Kyoto Protocol (1997) and the Rio Earth Summit (1992), why are we so far behind in dealing with climate (and biodiversity and desertification)? That is the question that hovered over Quaker Earthcare Witness' recent forum featuring five participants involved in the United Nations' 2022 Climate Change Conference (COP27).
As an accredited non-governmental organization with the United Nations, QEW can designate 'observers' to attend UN-sponsored events. For several decades, we have offered passes to two to four Friends (and friends of Friends) to attend these events. We brought together this year's observers to share their reflections and experiences, asking them to consider these questions: What was the most valuable result of COP27? What experiences felt the most compelling to you? What do you plan to do as follow up?
These observers included Peniel Ibe (American Friends Service Committee) and Wes Gobar (Yale University) who attended in-person, Frank Granshaw (QEW and Portland State University) and Clarence Edwards (Friends Committee on National Legislation/FCNL) who attended or followed the proceedings remotely, and Lindsey Cook (Quaker United Nations Office/QUNO) who attended in person under the auspices of the Friends World Committee on Consultation (FWCC). This is Lindsey's 9th Climate Conference, and she serves as climate representative for QUNO. Clarence is the Legislative Director for Sustainable Energy and Environment for FCNL. Peniel and Wes attended as part of the Black Hive, a cohort of the Movement for Black Lives with a focus on climate and environmental justice. Frank has been instrumental in connecting Friends to the COP.
All of our forum participants applauded the establishment of a way to address Loss and Damage during COP27. Loss and Damage refers to what is often termed climate justice. Finally during this COP, the Parties (participating countries) acknowledged that countries that had done the least to create the climate problem are often hurt the most by how the climate is changing, and they have the least resilience when tragedy strikes. Recent devastating flooding in Pakistan is a powerful example.
The most compelling question came when Peniel asked Lindsey what good is all the reporting and word-smithing that goes on at these conferences and through the Intergovernmental Panel on Climate Change after all these years? I heard in this question the frustration that we all are feeling—after decades, all we have to show for this global effort is the Paris Agreement, a framework that gives us no commitments, and now, thanks to this year's COP, the bare-bones structure to address Loss and Damage. These agreements are like the studs in a wall, but without the walls. We are still seeking hard and firm commitments from every country to reduce emissions in line with keeping temperature rise to 1.5°C, and we are still seeking serious funding for both the Green Climate Fund and now for Loss and Damage.
Lindsey acknowledged the frustration that we all are feeling, and shared that she has seen the importance of the reports and agreements in countries where civil society is limited by repression; they serve as a way to empower people to hold their leaders accountable. Lindsey pointed out that this was a humbling COP, and the Parties were able to hear the moral and courageous call that was coming from both civil society and developing countries.
Peniel talked about how she was struck by the disconnect between how much global youth are looking to the COP to do something, and how COP responses fall far short of expectations. Both she and Wes appreciated the spaces where coalitions could gather and the cross-sharing among coalitions such as the Black Hive, climate justice grassroots groupsand indigenous peoples coalitions. She advised that we be wary of counting on establishing a robust Loss and Damage Fund in the near future, and that we need to address these needs as soon as possible, however we can.
Clarence promised that he and FCNL will be working on legislation that would put some real money into the Loss and Damage Fund. He is committed to working on implementation of the US's recently passed Inflation Reduction Act (for both domestic and international climate policy), to seek new legislation on emissions reductions domestically, "energy poverty" (lack of access to modern energy services) internationally, and climate finance in developing countries.
Frank would like to facilitate connecting the rest of the world with the COP. He sees this as a primary way that all of us can put pressure on governments to strengthen their commitments and live up to them. This work also comes in response to the inaccessibility of the space for most people who care about addressing climate change.
A recording of the COP forum is available here. We are extremely grateful to these five individuals and the many thousands of others bearing witness and seeking way forward.
Shelley Tanenbaum moderated the forum and is the General Secretary of QEW.