Where's the Hope in That? A Message from Quaker Earthcare Witness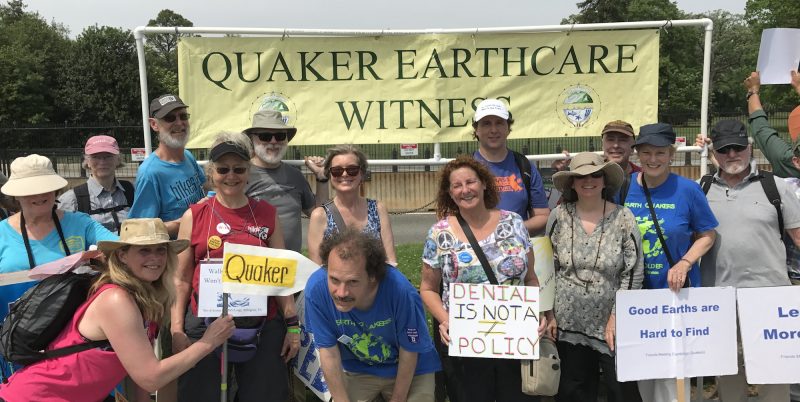 My name is Mary Jo Klingel, and I am a member of Quaker Earthcare Witness and have served as clerk. I want to share with you about a forum I facilitated on earthcare for my meeting in Charlotte, NC.
Near the end of the forum, a man who had been silent the entire time, said,
"For forty years I have been doing everything I can for the Earth. I recycle, I drive a fuel-efficient car, I buy used clothing, I eat much less meat, I have solar panels, I have planted my lawn with flowers and local plants and do not use dangerous fertilizers. I have done all this and the carbon goes up and the earth is in more and more danger. Where is the hope in that?"
I froze. I wanted to just agree and end the forum. After a few deep breaths, I received a response that came from beyond me, from Spirit. I heard, "Clearly we do not do this work alone." I said to him, "That is all amazing work.  And, as I listen closely I hear that it is work you have done alone. Perhaps our work now is to see how our Quaker testimony of community supports us all in working together." He went on to be one of the most creative participants in our earthcare group. 

Especially for this difficult work, I doubt that any of us can do it alone and sustain it.
I look to Quaker Earthcare Witness when I am feeling alone, despairing or impatient. QEW grew out of a strong leading among Friends that our future depends on a spiritual transformation in our relationships with each other and the natural world. We are a solid network of Friends throughout North America who are faithfully working in our home communities for positive change. Quaker Earthcare Witness inspires and educates through our newsletter, BeFriending Creation and other publications, our online events, our visits to Friends meetings and churches accross North America, and social media.
We are a public Quaker voice on Earthcare. We recognize the urgency of action on climate, biodiversity, population, healthy oceans and soils—and are building a world that embraces healthy ecosystems, and economic and social justice. We know that spirit calls us to reconnect with the natural world for guidance, strength, and love. This fundamental shift has never been more necessary.

 We don't need to tell you about recent catastrophic climate events—you know how bad it is. We all feel it deeply and see it clearly. We invite you to walk with us; we can help if the weight is too much. We are a community committed to responding to these dire issues.
.
As Friends, let us join together in building an ecologically sound future rooted in justice and connection with the natural world. Together, we can do this work – the work of inspiring and empowering our communities and raising our Quaker voice on Earthcare.
Many thanks.