Youth and a Landmark Climate Case in Court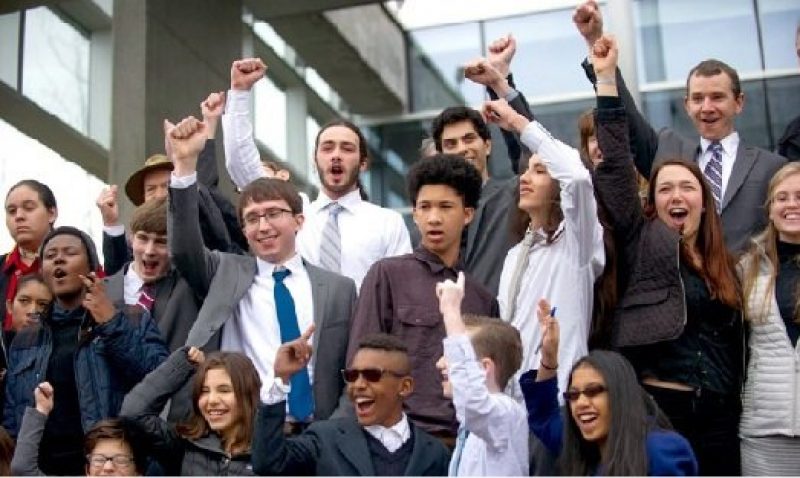 By Shelley Tanenbaum, QEW General Secretary.
How often do you hear people complain (or rant, scream, and shout) that the U.S. government is not doing enough about climate change, but they don't actually do anything about it? Last year, twenty-one young Americans and their famous scientist partner joined together to sue the Federal government. Their case is slowly making its way through the court system, and there was a hearing in Eugene, Oregon in March 2016 to consider a challenge brought by the federal government and three fossil fuel trade associations seeking to have the case dismissed. These twenty-one youth, aged 8 to 19, along with world-renowned climatologist James Hansen, say that the federal government is violating their constitutional rights by allowing the use of fossil fuels. They are seeking a court order requiring an immediate implementation of a national plan to decrease CO2 to a safe level of 350 ppm by the year 2100. The case is based on the argument that by causing climate change, the federal government has violated the youngest generation's constitutional rights to life, liberty, and property. The case also references the Public Trust Doctrine, which states that the government holds natural resources in trust for present and future generations. In April, the judge ruled that this case can move forward in federal court, dismissing the challenge by the government and fossil fuel companies.
One of the plaintiffs, Nathan Baring, is a member of Chena Ridge Monthly Meeting is Fairbanks, Alaska. We met (via Skype) to talk about the case.
Why did you join Our Children's Trust to sue the federal government?
Nathan: I joined this case after a lot of clearness because I realized that while I can work to affect many local establishments and local politics to combat climate change, in the long run it's the federal government that has the final say on policy and regulations to make a bigger impact. As a youth, I know that the decisions being made right now at the federal level—including offshore drilling permits, subsidies, and Obama's "all of the above" energy policy—are counterintuitive to the science that calls for phasing out fossil fuels. As an activist, I have already written many letters-to-the-editor, advocated in Juneau, rallied, and phone-banked without the sufficient results that we need. The government is disregarding youth in their decisions too often, as we are underrepresented without the right to vote, and yet we will bear the full consequences of our current politician's actions. We youth will be bearing the consequences of climate change for the rest of our lives. The grounds for a lawsuit were, and still are, more than present.
What does it mean to be from Alaska and to be part of this lawsuit on climate change?
Nathan: We are already seeing the effects of climate change. I am a cross-country skier—there is way less snow now than a few years ago. There are many more ice storms than there used to be. The last two years were the hottest on record in Alaska. It didn't even get below zero in Fairbanks in January. Climate change is hitting us twice as fast as in the lower forty-eight. Scientists are predicting that Alaska will lose sea-ice in just a few decades. We've all heard about the polar bears. Most people don't know that walruses are at even higher risk than polar bears because their cubs require sea-ice. The polar bears are inter-breeding with grizzlies to produce "pizzlies" with grizzlies moving north into polar bear territory. As much as we are seeing effects in Anchorage and Fairbanks (where I live), I have a friend from Shishmaref—his whole village is being relocated due to rising sea levels.
What has it been like to be part of the lawsuit with youth from all over the country?
Nathan: There is amazing diversity represented in the group, much like Anchorage, which has the most diverse high school student population on the planet. The youngest member of the lawsuit is Levi from southern Florida: he is 8 years old and his family home is in direct danger from sea-level rise. Xluhtezcatl Martinez, a 15-year-old from Boulder, Colorado started the lawsuit: he has spoken out about climate change and is a well-known youth activist. He is also a professional rapper with three CDs. We meet at least monthly with teleconferences.
How has your Quaker community encouraged and supported you?
Nathan: Quakers in Fairbanks and Alaska as a whole have been my base ever since I began activism, which was long before this case. I currently have a support committee that works specifically on grounding my work in the faith and if anything fails or I'm embarrassed, after my immediate family, the next group I look to for support is our meeting. Some of my most important and closest mentors are at meeting and the whole setting is vital to my own health and wellbeing, as I add activism to my other major stressors such as high school (with four honors classes), sports (competitive skiing, soccer, volleyball and running), community service and many other activists organizations in addition to this lawsuit. My support committee gives me space to unwind, center, talk, and they keep my work faithful.
My Meeting, Chena Ridge Monthly Meeting, has been very actively engaged with earthcare for many years. Chena Ridge Meeting was a co-founder of the Fairbanks Climate Action Coalition.
Have you talked about this at school? What do your teachers and fellow students think about the case?
Nathan: There has not yet been a formal setting for me to share my experiences at school. However, most of my immediate friends are very supportive and curious. Interestingly, a few of my closest friends do not share my politics and they have kidded me about the case. There are a few key teachers that I have been so very grateful for because of their curiosity, willingness to let me have extra time to complete assignments, and waivers on assignments with points solely for completion. Specifically, one teacher in particular helps me be more articulate in my arguments and consistently asks for updates on my progress. Most of my friends are extremely involved in political issues like this so they can understand where my stress is coming from. It is hard to balance this with the pressure to get top grades, but it is important enough to me to be active on environmental issues.
What else do you want Friends to know about the court case and climate change? How can Friends throughout North America be supportive?
Nathan: We have had a lot of support beyond what was expected. The global Catholic community has actually filed an "amicus brief" in support and they sent their own lawyer to the case. Prominent people like Bill McKibben of 350.org and Naomi Klein, who published the book This Changes Everything, have written in support.
This case is very personal to all of us individually and it is not at all about the politics, outside interest, or money in any way. This is the way that we are currently able to be heard and many of us are already experiencing the effects of climate change first-hand. The science is clear, it's the politics that aren't, and if the climate comes anywhere near the dire predictions that scientists like James Hansen, a former NASA scientist on our case, are predicting, future generations are in for a rough ride. Let us not wait until we have to change or it may very well cripple life as we know it. If we change now, the innovations are endless, the technology is more than capable, and the result is best for everyone.
If Quakers personally want to help with this case, they could donate to Our Children's Trust, which is the nonprofit funding this case. They can also send letters of support. Just being supportive and active in your own communities is vital to this movement.
When do you expect a ruling on the lawsuit?
Nathan: The judge has unlimited time to decide, but we expect to hear about our standing by mid-May. The judge asked great questions during our hearing in March. There was a huge rally at the courthouse on March 8: 75 students from the local high school joined about 500 others to support us.
Note: The judge decided in early April that this case will go forward. QEW will report on future developments in the case. You can learn more about Our Children's Trust at www.ourchildrenstrust.org.