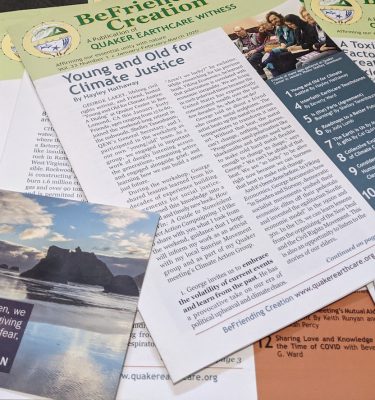 BeFriending Creation is Quaker Earthcare Witness' 12-page quarterly newsletter. Each issue of BeFriending Creation shares updates, news, and opportunities from Quaker Earthcare Witness and highlights Friends' earthcare action across North America.
You can see our current and past articles, and search through them here.
If you're interested in receiving a copy of BeFriending Creation in the mail, we request a $40 annual donation. If this is not possible, please give what you can, or sign up to receive an electronic copy.
Download Issues of BeFriending Creation 
This issue of BeFriending Creation invites us to reconnect with the land, the trees, and the soil, to "find steady ground" in our spiritual practices and in our communities. Enjoy an issue filled with great Quaker writers and thinkers.

Vol 32 Number 4

This issue of BeFriending Creation touches on stories of home and loss. All of us are going to lose something dear to us because of this climate reality—if we haven't already. As Friends, we must continue to build our spiritual power to face these crises.

Vol 32 Number 3

We gathered this spring under the shadow of the United Nations' Intergovernmental Panel on Climate Change (IPCC) report, saying that the time is now to avert planetary disaster. We were inspired by the young climate activists who remind us of the urgency of our work.  We, as the Quaker Earthcare Witness community, know that personal and spiritual transformation must be the foundation of our work, and that transformation will be the doorway to the beloved community.

Vol 32 Number 2

This winter edition of BeFriending Creation showcases a young Friend's faith in action, praises the power of learning in nature, gives us examples (and a chart!) of how easy it is to take the first steps toward climate activism, and shares three testimonies from the UN Climate Change Conference (COP24) this past December. Read more for updates on what Quaker Earthcare Witness has been doing these past few months, our plans for the months to come, and our Clerk Mary Jo Klingel's reflection on the importance of this work right now.

Vol 32 Number 1

"OUR PLANET IS NOT for sale! Our air and water are not for sale! Our land is not for sale!" This message runs through our October-November-December issue of BeFriending Creation. We read inspired accounts on the events around the Global Climate Action Summit, and stories of faithful and humble accompaniment with indigenous peoples in British Columbia and Iowa. We lift up the voices of women leaders from the Women's Earth & Climate Action Network (WECAN). Friends in Arkansas show us the rewards of creating wildlife habitats and native gardens at our meetinghouses. We find hope in Bob Bruninga's enthusiastic research on alternative energy. We also share an update on Quaker Earthcare Witness' latest projects and concrete ways for you to get involved.

Vol 31 Number 4

We didn't set out to have a theme for this newest issue of BeFriending Creation, yet it happened organically. Each of the writers is responding in their own way to big questions of how to resist in this era of corporate domination, may it be through divestment, sustainable financing, or putting their bodies on the line. How much change can we make within the system? What might a new politics look like in this age of crisis? A new economy? This issue also highlights hopeful examples of community investment through Quaker Earthcare Witness' mini-grant program. We share a glimpse into what could happen when we literally place ourselves and our Meetings for Worship at the feet of climate destruction.

Vol 31 Number 3

In the newest issue of BeFriending Creation, we see examples of how to plant our feet on the ground so we can live faithful lives in this world.

Vol 31 Number 2

Senegalese environmentalist Baba Dioum said, "We won't save places we don't love, we can't love places we don't know, and we don't know places we haven't learned." This BeFriending Creation highlights voices and projects showing the world how they love, know, and protect their homes. The theme of water in this issue serves as a common stream that unites these diverse initiatives and outlooks, much like a watershed.

Vol 31 Number 1

I'm excited to share this issue of BeFriending Creation because it echoes these truths by lifting up the voices of Friends across the country who are practicing faith in action. This issue highlights founder Marshall Massey's words that still ring true 30 years later: the "environmental crisis cannot be solved without our organizational help…that we are called by the Light within us, by the teachings and example of Jesus, and by the writings and examples of our Quaker predecessors, to work for the solution to these crisis, just as we are called to work for an end to war, cruelty, and hatred."

Vol 30 Number 5

This issue of BeFriending Creation shares the stories of Friends in faithful action as they question the injustice of the status-quo and listen to the Spirit to determine how to live their values. Pamela Haines asks hard-hitting questions about Friends' relationship with money and finance. Jaime DeMarco shares how he moved from individual to collective action around climate change. Honor Woodrow describes her powerful experience on this July's Climate Pilgrimage in New Hampshire. Mary Jo Klingel reminds us of the importance of connecting with the quiet and taking small steps that lead to connection and inspiration. Beverly Ward and Pamela Boyce Simms report back on their groundbreaking organizing on food sovereignty in the African Diaspora at the United Nations.

Vol 30 Number 4

In this BFC, we read inspired stories of "Spirit-led Action" in Alaska and Maryland, and learn about alternative living at Friends House in California. QEW interviews water expert and environmental journalist Cynthia Barnett. Pamela Boyce Simms shares with us her insight into the question, "What would it take to mount a concerted move toward relocalization of food production and sovereignty among marginalized people of African descent as climate disruptions become the norm?," explains why this is so important to our collective work, and invites us to get involved.

Vol 30 Number 3

How to build a sustainable & life-enhancing future in these turbulent times? We asked this question to QEW members and friends and they responded with wisdom, insight, and practical suggestions to get started. Their work represents the diversity and depth of our network and we hope they inspire contemplation, dialogue, and action for you and your community.

Vol 30 Number 2

2017's first issue of BeFriending Creation leads with a call for a "more radical witness:" to take to heart the lessons learned from indigenous land and water protectors in 1993 in Vancouver and today at Standing Rock in North Dakota. We reflect on the dangerous side of environmental activism in the Global South while celebrating news about solar energy's lowered costs. We read about the "wood wide web" in a review of the new book "The Hidden Life of Trees" by Peter Wohlleben. We learn about QEW's plans for 2017. We welcome Beverly Ward, as Southeastern Yearly Meeting's new Field Secretary for Earthcare, and Hayley Hathaway, QEW's new Publications Coordinator.

Vol 30 Number 1

In this issue of BeFriending Creation, you will read several stories about or inspired by the circumstances unfolding at the Standing Rock Sioux reservation in South Dakota. We'd love to hear your ideas and responses as well. We join with Friends and caring others around the world in holding our home and each other in the Light as we live through these changing and challenging times.

Vol 29 Number 6

Welcome to a special issue of BeFriending Creation! In this issue, we invited Friends of all persuasions to share how the lens of their Quaker tradition helps them make choices for right action on behalf of our planet. We hope you enjoy hearing these Friends' unique and soulful voices.

Vol 29 Number 5

Hello! Welcome to the high summer issue of BeFriending Creation. In this issue we have a number of rich stories to share that range from attempting to look honestly at how we think of others, to inspiring news from Ruah Swennerfelt about the Transition Movement, to a hopeful vision of the peace and deep seeking of youthful faith leaders. Along the way, you'll hear a reflection on the FGC Gathering, learn about QIF research happenings, read a letter and a poem from Friends, and find out about upcoming events.

Vol 29 Number 4

We hope you're enjoying summer in your part of the world. In this issue of Befriending Creation, you'll be uplifted, inspired, and prepared by the collection of articles from Friends near and far. In our lead article, you'll meet Nathan Baring, a young member of Chena Ridge Monthly Meeting in Fairbanks, Alaska, and one of the plaintiffs in an historic climate action suit brought against the federal goverment. You'll also hear about the QEW Mini-Grant program from Mary Gilbert and Brad Stocker, read a book review by Judy Lumb, and find out about new QEW materials you can request for your meeting.

Vol 29 Number 3

In this issue of Befriending Creation, you'll be inspired from points around the globe. In our lead article, you'll meet Isaac Wilkins of Howard University, who recently attended COP21 and is active with students and faculty to promote climate justice. You'll also hear from Mary Gilbert and Judy Lumb, who attended the FWCC World Plenary in Peru. You'll also get some light-hearted how-to from Marjorie McKelvey Isaacs on "Walking Cheerfully Over the Earth," learn about one meeting's response to the call to think globally and act locally in an article by Vickie Tolbert, and read a great review by Marty Grundy and Marty Michener on the book Altered Genes, Twisted Truth.

Vol 29 Number 2

Greetings, Friends! Welcome to the first issue of BeFriending Creation for 2016. This issue includes a wonderful series of articles on the happenings at COP21 in Paris. Leading off is a wonderful reflection by Sara Wolcott, followed by two big-picture accounts from Lindsey Fielder Cook at QUNO and Jose Aguto of FCNL. Phil Emmi also gives us the sense of what it was like to be on the floor at COP21 and a number of QEW Friends share the local events that were going on in their areas as COP21 unfolded. Finally Bob McGahey and Shelley Tanenbaum round out the issue with calls to involvement and practical investment in hope.

Vol 29 Number 1

This issue of BeFriending Creation was prepared while COP21 was still in session, and as you'll see from our lead article, General Secretary Shelley Tanenbaum (who went to Paris to participate) had some hopes for positive outcomes. In our January-February 2016 issue of BeFriending Creation, you'll read the first-hand stories of a number of QEW Friends who went to Paris as well.

Vol 28 Number 6

Greetings, Friends! We have an inspiring issue for you this month. First we hear from George Lakey, who shares the process of the Earth Quaker Action Team as they moved toward plans for their new BLAM! (Bank Like Appalachia Matters) campaign. Next we listen in on an interview with author and advocate Alan Burns, who participated in a 625-mile walk in the Philippines to bring awareness to environmental issues. Shelley Tanenbaum, General Secretary, also shares a view into the faithful response of Californians to the drought and connects it to hopeful expectations for a listening world at the climate talks in Paris in December of this year.

Vol 28 Number 5

Hello, Friends! This issue of BeFriending Creation includes a number of inspiring, hopeful, and thoughtful stories intended to provide queries for reflection and practical examples for you to consider, at home and in your meeting.

Vol 28 Number 4

Greetings, Friends! This issue of BeFriending Creation is full of resources you can share and reflections you can ponder. In our lead story, Adrian Ayres Fisher considers what it means to answer (and listen for) that of God in all creation. Shelley Tanenbaum takes on the issue of soot and explores both the dangers of black carbon and the hopeful opportunities for cleaning it up.

Vol 28 Number 3

Also in this issue, you'll find out about recent happenings at the UN, learn about the Bolder and Deeper Action Group at Friends Meeting at Cambridge, and get a chance to ponder your own elevator pitch for the planet. We also hope you'll consider joining us for our spring Steering Committee meeting, coming up in April in Ann Arbor, Michigan. As you can see, good things happen when Friends gather!

Vol 28 Number 2

Have you read any good earthcare books lately? In this our first issue of 2015, we bring you one of our favorite features: "Eco-Resources from Friends." In this issue you'll find a number of reviews about books, videos, and more that inspire, inform, education, and stir us into new ways of thinking and acting on behalf of our planet. In addition to the reflective reviews in this issue, you'll find Lindsey Fielder-Cook's detailed article on the happenings at the UN Climate Change Conference in Lima, Peru, an interview with Quaker author Douglas Gynn (whose latest book is also reviewed in this issue), and an article from Shelley on the strong environmental start we made into 2015.

Vol 28 Number 1

Greetings and happy holidays, Friends! We hope wherever you are in the world, however you might celebrate, you are surrounded by love, peace, and joy. This final issue of BeFriending Creation for 2014 includes a number of compelling articles that convey hope, right order, lived faith, and humor. We hope you find something in this issue that speaks to your heart and makes you smile.

Vol 27 Number 6

Hello, Friends, and welcome to a special issue of BeFriending Creation, in which we hear the eyewitness stories and reflections from several QEW Friends who participated in the People's Climate March in New York City on September 21, 2014. You'll also hear about the UNFCCC Negotiations in a thoughtful article by Lindsey Fielder Cook of QUNO, and hear about Shelley's recent trip to Alaska and her time among Friends there. We hope this issue inspires you and encourages you to get involved using your gifts in your corner of the world.

Vol 27 Number 6

Also in this issue you'll find greetings from Friendly Mystics; an update on the concerns of indigenous peoples worldwide, from Mary Gilbert; and a mid-year report on the happenings at QEW from Shelley Tanenbaum. Inserted in the center of the print version of BeFriending Creation–and available on our website as a downloadable PDF–you'll find the latest issue of Quaker Earthcare Bulletin, on the important topic of climate change. What's more, you're invited to attend the Peoples' March in New York City, September 21, 2014 to participate in the biggest climate march in history, in advance of world leaders gathering to discuss climate change at the UN at the end of September.

Vol 27 Number 4

Hello, everyone! This issue of BeFriending Creation leads off with an article from Emily Wirzba at FCNL, inviting Friends and caring others to an interfaith effort on caring for Earth. You'll also find an interesting piece from Brad Stocker, encouraging us to think about what Earth literacy means in our context, faith, and action. You'll also find a beautiful poem from Angela Manno, an update from Mary Gilbert on goings-on at the UN, news from Australian Friends, and information on an upcoming event for Young Friends. All this and more–plus photos from QEW's Spring Steering Committee in Chicago!

Vol 27 Number 3

Greetings, Friends! In the lead article of this issue of BeFriending Creation, Clerk Roy Taylor invites us to consider the way in which our words and actions align, as we work to further the reach of QEW and as we live out our dedication to care of the Earth in our personal lives. We also get to hear about some opportunities for support deserving projects through Right Sharing of World Resources, and we'll learn from Australian Friend Robert Howell how the matter of divestment is considered in his local meeting.

Vol 27 Number 2

Happy New Year! This issue of BeFriending Creation offers many reasons for hope as we begin the year together. Our lead stories are reflections from Friends Buffy Curtis and Liseli Haines, as they recount their experiences as part of the Two Row Wampum Renewal. You'll also hear about the happenings at COP 19, thanks to a piece by QUNO representative Lindsey Fielder Cook. You'll also get a glimpse of the view from the World  Council of Churches, through the eyes of Anne Mitchell, and learn about the negotiation landscape at the UN, thanks to Mary Gilbert.

Vol 27 Number 1

In this issue of BeFriending Creation, we explore the theme of divestment, thanks to guest editors Paula Kline, of Philadelphia Yearly Meeting, and Tom Jackson, of Dover Friends Meeting. You'll learn about green micro lending, get samples of epistles and minutes, reflect on Friends' witness and fossil fuel divestment, and find out about various divestment initiatives going on around the globe.

Vol 26 Number 6

How does your advocacy for Earth spring from contemplation? How do the stirrings of your heart appear in the actions of your hands? In this issue of BeFriending Creation, we explore the important relationship of contemplation and action. Beginning with an article from Mt. Toby Friends Meeting in Leverett, Massachusetts, we hear how the Climate Change Witness Committee has started a Voluntary Carbon Tax Witness (and we're encouraged to join in or create a similar effort in our own local meetings). In Letters to Share, Friend eric maya joy shares a reflection on Martin Luther King's "Letter from Birmingham Jail" and our leadings toward contemplative action on behalf of Earth. You'll also hear about our upcoming gathering in Chicago, October 24-27, where we'll be focusing on population and climate change (we hope you'll join us!).

Vol 26 Number 5

We've been referring to this issue of BeFriending Creation as our "summer lite" issue because we planned to publish a shorter issue with content designed to give you space and time for reflection.

Vol 26 Number 4

How do you live out your faith? In this rich issue of BeFriending Creation, you'll read about Friends and QEW committees who are actively engaged in the deep work of sharing gifts and leadings with the world. Our first feature article introduces you to Sarah Moon, a successful playwright who brings questions about environmental concerns into the spotlight. In "Continuing the Conversation," by Judy Lumb, you will learn ways you can stay involved and deepen your connection by participating in Circles of Discernment or Leadings and Concerns groups. Add to this a detailed review of Crisis of Global Sustainability by Mary Gilbert, a thoughtful essay by David Millar, and a beautiful reflection on "QEW: A Nature Walk for All Friends" by Os Cresson, and we have quite an inspiring issue to share with you!

Vol 26 Number 3

Are you yearning for a trip to a beautiful landscape, where species are thriving and people are actively seeking balance and care in protection of the environment? The March-April issue of BeFriending Creation includes two inspiring articles about Friends' journeys to the Galapagos Islands. You'll also read thoughtful letters from our readers, learn about the UN's sustainable development goals from Mary Gilbert, and be invited to think through the terminology you use to refer to our planet, thanks to a thoughtful essay from Louis Cox.

Vol 26 Number 2

Welcome to the January-February 2013 issue of BeFriending Creation! In this issue, you'll get a first-hand view of Oliver Robertson's experience at the 18th Conference of the Parties (COP) to the UN Framework Convention on Climate Change (UNFCCC), which was held November 26 to December 7, 2012, in Doha, India. Mary Gilbert, QEW Representative to the UN, calls for a new dialogue that addresses the need for all countries of the world to work together for the planet. She says, "The world does know what to do to facilitate the healing of our beloved planet, as well as why we should be doing it. "

Vol 26 Number 1