Cold-Climate Horticulture and a Freed Bee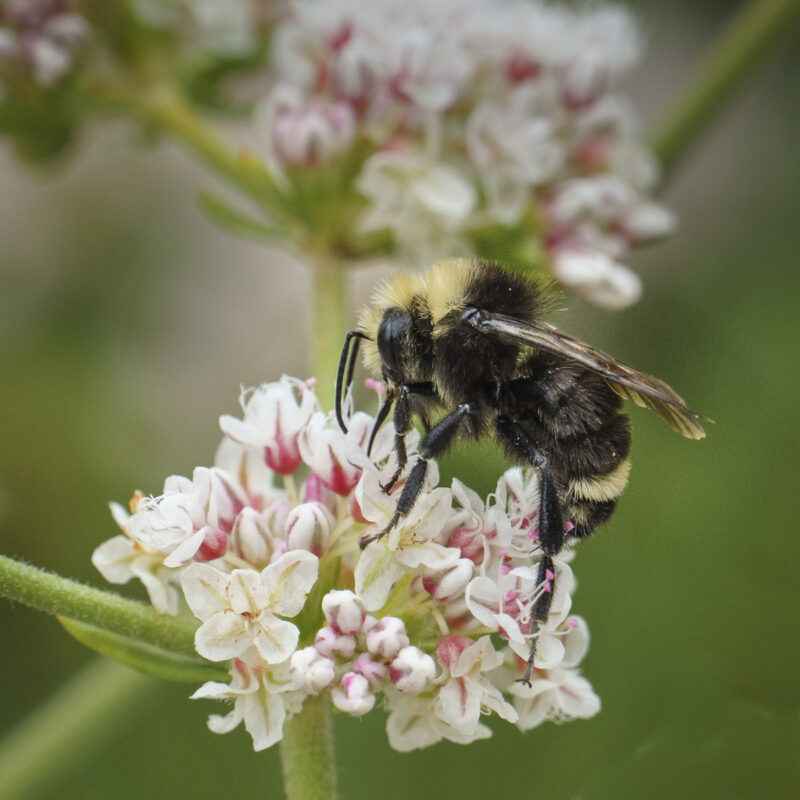 Photo by Kathy Barnhart
A Year as a Quaker Voluntary Service Fellow
By Elsa Hoover
I just finished as a Quaker Voluntary Service Fellow in Minneapolis Through QVS, I worked at the Minnesota State Horticultural Society, aka "The Hort". To say I did not know what I was getting into when I accepted the position would be an understatement. A week before I began, my young cousin asked me, "What is horticul- ture?" I told her it had something to do with plants and made a mental note to google it before orientation began. Coming into a position where I knew so little both scared and excited me. Thankfully, the Friends around me were in my corner throughout this experience, allowing me to grow in my new career and spiritual direction.
Last spring, I was working from home and noticed a bee trapped inside. Having just written a blog post about the importance of saving native bees, I considered it my duty to ensure this creature made it outside. I spent the next 45 minutes trying to coax the small insect through the screen while propping the storm window open with my water bottle. Finally, the bee landed on the piece of paper I was holding. I stuck the paper outside and watched it for a few seconds until the bee realized its newfound freedom and flew away. Even though my position at the Hort did not involve much actual digging in the dirt, my awe and reverence for the Earth and its many creatures has grown exponentially this year through QVS.
Every other Friday, we have a QVS day where we spend the day reflecting on our commitments to social justice, community building, and spiritual growth. QVS days often begin with silent worship. Now that the weather is nicer, we usually spend this time outside. As my eyes are closed, and I connect deeper with myself, I find I can't help but connect with the environment around me. I feel the sun on my face, hear the different birds chirp, and smell the faint aroma of the basil plant next to me. It has been an amazing experience to see my work experience with the natural environment dovetail with the QVS programming. This deepening connection to the environment in my professional and spiritual lives has been a highlight of my year. As my time with QVS ends, these are the moments I will remember: the time I spent at my job supporting community gardens and environmental education and the time I spent with my coordinator and housemate in nature.
A Portland, Oregon native, Elsa Hoover graduated from Earlham College in 2022 with a BA in Peace and Global Studies and immediately joined The Hort Society for a one-year Quaker Voluntary Service fellowship.