Young Friends for a Fossil-Free Future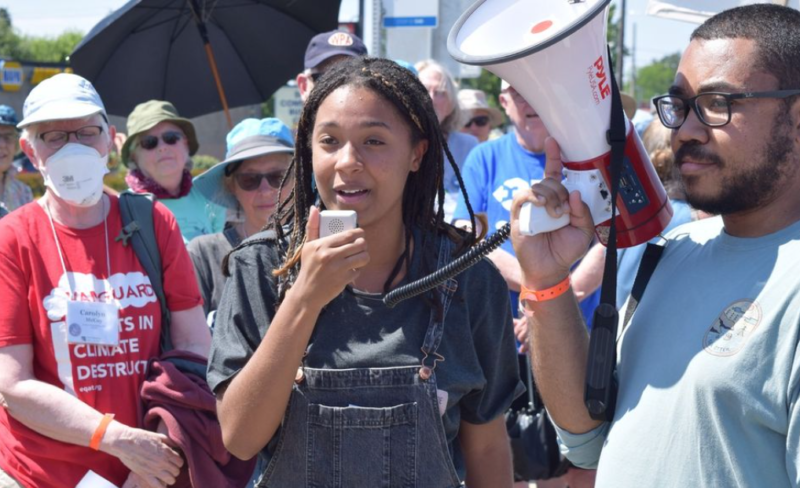 All photos by Sebastian DiMino
With the local temperatures soaring to 96 degrees during the Friends General Conference Gathering and the global average temperatures breaking records, Earth Quaker Action Team (EQAT) gathered an intergenerational group of Friends from across the country in an action against JP Morgan Chase and Vanguard. Vanguard is the world's largest investor in fossil fuels. These investments have already wrought climate destruction and will continue to be catastrophic for future generations.
At the Gathering, high schoolers get to create their own self-governing community, where many discerned that they would join EQAT's action. Here are a few inspirations and reflections that they shared with QEW:
Miles Silverman, 18, Washington State
Hearing the speeches of fellow protesters was powerful, and knowing I was helping to make a difference by showing up was important. As a young person, it is easy to feel isolated and terrified by the state of the world and the sometimes glacial-feeling pace of action. Seeing the passion and support of people who are far older than I am cuts through the cynicism and helps me to feel at least a little more hopeful. I am hoping that more people were made aware of Vanguard's problems as a result of the protest, and I would be interested in helping further to make change happen in the future.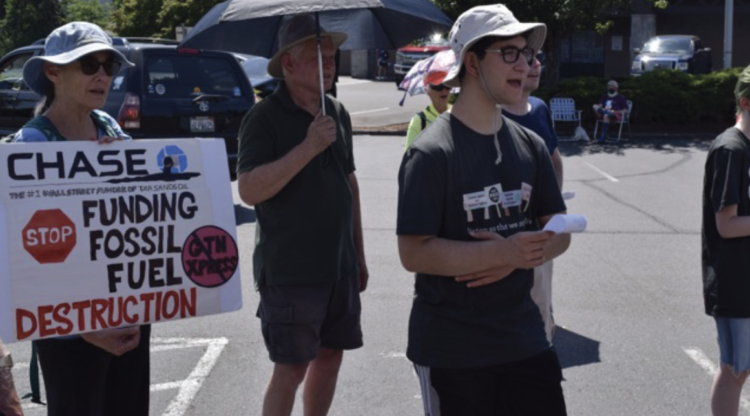 Asma Roshi, 16, Florida
The EQAT Action was a truly eye-opening and inspiring experience. I not only met but heard so many amazing people speaking out against Vanguard and sharing their own experiences regarding climate change. This was such a powerful thing to be a part of because so many different people from different parts of the world and even people from different cultures took part in the action. It gave me hope for a better future because despite some disappointing set backs I feel that we were still able to make an impact and uplift the issues of Vanguard. I hope through our signs, the speeches made, and all the ruckus we created that we reached at least one person who was unaware (just as I had been) of how companies they may support help kill our Earth. It was an incredibly powerful atmosphere that taught me so much in a short time. As a young person, it was wonderful to see so many people of all ages fighting for our planet, and it has inspired me to do whatever else I can to continue the fight.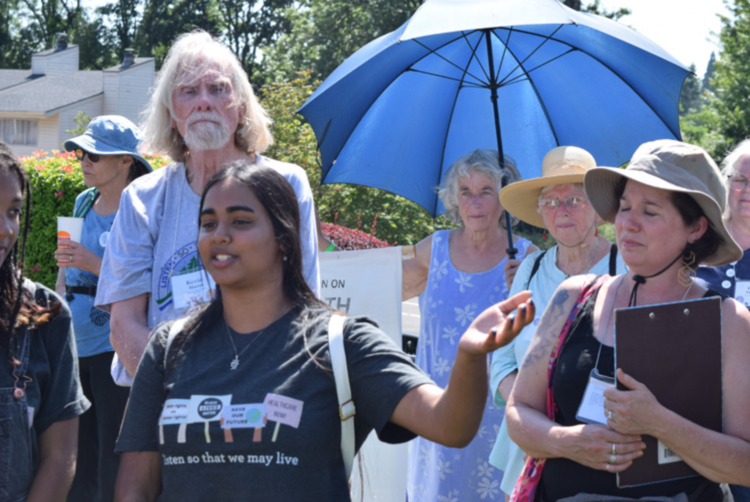 This action was a part of EQAT's "Never Vanguard" campaign that has moved $17 million out of the firm in response to its inaction on climate change. "Since Vanguard manages over $7 trillion, EQAT's effort is the tip of the iceberg. But many other organizations are considering divesting and growing the movement against Vanguard.
EQAT started organizing Quakers and using nonviolent direct action to push Vanguard in the right direction in 2021. In December 2022, Vanguard walked out on one of its only climate commitments: the Net Zero Asset Managers initiative. EQAT continues to mobilize Quakers through divestment and nonviolent direct action to move the needle towards a clean energy future.